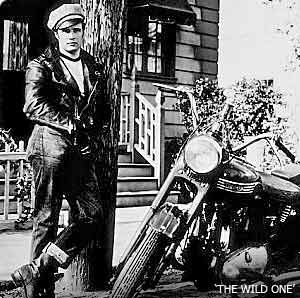 Triumph has produced some of the most iconic motorcycles in history. The first Triumph Bonneville was produced in 1959, just a few years after Marlon Brando's cult classic film, the Wild One was released, where he is seen raising hell on his Triumph Thunderbird.  The Bonneville was an all new bike for Triumph, although it retained the parallel twin engine the brand was known for, the Bonnie was fitted with twin Amal carbs and a higher spec camshaft.  This allowed the 650cc bike to reach speeds of 115mph, respectably fast for the time.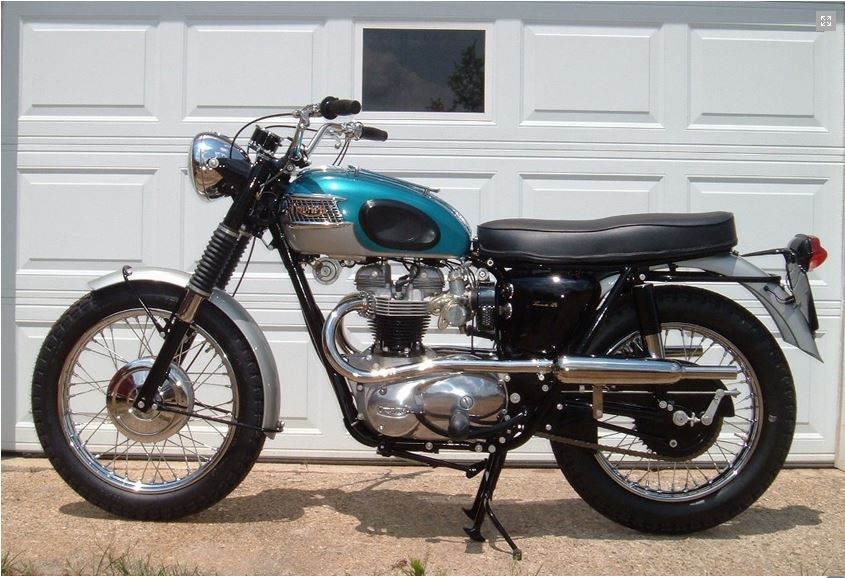 The Bonneville takes it's name from the famous Bonneville Salt Flats in Utah, home to most of the land speed records that have been set on this planet.  By today's standards, the Triumph Bonneville is hardly a rocketship, but it is still an amazingly great motorcycle to ride.  The original Triumph Bonneville was produced from 1959 into the early 70's, where it was replaced by the T140 Bonneville with a 750cc engine.  These bikes had their quirks.  Right hand shift, kick start only, drum brakes, and decidedly vintage.  Classic Triumph Bonnevilles are highly sought after and collectible.  The 1965 T120C pictured at right sold for $21k at auction last year.  The original Bonnevilles were made in the Triumph factory in Meriden, which closed down in 1983.  One would think that would have been the end of the Bonneville, but that was not the case.  A business man named John Bloor licensed the design, and continued producing Bonnevilles from 1985 to 1988 in Devon, although none of these made it into the US.  John Bloor eventually funded an all new factory in Hinckley, England, which would be the birthplace of the Triumph Bonneville that we know today.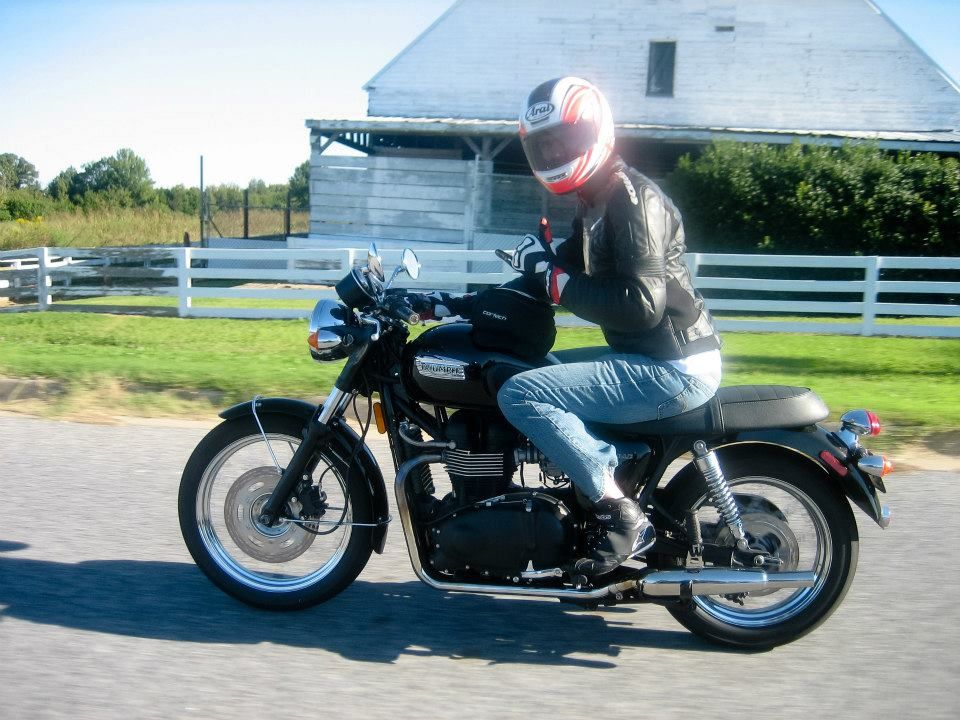 In 2001, Triumph released the new Bonneville.  Sometimes I wonder if Triumph knew exactly what they were doing, or if it was more of a shot in the dark.  At the time, the a few retro styled bikes had been released by the japanese brands with limited results.  The Honda CB1000 only made it two years in the US.  Even my beloved Kawasaki ZRX (released in '99) only made it to 2005 in the United States.  What would make it different for Triumph?  Maybe they hit the proverbial nail on the head.  The sweet spot right there between classic styling and modern performance.  Rather than use old school pushrod valves, the new Bonnie sports dual overhead cams.  New Bonnevilles were first offered with a 790cc engine, and since 2007 have been bumped to 865cc (putting out about 66hp at the crank).  The new Triumph Bonneville is absolutely a joy to ride, whether you are commuting, riding around town, or taking a relaxing Sunday ride down your favorite two lane stretch of asphalt.
In this episode of Weekly Rides with Reuben, I get to take Graham's bike for a spin (again, I grab the keys whenever I get the chance – haha!).  Graham has worked here at Competition Accessories for several years now, doing everything from helping out in the retail store to answering the phones with sales and customer service calls.  While Graham isn't in the office he can be found tinkering with one of his classic Honda CB's that he loves to restore, or his '76 Porsche 912e that he's been working on for way too long.  When he isn't getting his hands dirty though, he's riding his Triumph Bonneville.  Whether he's simply commuting to work or school, or taking a joy ride through the beautiful countryside of North and South Carolina, Graham has really been racking up the miles on the Triumph.
So what makes the Bonneville so great to ride?  It's just a stripped down, pure motorcycling experience – and a good one, at that.  The Bonneville isn't exceptionally fast, certainly not by sportbike standards, but it produces at least 90% of it's peak 52ft-lbs of torque from 2,500 all the way to redline – making for a very smooth, even pull just off idle and all the way up to the top of the tach.  Then there's those sounds it makes.  The new Triumph Bonneville is still an air cooled parallel twin, with a 360 degree crankshaft, which means both pistons rise and fall together.  This gives you that distinct triumph parallel twin sound, nice and throaty but just as musical at low rpm as it is wound up high in the rev range.  I have to say, there is something visceral about riding this kind of bike.  The handling is lively and sporty, but if you want to hustle through the corners she'll make you work for it a bit.  Once you get accustomed to the feel of throwing it into a turn it can actually be quite fun, although you'll quickly find that the ground clearance is a bit limited when you start to scrape the pegs or other hard parts.
Overall it's just a great bike to ride.  It's comfortable, makes music to your ears, and can be as laid back as your want or get a bit more exciting if you want to pick up the pace.  The Triumph Bonneville also elicits more comments from strangers than just about any other bike I've ridden.  Whether it's gramps re-living his glory days, or a teenager that just wants to tell me how awesome it is.  Either way, I don't admit that it's not really my bike, I just smile and nod – say thanks, and twist the throttle and ride into the sunset.
Come along for the ride!  Weekly Rides with Reuben are uploaded every Wednesday to our YouTube Channel.  Be sure to Subscribe to our channel – stay up to date with product reviews and ALL of our two wheeled adventures!  Thanks for watching, until next week!  -Reuben