The rules are simple:  Send us a picture  (or three) of you and your bike, and let us know the story!  We want to know where you got it, what you've done to it, what you like about it, and where it has taken you!  This little write-up can be as long or as short as you think it needs to be, just keep in mind that we are going to be picking our favorites for some really awesome prizes!
The prizes will be:
1st  = Any new Shoei Helmet up to $650 retail price!
2nd = Tourmaster or Cortech Gear up to $350 Retail price!
3rd = $50 CompACC Gift Certificate!
4th = $25 CompACC Gift Certificate!
5th = $25 CompACC Gift Certificate!
Here at Competition Accessories we eat, breathe, and sleep bikes!  We don't care if it's an old rat bike, or the latest and greatest superbike money can buy!  Send us your bike's story for a chance to win!  These stories will be shared on our blog for all to enjoy, so have fun with it!
[ navayan_subscribe ]
And now, here is the story of when I bought my 2000 Kawasaki ZRX 1100 3 years ago
(I lived near Lubbock, TX at the time):
I had wanted a ZRX since seeing the first one on the road years ago.  I just loved the classic UJM styling, the standard seating position, and of course that big torque motor.  Shortly after moving to Texas I knew it was time to find my ZRX, so I started scouring the forums and craigslist for the right one.  After dealing with some of the usual craigslist weirdos, I finally found my bike on a local motorcycle forum for a great price.  Only problem?  It was in Dallas, and I was in Lubbock – a 6 hour drive if you take all freeways.  So I chatted with Steve on the phone, and he said he'd gladly hold it for me for a week and a half if I definitely wanted the bike.  So I booked a flight, packed a small tail bag, and waited…..
Saturday was an adventurous day for sure.  I started out catching an 8am flight to Dallas, where Steve (the seller) kindly offered to pick me up from the airport, even though it was 1 1/2 hours from his house.
I was very pleased to find a 737 at my gate and not the usual little plane they send you over to Dallas on. The break of a new day from 40,000 feet: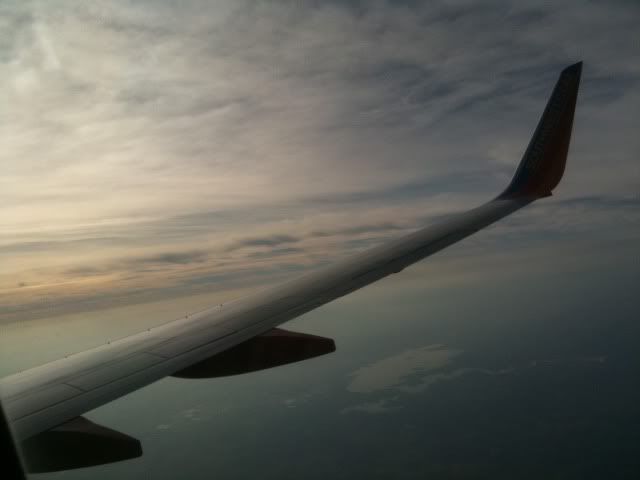 I didn't take many pictures on my trip back because I had so many miles to cover, but I did have Steve snap a picture of me before I left on the new bike:
I had programmed in a route into my GPS that was close to 500 miles long, following what I could tell to be the best roads on the map.
Headed south from Sulphur Springs on some great roads, over to Gun Barrel City, where I grabbed some lunch yum, yum! Always wished they had these in Florida…
After lunch I made my way over to Cleburne…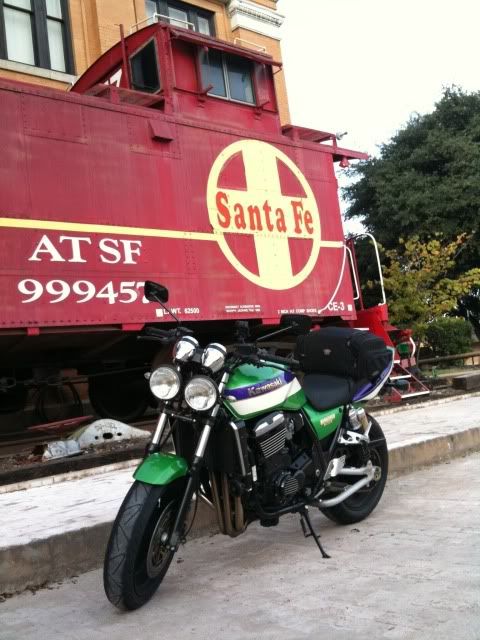 From here on I didn't really take many pictures, as I had a lot of ground to cover still and the only stops I made were for fuel. I headed up to Mineral Wells and headed West on 180. I met up with a group of riders – a couple of harleys, a goldwing, and a few other sport touring machines.  I rode along with them for a while, then they turned off and headed North and I continued on. My fuel was getting low… I passed a gas station with old pumps (pay inside) and a line. Well I didn't want to waste time with all that, so I headed to the next town just a few more miles up the road.  Turns out this "town" consisted of about 8 houses – that's it.
I hit reserve shortly after going through that town and saw a sign that said 39 miles to Breckenridge. I thought about turning around to go back to the last pumps I saw, but I made the decision to just try to eek out the last drops from the tank. I got in a good tuck and just babied the throttle. Started getting pretty nervous as the gas gauge was sitting on empty about 10 miles out, and it was getting dark fast. Just as I was coming into town she finally died on me. I coasted downhill as much as I could and then pulled over under a street lamp. I knew the fuel pickup was on the left, so I got a good hold of the handlebar and the grab handle and leaned it over as far as I could to the left. GPS said there was gas .86 miles up the road. A little cranking and she started up again, and I barely made it to the gas station! It died again and i coasted up to the pump! Ended up doing 172 miles on that tank…
Wasn't going to do that again. So I fueled up and headed out. Next part of the story includes one of Fischer County's finest. I came up on an RV in the hills and he moved over to the passing lane. I went to zip around him and discovered a sheriff right in front of him. To my amazement the sheriff just pulled off and didn't come after me. Well after my next fuel/coffee stop I took off up hwy 70 and this same sheriff comes by the other way. I saw him pull a u-turn and hit the lights. Said he got me on radar doing 73 in a 65 (night limit). Not too bad but I still don't want a ticket. He ended up being very nice and let me off with a warning. Warned me about the deer and hogs and let me on my way.
I really appreciated the warning – because as it turns out, I was about to ride right through deerland. Luckily these dual headlights put out an incredible amount of light. I saw so many dear and hogs (both dead and alive) that I slowed down to about 55 and spent the next 2 hours just focusing on the side of the road. It was mentally tiring, and I was starting to get a bit chilly. Finally made it home at 10:30. While I was falling asleep that night I actually awoke 3 or 4 times with a start thinking I was about to hit a deer, then I'd realize I was actually in bed and would fall asleep again
Anyway, overall it was a great day, hit some fantastic roads and I love the new bike.
The next day another rider from a TX forum came over on his VFR to say hi, check out the ZRX and go on a quick ride with me.  First stop was a cool house in my neighborhood: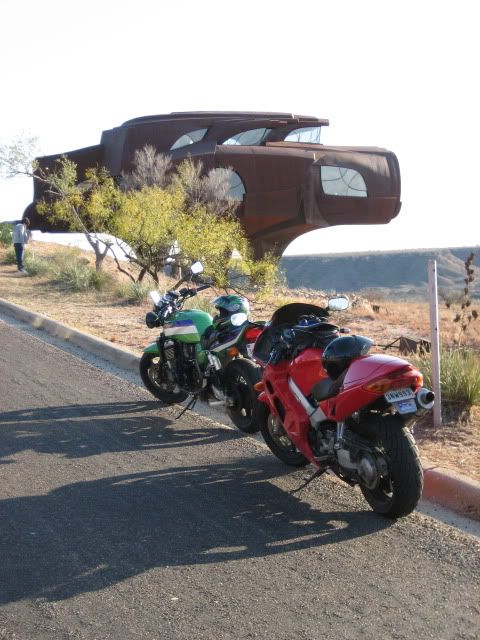 Then we stopped and checked out some retired planes: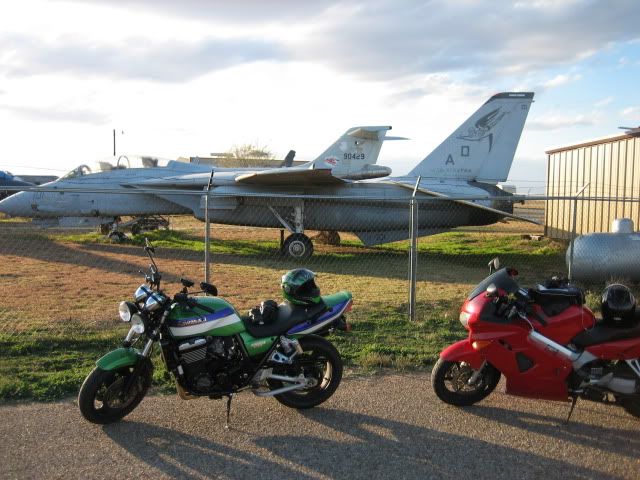 Went for a little loop which turned out to be a little long, then made it back just before some nasty weather came in. Overall it was a great weekend and I'm super happy to have two green machines in the garage now!
_________________________________________________________________________________________
The ride report above was written over 3 years ago now!  My ZRX is up to 48,000 miles (it had just under 16,000 when I bought it).  It has been a fantastic bike for me.  Sport standards are extremely popular in Europe for a reason, and I'm not completely sure why they haven't ever really caught on over here in the US.  They have plenty of power for around town, can be sporty when you want them to be, can be loaded up for a big trip in relative comfort, and are just great do it all motorcycles.  On separate rides I have ridden the ZRX across New Mexico, Texas, Oklahoma, Arkansas, Georgia, Tennessee, North and South Carolina, and plan on keeping this bike for many years to come, hopefully adding more states to the list.
It just does everything so well!
It'll do an honest 150mph: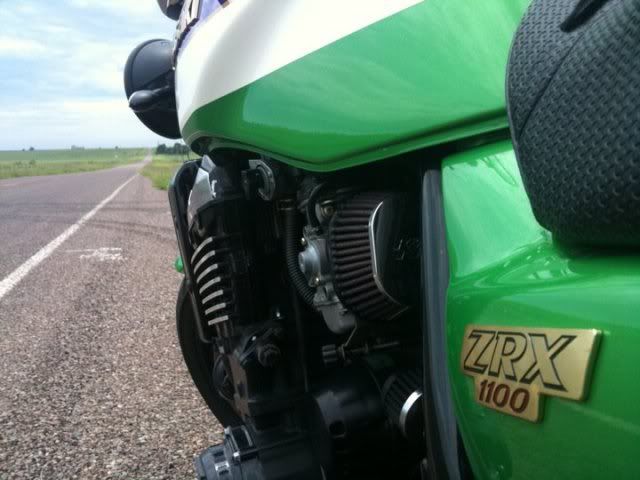 Handles 2 up riding with ease:

An absolute BLAST in the mountains of NC and TN. Up the Dragon's Tail:

I have also done numerous track days on the ZRX – both road courses and drag strip: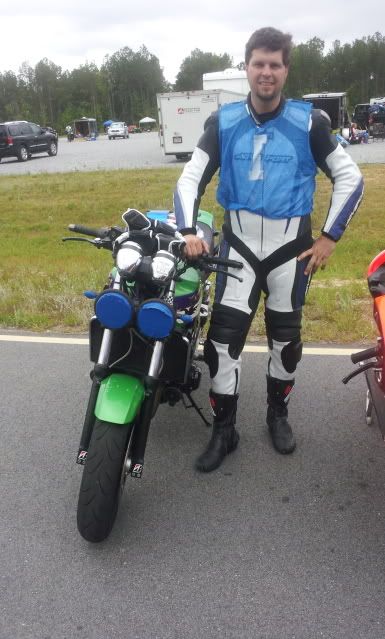 But, my favorite thing to do on my ZRX? Pack up the bags and pick a direction!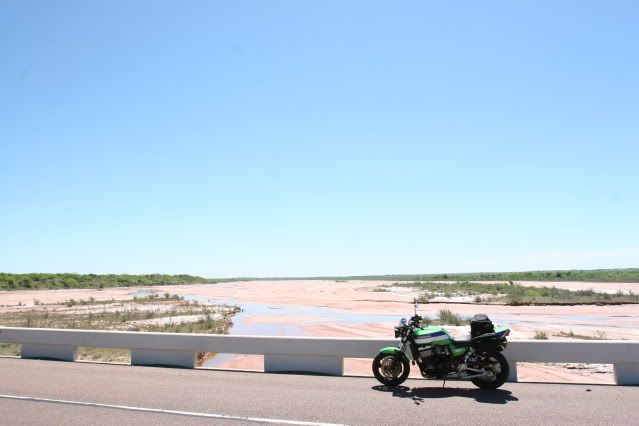 I have put over 32,000 miles on this bike and up until very recently could have said it was completely reliable.  Unfortunately on a recent trip out to Northern Georgia it started popping out of 4th gear.  Not surprising as I have ridden this thing pretty hard, and I don't know what the first 9 years of its life were like, either.
So this winter I plan on pulling the engine and splitting the cases – although this bike may not be worth a lot of money, to me it is worth the time and effort to get it back to running right.  It's just too good of a bike to let it go to waste.  Even though I may pick up other bikes for specific purposes, I'll always have the ZRX in the garage.
So let us know what you ride and what it does for you!  We can't wait to read YOUR bike review!  As they are sent in we will share them here on our blog for all to read and see – so check back often!
-Reuben