Fall can make for some wonderful riding weather.  With temperatures and humidity finally dropping down, it can feel very refreshing after a long, hot summer.  It can also pose some real challenges for your riding gear though, especially if you live somewhere that experiences large temperature swings from night to mid-day, or somewhere with a lot of elevation change.  There are a few key things to look for if you need a versatile motorcycle jacket that can keep you comfortable from a 50 degree early morning to an afternoon in the 80's or 90's.  In this video, we take a look at several types of jackets and how they perform in varying conditions.
There are few things you must know going into this.  First question – how important is waterproofing to you?  Sure, it can get pretty rainy and wet in the fall.  But do you usually pack a motorcycle rain suit anyway?  Keep in mind, a waterproof layer usually means hot and sweaty once you get much over 80 degrees – depending on how well the jacket vents (we'll talk about that, too).  The compromise solution here is to get a jacket that has a removable waterproof liner, so if you are caught in the rain, you can install it, and if it's really hot, you can remove it and stay comfortable.
The next layer we need to discuss is the one that will be keeping you warm: a thermal layer.  Some jackets come with a fully sleeved quilted thermal liner, while others use a thinner fleece or even just a vest style liner (leaving your arms a bit more exposed to the cold).  A vest style liner has the advantage of not being as bulky to store or pack, and is a good option in milder weather, but if you need to stay warm in true cold weather, go for the fully sleeved, quilted option.
Three of the motorcycle jackets in the below video have a two stage liner system with a mesh outer shell.   These were the Tourmaster Intake 3 and the Sliders Kevlar All-Season 2 and the Sliders Carmel Jackets.  Using this design, we get a jacket that will let tons of air through during hot summer months, but will also keep you surprisingly warm when the weather gets chilly.  As discussed in the video, the downside to these types of jackets is keeping track of two liners, as well as the changes in the sizing of the jacket when both liners are installed vs no liners.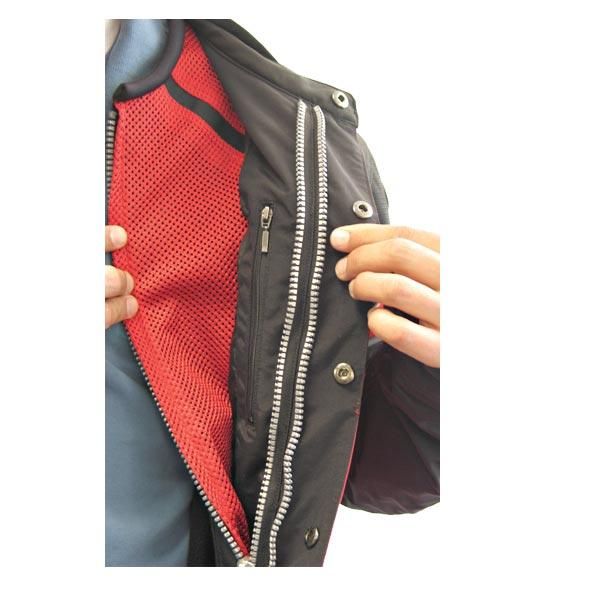 Another option is a jacket that converts from a mesh jacket to a textile jacket.  Examples would be the Joe Rocket Alter Ego 3.0 and the Tourmaster Flex 3 Jacket.  Both of these jackets incorporate an armored mesh jacket with a removable outer shell.  Joe Rocket lists theirs as waterproof while Tourmaster only claims water resistance.  This design allows the jacket to remain a bit more fitted to the body, although it leaves you with an outer shell to deal with if you need to strip a layer while out on the road (they both have vents built in as well though).
The Shadow Pikes Peak Jacket is another great option, especially if the jackets waterproof ability isn't high on your priority list (either you are a fair weather rider or bring a motorcycle rain suit anyway).   This jacket has a removable wind blocking liner that can keep you a bit warmer if it's chilly, but the beauty of this jacket is that it has 4 large vertical vents that allow a significant amount of airflow when things warm up.
Lastly, we took a look at the Tourmaster Transition 3, a waterproof textile jacket that is fantastic for cold weather riding.  Thanks to the pipeline ventilation system, the Transition 3 also provides a decent amount of airflow into the jacket, although it will certainly be the warmest jacket in the lineup.
If you have any questions about any of these jackets, feel free to give us a call or send us an e-mail.  We also have full detailed reviews on all of them on our website, so be sure to check those out by visiting any of the links in the above article.