4 of us cut out of work early last Thursday to tackle the South West section of the Blue Ridge Trail (BRT) on a nice, long weekend.
But first! Let's dispense with the introductions and many many thanks to Error Cooled for putting this route together and making the gps files available for all to enjoy. If you aren't already aware, the Blue Ridge Trail project was started by an "inmate" on Adventure Rider that goes by Error Cooled, and covers hundreds and hundreds of miles of trails and back roads. If you want more info, check out his thread here:http://advrider.com/forums/showthread.php?t=632804
This is my friend Andy and his DRZ400, which he has owned for just over 2 weeks at the time of this trip. It's his first dual sport bike, and he really only has one other short Saturday ride under his belt so far…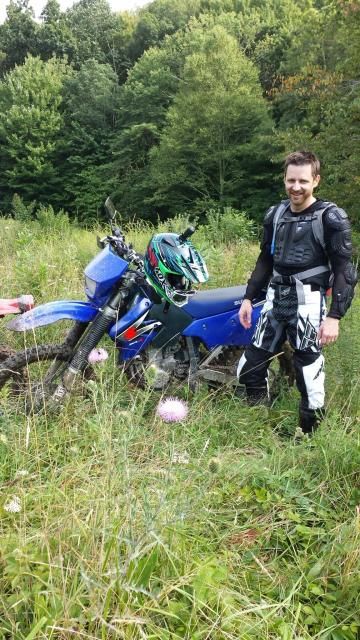 And the rest of us: That's me, Matt, and Trevor

But enough with the people, what about the BIKES? I'd be taking my 1984 Honda XL350R. She's kick start only, and has a severe distaste for turn signals. But, she was a good girl and allowed me to install these shiny new ones before we left:



Also on the list: Oil and filter change, new rear tire, new chain & sprockets, and new clutch and throttle cables.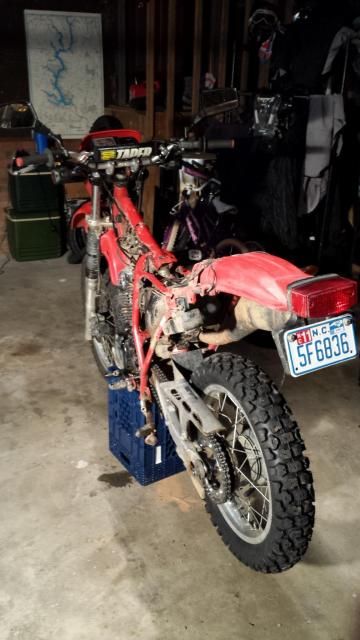 Look at those nice shiny Hondas! Matt and Trevor both ride XR650L's (Trevors has the oversize tank). We had enough camping and riding gear to setup a small village – yet we all managed to forget something…



Andy drove himself to camp, since he was going to have to head back Saturday night. As luck would have it, we actually ended up leaving around the same time, and he caught and passed us on the interstate.

Virginia!



So… our plan was to camp at a spot called River Views Campground… we had a reservation, and it looked like it was nice and close to the southernmost (green) portion of the Blue Ridge Trail in Galax, VA. The roads to get there twisted and turned – good thing for gps navigation and cell phones – this place isn't easy to find!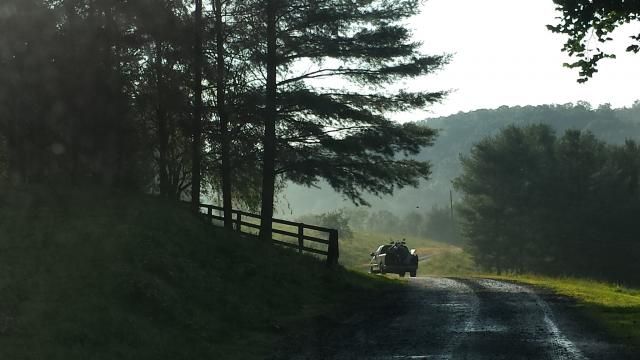 but… after taking twists and turns through some beautiful countryside… we were greeted with a rather disappointing site (pun intended). We had done our research. They had a reasonably attractive website, with decent pictures of the grounds… but those pictures did this site no justice. We were told to setup down behind the tractor… in the mud, with piles of overflowing trash bags. 
Not only that, but our neighbors who were flying the stars and bars were eying us with none-too friendly stares, while the camp host really didn't seem to think we should be staying 'round those parts. 
Despite having already planned our routes from this spot, and the sun hanging dangerously low on the horizon, we decided to drive another hour North to another campsite we had considered: Stony Fork Campground just North of Wytheville.
On the way there, permanent residents:



Camp all setup and JUST before dark, ahhh this is MUCH better, and only 12 bucks a night! – GOOD CALL!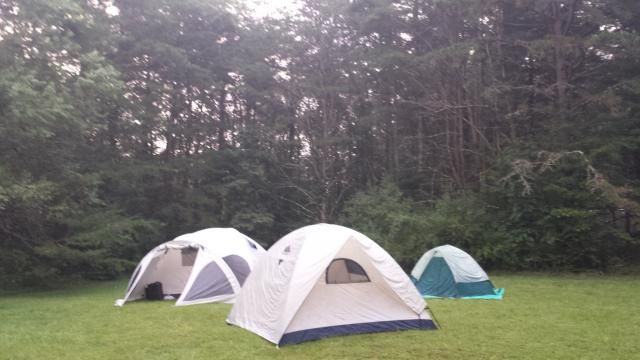 After scrambling to setup our tents and unpack before dark, we needed to make a quick run into town for some necessary provisions. Can you tell this was a guys trip? 
The bikes were all unstrapped and ready to hit the road first thing in the morning! The next day would prove to be QUITE interesting, and challenging in many ways…

Day 1.
And as with many of our adventures, this one began with mechanical problems. First, Trevor's bike wouldn't fire up at camp. Cranking slow, we chalked it up to the cool mountain weather and the fact that it had sat for over a month – a little push start and we were off!
Unfortunately we only made it about 10 miles down the road, to our first gas stop, when more problems showed up. His bike started randomly leaking fuel out of the float bowl drain. I've never seen anything like it. It would dump out… then stop occasionally, then start dumping fuel out again. We checked to make sure the drain screw was in all the way – it was… 
Andy and I ran over to the local Napa and picked up some hose clamps and vacuum caps to seal off the drain. Problem solved? Curious if anyone here has had this problem – even after taking the carb apart – we can't figure out how it was leaking – and it was definitely coming out of the drain, not running down the side of the carb. 
The bike was still cranking slower than any of us liked, so we decided to run over to walmart to install a new battery while we were still close to civilization. By the time Trevor and I had paid for the new one, Matt and Andy had yanked the old one. They made quick work of installing the new battery in the Walmart parking lot.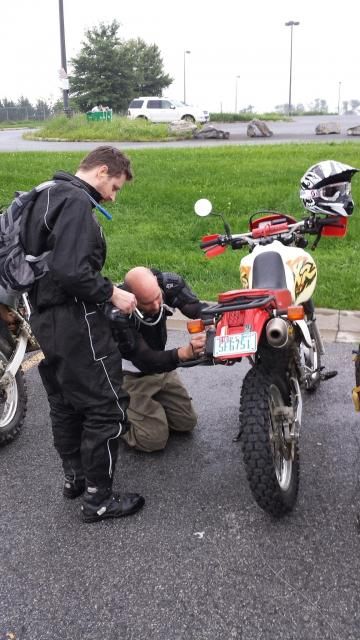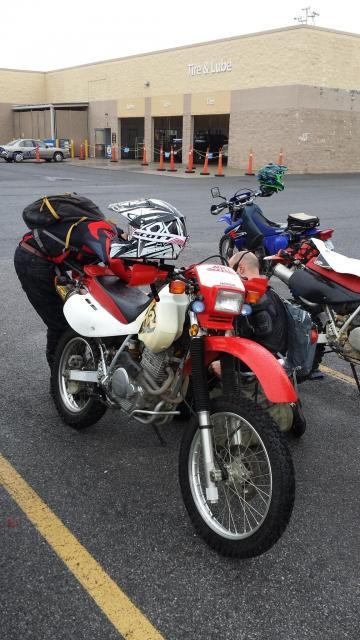 The skies were looking dark as we rolled out of town, and soon after we were getting rained on. Not a heavy rain, just a steady, soaking rain. We found ourselves on the highway to hell – turns out it's gravel.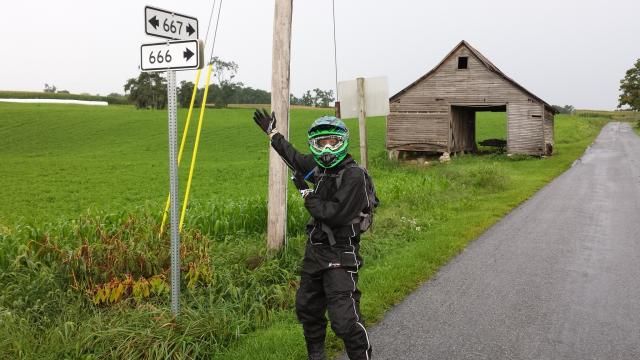 …and that is where Trevor's bike decided to act up, again. Are we noticing a theme here yet? 
 I think Trevor was more mad about it than any of us, but we had also plotted a fairly ambitious route for the day. Since we swapped camp sites, we were going to be riding an extra 50 miles or so. And when a lot of that is singletrack – well, that can take a while.
This time, instead of leaking out of the drain (which we had plugged), his float was now sticking (or something was clogging the valve), and his bike was flooding out and leaking gas out of the carb vent tube. Unfortunately we didn't have a good stubby screwdriver to drop the float bowl, so we drained it, blew threw the vent, tapped on the carb, and got the leak stopped (for now…)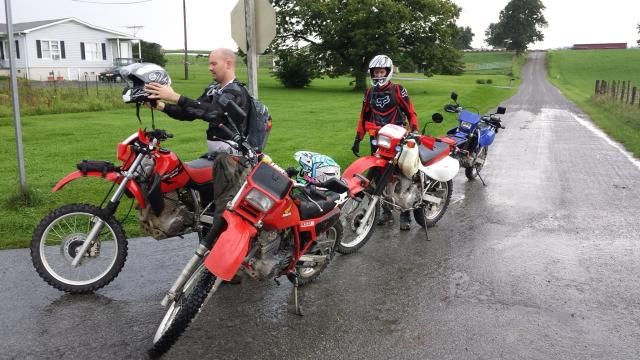 Wet gravel roads, and more rain were in our future.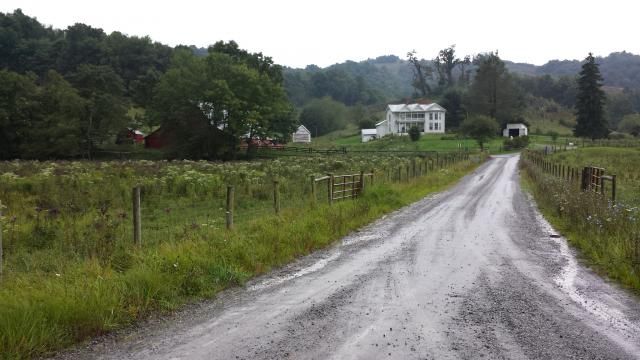 We rode for nearly 2 hours through the rain. Only Andy and myself had any kind of semi-waterproof gear. Poor Trevor and Matt were as soaked as you can possibly get. With temps in the 60's, we were all a bit chilly.

Trevor dumped about 1/2 a gallon out of each boot.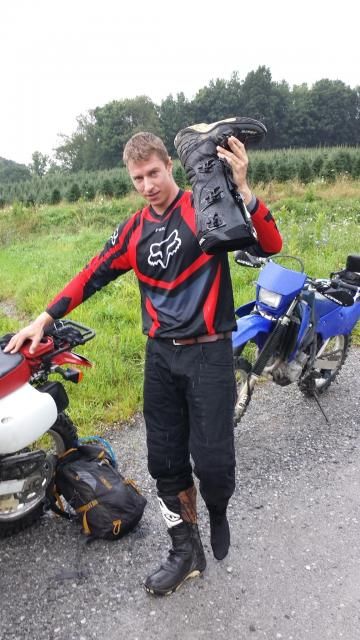 After quite an eventful morning – we finally rolled into Damascus around 2pm – a few hours later than we were originally hoping. We gassed up quick and ran across the street for a quick bite at Subway. Not our first choice but we knew that with potentially more bike problems and plenty of off-road ahead, we better get a move on.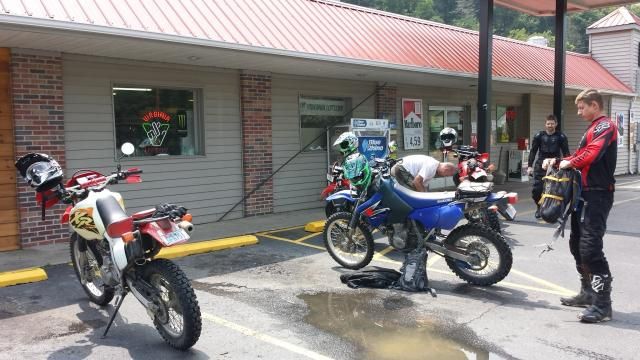 From here we were in a constant state of struggle. Either with the trail, or with, you guessed it, Trevor's bike. Poor Trevor wanted to kick the pig down the side of the mountain. 
 We just kept nursing it along.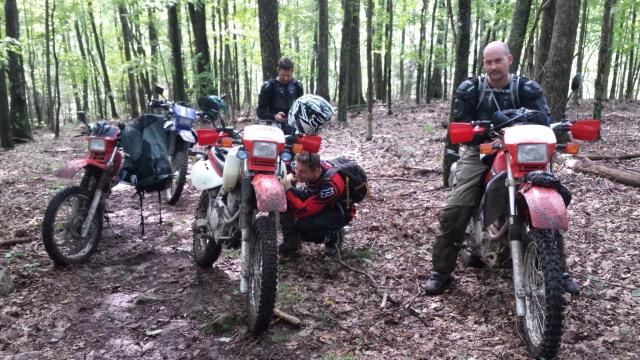 I don't think any of us quite knew what to expect with the Iron Mountain trail. We had heard plenty of people say it was tough, but we has also heard about this Rave guy who did it on a GS – so it can't be THAT bad, right? 
Wish I had gotten more pictures of the obstacles – but pretty much right off the bat you are bounced off some rocks, across a stream, and up some very tight, rough singletrack. Eventually the trail broke out into this little meadow, and we were all happy that we had made it this far – especially Andy.

Apparently I couldn't believe what we had gotten ourselves into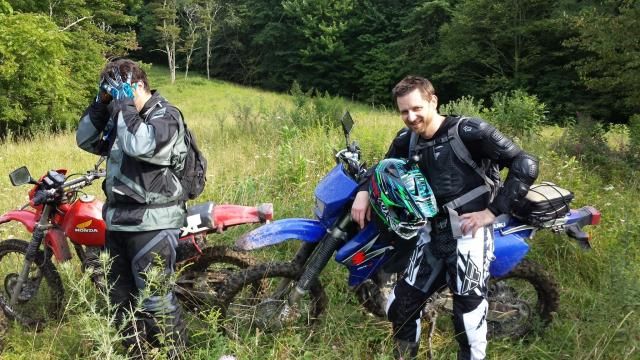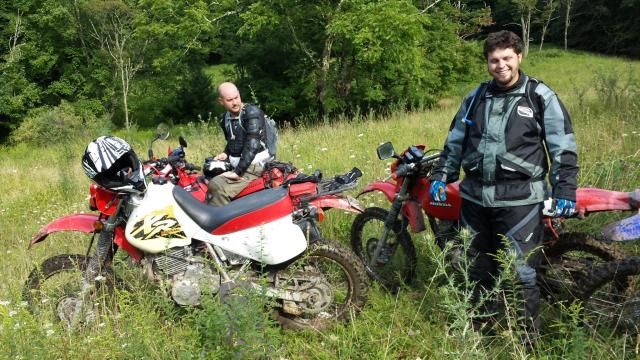 After riding through tight woods for a while, it was nice to break out into a little clearing. Not really sure how little clearings like this form – but it was a nice spot full of butterflies.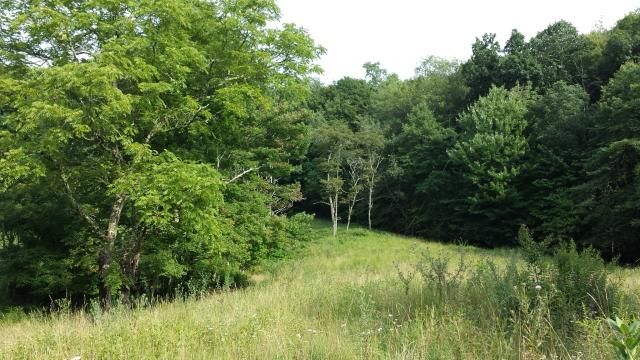 Unfortunately we were so rushed trying to survive the trail, keep Trevor's bike going, and get back before dark – we really didn't get a ton of pictures of the obstacles on day 1. We just rode over them as fast as we possibly could.
When we were finally out of the singletrack, we passed this overlook and decided we should finally stop and take a look at something. After a full day of riding, hiking up these stairs was fun.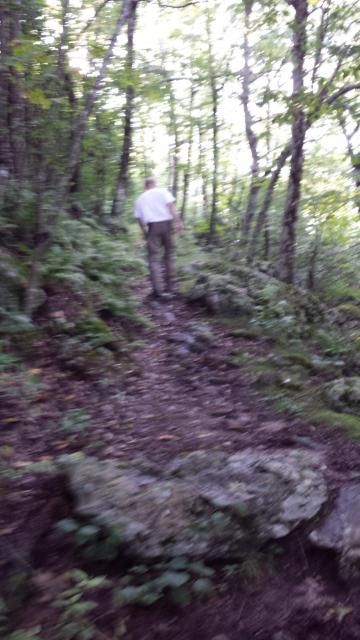 and the view from the top was WELL worth the hike. 360 degree views like this? Yes please!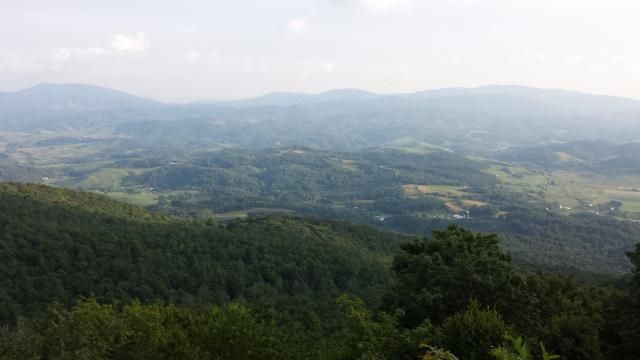 We disturbed some buzzards who were roosting at the overlook, and they circled around us for a while. I guess we were invading their space.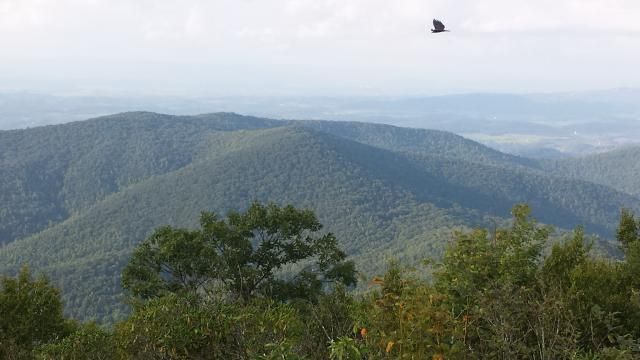 What I want to know is – who hauled up all the rocks and the concrete?!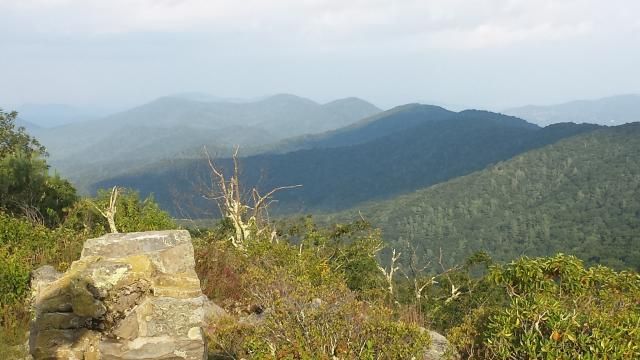 Trevor finally got to relax a little. His bike had made it this far – we were going to make it back to camp.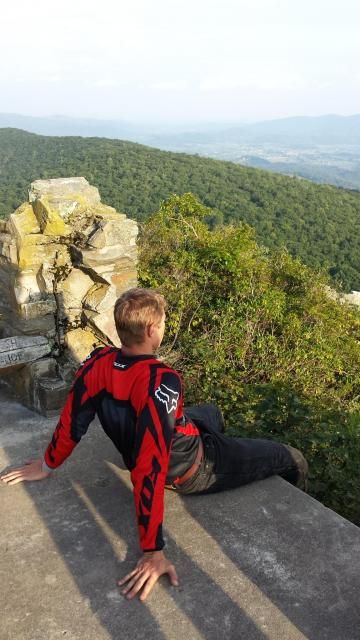 The shadows were getting long and the temps were dipping again. We snapped a few more pics and hopped back on the bikes.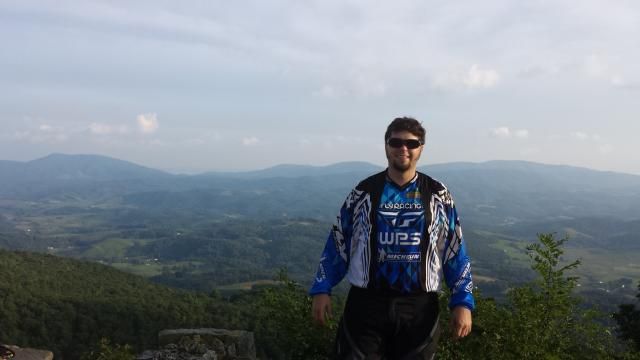 Once we got back into Wytheville, we gassed up the bikes, and headed straight back for camp. Final stats for the day:

We made it back around 8:30 with just about no light left in the sky. Just so happens Matt is a chef when he isn't riding, and he cooked up some AMAZING steaks, mashed potatoes, and collards over the fire that evening. No pics of the food – but MAN was it delicious!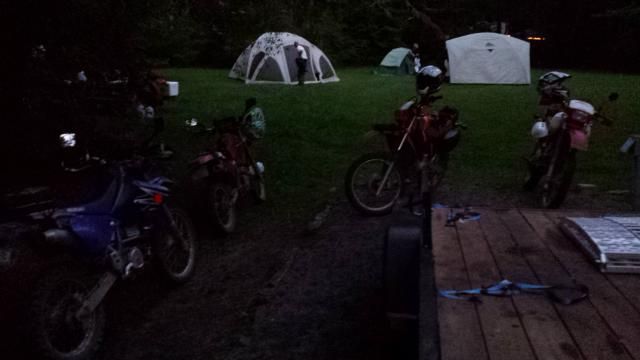 Get your 
 ready – this is loooooooonggg (but oh so entertaining)
Day 2.
As soon as we got up Saturday morning we busted out the tools and tore into Trevor's bike. We were all so worn out from the previous day, that none of us really minded getting a bit later of a start – and we certainly didn't want a repeat performance from the XR (although it had behaved itself for the last several hours of the day before).
We pulled the carb, dropped the float bowl, and proceeded to spray the heck out of it with carb cleaner. We still aren't sure how or why it was leaking out of the float bowl drain, but we pulled that screw and cleaned it thoroughly as well – strange problem 
Once we got the carb cleaned and the bike back together, we headed east on 717 out of the campground to pick up the trail where it crosses over. All of us were pretty excited to be back on the bikes – and Trevor's was running better than ever.
This is the part of the trail that takes you up and over I-77. It starts out as a dirt/gravel road, but soon tightens up with growth and becomes a rock scramble with streams literally running down the trail in some parts. We were all too busy bouncing off boulders to take pics – but a video is coming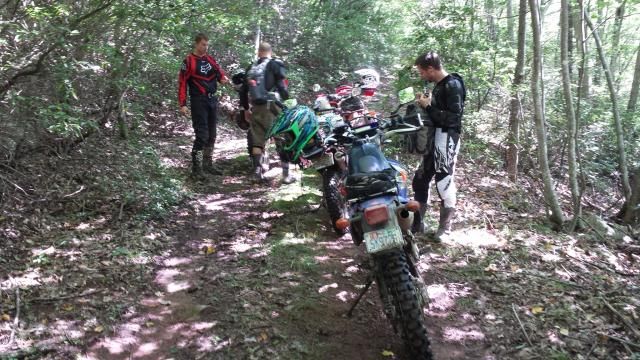 For lunch we were just playing it by ear. We rode through Bastian and didn't see any place to eat. Thankfully we checked our phones and found a pizza place on the north side of town. They had just recently opened and it was REALLY good (especially since it was almost 3pm by the time we finally got to eat!)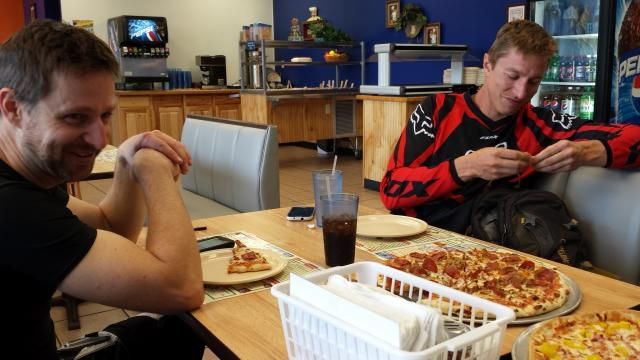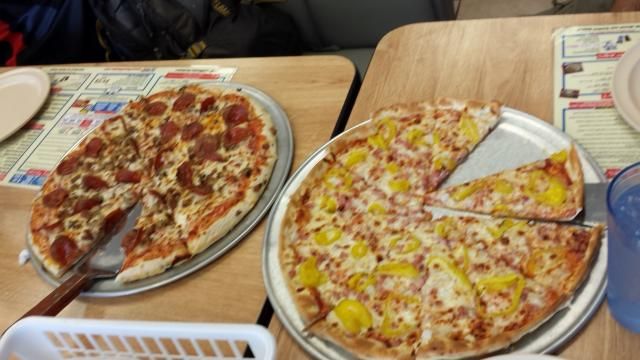 From Bastian we rode back up the scenic hwy, back across 77 and then up some more gravel roads. This seems like a pretty popular spot to stop and take a pic: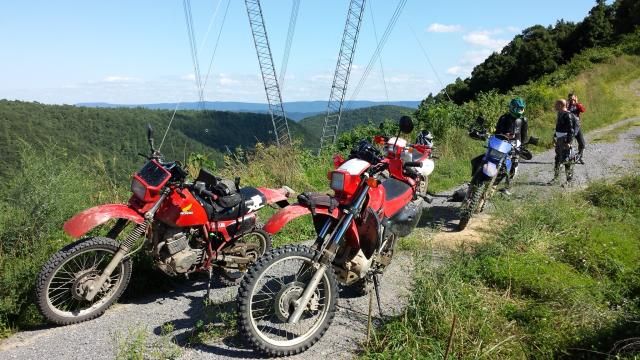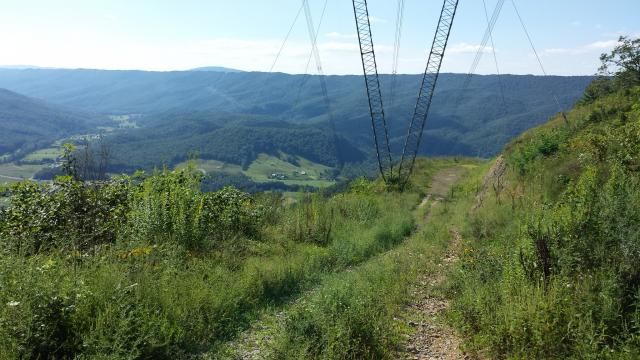 Then came Hogback Mtn Road. O.M.G. This road is essentially a dirt road with a severe mud bog every 100 yards or so. The fun part is: you never know how deep it's going to be! You might splash through a shallow puddle, or, as Matt and I discovered, your bike might get swallowed 
The first one that really got me I missed getting on video 
 I rode in and about halfway through this monster puddle I could tell it was going to be bad. The front end sank and the rear quickly followed. I was straddling the bike paddling through the muck – exhaust was just about underwater. I had the engine revved out trying to keep it alive (and free of water) and somehow managed to push the bike through and up out the other side without stopping. I don't think I've ever been that close to being stuck and actually made it out. Really wish I had gotten that on camera.
Our bikes came out the other side just a little bit muddy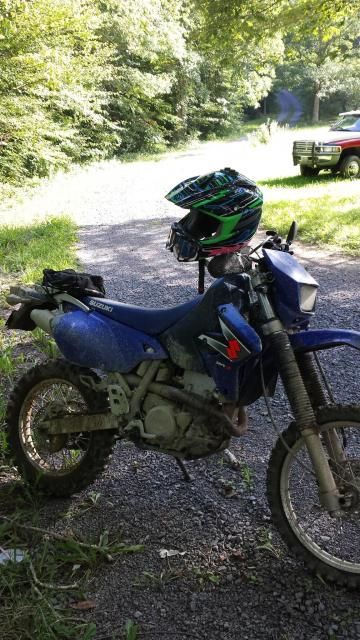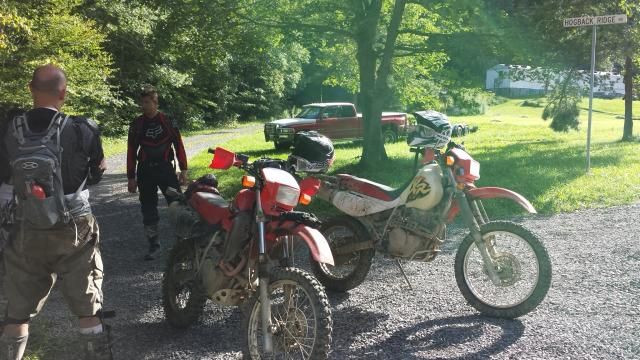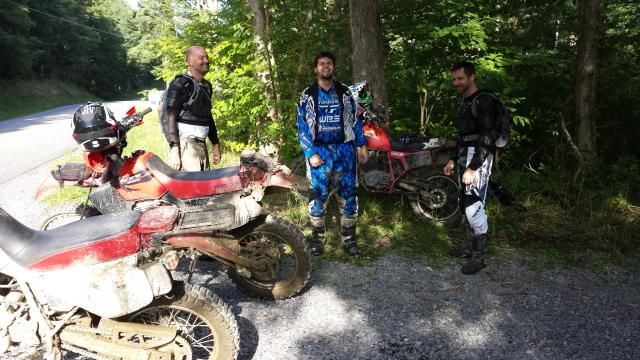 I was impressed that you couldn't see a spot of black on my exhaust, it was completely brown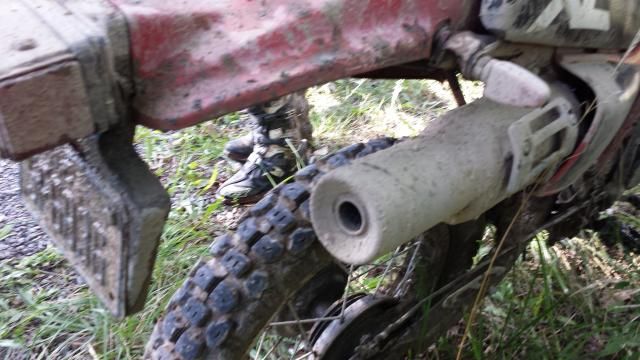 From here we made it all the way to the Wilburn Grocery Store on HWY 100, then we just took 100 to 42 back into Bland, VA. Before heading all the way back to camp we stopped in bland to gas up and pick up a few more things.
After two days of bouncing down trails and over rocks, my kickstand was having a hard time staying up. It would bounce halfway down and then smack a rock and go back up. I guess this was a bit unnerving to watch from behind, so the guys suggested we just zip tie it up. That kept it in check for the rest of the ride – I just had to get a bit creative with my parking.

Goin for the holeshot:

Testing out the cornering on this beast.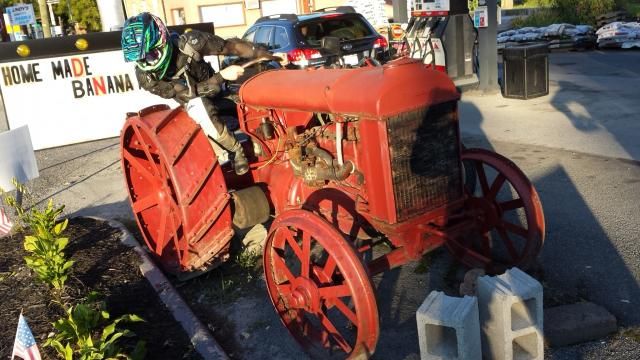 We strapped some more essential supplies to Trevor's bike.

From Bland it was just a quick jaunt down I77 a few miles back to 717, and back to camp. The cool thing about doing this was we got to ride through the tunnel – the one that we had been on top of earlier that day. A few of us also got to test out the top speeds of our steeds. This is 100% all the little red pig can do, downhill.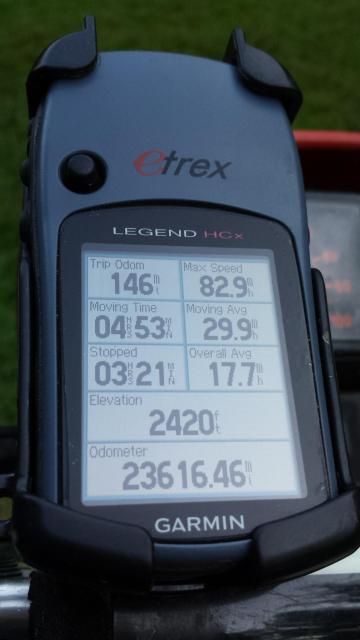 Once we got back to camp, Andy had to pack up and head out. We said our goodbyes (I think we were all exhausted) and he hit the road.
After nearly 150 miles that day, it was time for some grub. We whipped up some hobo meals. Steak tips, potatoes, carrots, tomatoes, onions and some cheddar all wrapped up in a foil packet and cooked over the coals. 
The air was really crisp and cool that night, we all slept like babies.
Day 3.
So for day three we had no plan. We figured that after days 1 and 2, we'd have a pretty good idea for where we might want to go explore, or maybe we'd be ready to just give up this crazy motorcycling thing.. haha… naahhh
So Matt and Trevor thought it would be fun to ride back over Walker mountain the other direction. So we figured out where that "road" comes out by the lookout tower – turns out it's not too far from camp! 
My kickstand was still having trouble staying up so we had it zip tied up – no problem.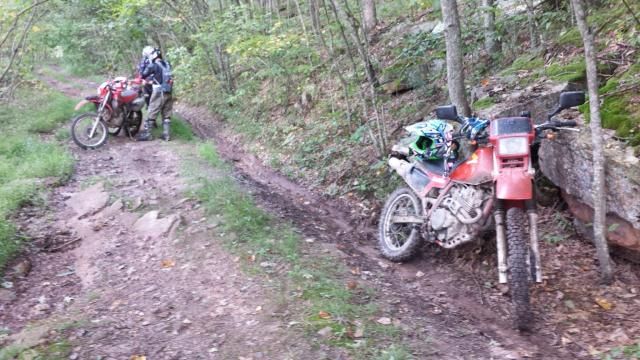 Good representation of Walker Mountain "road"

Again we didn't take too many pics… but we had a great time going back up and over Walker mountain the other direction. Instead of climbing up over the big granite slabs we were riding down them – a totally different experience. From there we continued South into Wytheville – hitting the small section of the BRT that we missed on Friday's ride.
We had seen this water tower from afar a few times – at first glance I had thought it was a hot air balloon. We stopped for a break and a close up look.
Once back at camp it was time to clean up and pack up… and we had quite a bit of stuff. Bye bye campsite – you were good to us. Thankful that our neighbors were deaf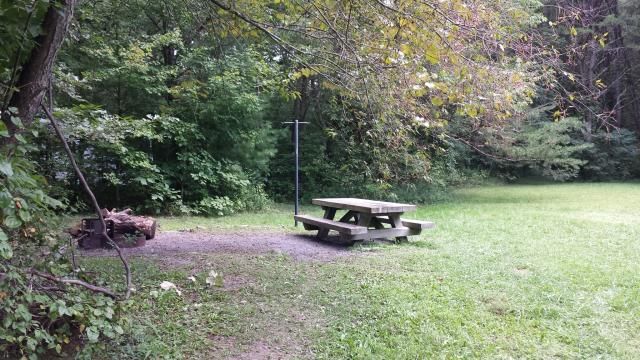 Loading up the not-so-clean Hondas after a great 3 days of riding.

Thanks for following along!