Those of you who follow our blog and our YouTube channel regularly already know that I'm a huge fan of small dual sports. This category of bike just lends itself so well to adventure. And when I say adventure, I mean it in the purest sense of the word – no frills adventure – just get out and ride! Those that know me know that I'm also a Kawasaki fan, so naturally, I was excited to try out the small dual sport offering from team green.
The first thing most people notice when climbing aboard a dual sport for the first time is the seat height. This ain't no cruiser. The KLX 250S, despite being a "little" 250, has a seat height of 35 inches. At 6′ tall with a 32″ inseam, I was just able to flat foot both feet while at a stop (remember the suspension will compress a few inches when you sit down). The KLX is by no means unbearably tall, but if you aren't used to dirt bikes or dual sports, it will certainly feel a bit on the tall side to you.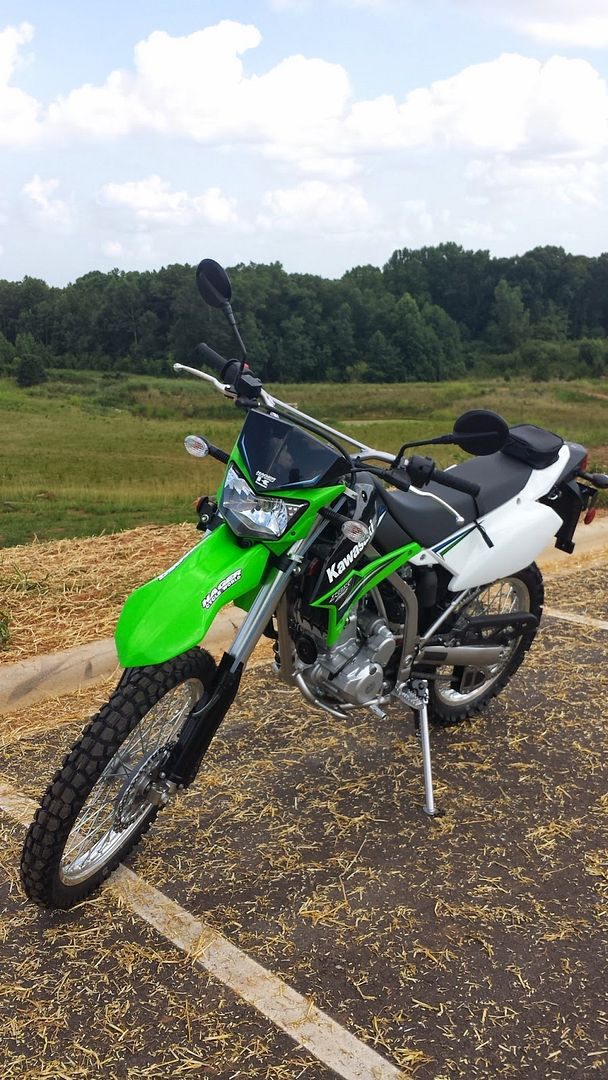 Turn the key and the digital display comes to life. Sporting a digital tachometer, speedometer, odometer (including two trip meters), and a clock – all of the information you need is right there at a glance. Being a carbureted bike, the KLX needs a little choke to get started on a cold day, and you'll probably want to give it a minute or two to warm up while you fasten your chin strap and pull on your gloves. With a warmed up engine, I found the fueling to be very good, with very smooth on/off throttle tendencies and no bad behavior.
I was impressed with the gearbox on the KLX250S as well. One big challenge to small displacement bikes – especially dual sports – is the gearing range. You want a first and second gear that's short enough for off-road work, but also want usable gearing for the street and highway. The KLX250S handled this very well, with a 6 speed transmission that had a very good compromise between slow speed performance and highway capability. Do keep in mind that with a small engine you're going to be wound out a bit more at higher speeds – that's just the nature of these bikes.
Suspension also felt great on the KLX. Much better feedback than I was expecting from a bike priced at $5,099. Granted, it's still going to be a bit too soft for really bombing down the trails like a GNCC star, but for the average explorer who enjoys wicking it up a bit from time to time, it felt pretty good!
So how does a 250 compare to the bigger dual sports? Well, like any dual sport conversation, it all comes back to compromise. One of the big advantages to a bike like the KLX is the weight. Under 300lbs for this particular bike. This makes riding on more advanced terrain much more manageable (and I think, enjoyable) vs. a big bike that's going to have you working very hard. Of course this totally flip flops when you start considering loading up with luggage, hitting the highway, and doing some camping. Is the 250 capable of highway riding – sure, we established that, but something like the KLR650 is going to do much better in that arena. If you want my honest opinion, I think something like the KLX400/DRZ400 is the real sweet spot in the dual sport world. Enough power to have some fun or survive a trip down the interstate – but not as difficult to manage as the 650's when the going gets tough. So, Kawasaki, if you're listening – how about a street legal 400-450? I'd love to see team green give KTM a run for their money.
Be sure to check out a complete line of Dual Sport Helmets and Dual Sport Gear for your next ride
Weekly Rides with Reuben are uploaded every Wednesday. Make sure you subscribe to our YouTube channel – and hit up www.compacc.com for everything you need to ride!