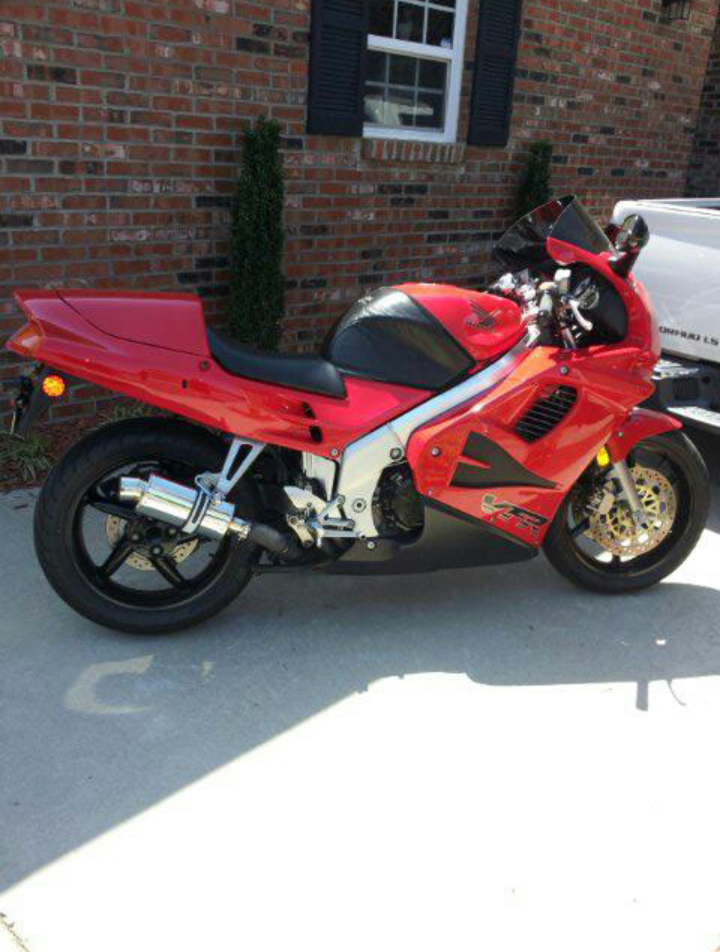 Fair warning: You're going to hear me giggle in this video – a lot. That's because the 4th gen Honda VFR is arguably one of the best sounding bikes I have ever ridden. A throaty V4 growl highlighted with that high pitched gear driven cam whine is sure to make anyone smile, and smile we did on this day.
My friend Mark owns this beautiful 1996 example of the 4th generation Honda VFR, as well as a new Honda CB1100. Two fantastic machines with very different personalities. While the CB is incredibly smooth and fairly laid back, the VFR asserts its presence with full, bright red fairings, and bark that lets anyone know that it means business. As it should, the original Honda VFR was actually the homologation model for Honda's race bikes in the 80's. The 4th gen VFR draws it's styling cues straight from the Honda NR race bike, and even today draws looks and attention everywhere you go. Of course, it helps that Mark keeps his bikes absolutely immaculate; in fact he has had several people ask him if he just got the bike, thinking it was brand new!
Having spent most of my time on naked bikes and dual sports, one of the first thing I noticed about riding the VFR was the ample wind protection. Not only was I riding in a relatively calm void of air disturbances, there was also very little turbulence coming off the windscreen. A comfortable seat and very comfortable sport touring riding position combine to make for a ride that I could literally spend all day on, for days on end at that. It has been said that the Honda VFR is one of the best road bikes ever made, and I would have a hard time arguing against that. It just seems to tick all the right boxes, striking a perfect balance between power, handling, and comfort. Oh and did I mention how good it sounds? This bike could be an absolute torture rack and I would still want to ride it just to hear that engine. Of course all of this compromise means that you get a bike that is, well, a bit compromised. A compliant, relatively soft suspension makes for comfortable long distance rides, but can make the bike wallow a little bit if pushed very hard in the corners. Having said that, smooth inputs and proper body position will reward you with a very planted feeling around the corners, and the compliant suspension soaks up any irregularities in the road with aplomb.
As I write this Charlotte is being buried in snow, so it's a good thing we got out for our weekly ride on Sunday! Enjoy the video, be sure to rate, comment, and subscribe! Weekly Rides with Reuben are uploaded every Wednesday!