When choosing a proper
motorcycle helmet
there are a few things to take into  consideration.  The vision , the noise, the ventilation,the type of riding you do and the features that are most important to you . When choosing your helmet make sure you focus on the features that are important to you, If you are a cruiser guy, a touring rider, or even ripping up the track there are many features that cater to each individual type of rider.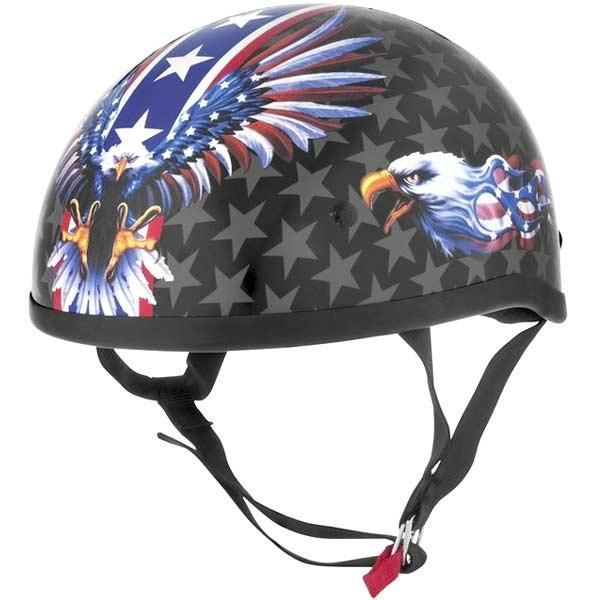 A Shorty helmet is for a rider who is looking for the least features, a minimalist if you will.  This is the type of rider who is wanting nothing but open road wind in their face, everything is all about the ride.  All the shorty helmets we sell are all DOT approved so don't worry about Johnny Law riding your coat tails in the helmet enforced states.  Some shorty helmets come with removable ear covers to keep your ears nice and warm in the cold weather, or to keep the wind out of your ears while riding down the interstate.

A Full Face helmet will suit a very wide variety of riders, whether you are riding the street or the track.  This helmet is the overall quietest type of helmet out there, and that's because they are the most aerodynamic.  A full face helmet will also generally provide the best protection, as your head, and face, are fully encased in the helmet.  Full face helmets range in styles from inexpensive to very high end, pricey models.  Some designs are geared towards touring and commuting, while others are purpose built for the race track.  Many full face helmets work very well for the street or the track, so if you are a rider that does a bit of everything, you can't go wrong with a full face helmet.

A Modular helmet is made for someone who wants convenience. This helmet great if you need to communicate with someone or if you are parched and need a  drink , or even if your a smoker and need a fix, this is the perfect helmet for you. This helmet is also great for those of you who wear glasses, as it's a lot easier to get the helmet on and off with glasses on.  Modular helmets are also great because they give great protection similar to a full face helmet.  Modular helmets are typically a little bit heavier than full faced helmets due to the extra parts (the base plates, chin bar pivot point, latches, etc) and a lot of the time there is a drop down sun visor. The modular helmet is for street riders or touring riders mostly.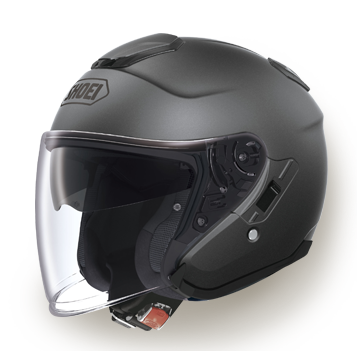 A 3/4 helmet is mostly for someone who wants all the freedom of a shorty helmet with a bit more protection. This helmet is a good in between helmet. Many of them come with a full faced shield to block the wind, bugs, and rocks from hitting your face.  Some however, do not have a shield and instead have a simple visor peak.  Tinted visors are also another option, and a lot of 3/4 helmets now have an internal sun visor.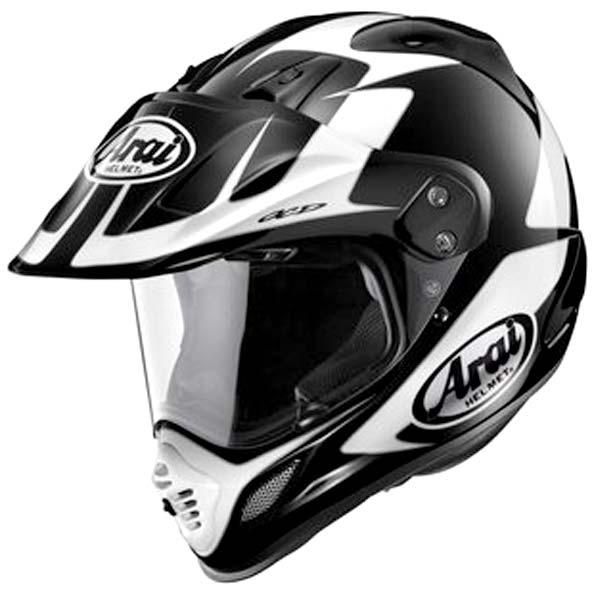 A Dual Sport helmet is more of a 50/50 helmet, half on road half off. It comes with a visor peak to help keep those roosts off of you from riders in front of you. There's also full faced visor for highway , its good to keep bugs rocks and weather off of your face. This also comes with adjustable vents and a larger eye port so that you can use goggles for offroading ( some exceptions apply). This helmet is going to be very aerodynamic the visor peak is going to have larger holes at the bottom for better travel on the freeway.

An Off Road Helmet is designed for racing, trail riding, motocross and super cross. This is a helmet that is very light weight and has great ventilation, closing the vents is normally not an option. Its going to have a very large eye port for great peripheral vision. The visor that's on it is great for deflecting roosts, but terrible for highway riding it tends to catch the air and makes head checks from side to side harder.
So the choice is up to you, are you the kind of person who takes life by the horns, or do you enjoy more of a quite Sunday ride. I think this will be a great guide to follow on your type of riding and features that you might be interested in. There are so many different types of helmets and such a wide range in pricing so don't be frightened just take a friendly tip from us at Competition Accessories.