Having trouble seeing the video? Watch it on YouTube here.
Honda caused quite a stir with the launch of the Goldwing F6B, a trimmed down Goldwing variant with a bit of an attitude.  Part mega touring bike, part bagger, the F6B obviously has its roots as a Goldwing, but yet it also appeals to a whole new market.  Over the years the Goldwing has earned a bit of a reputation as an "old man's bike."  Despite being a solid performer, many younger buyers just couldn't see themselves on a Goldwing (yet).  The F6B, which we are told stands for Flat 6 Bagger, stands to change all of that.  Sporting a more low slung profile, the F6B is a Goldwing with attitude.  Some of the more obvious changes include removal of the top box, shortening of the windscreen, and blacking out much of the exposed metal.  You still have an aluminum frame, single sided swingarm with shaft drive, and that wonderful 1,832cc flat 6 motor.

Much to the chagrin of many long distance riders, the F6B also lacks cruise control, which is a shame, as it's a great option for a long distance tourer.  Of course there are aftermarket solutions available, but a proper factory cruise control would have been nice to have.  Honda also elected to remove the reverse gear that comes standard on Goldwings.  While the changes to the F6B resulted in a 60-90lb weight reduction, you are still left with a motorcycle that weighs close to 850lbs, so you'll want to be extra careful where you park.  Pushing this thing backwards up a hill by yourself may prove difficult or impossible in some situations.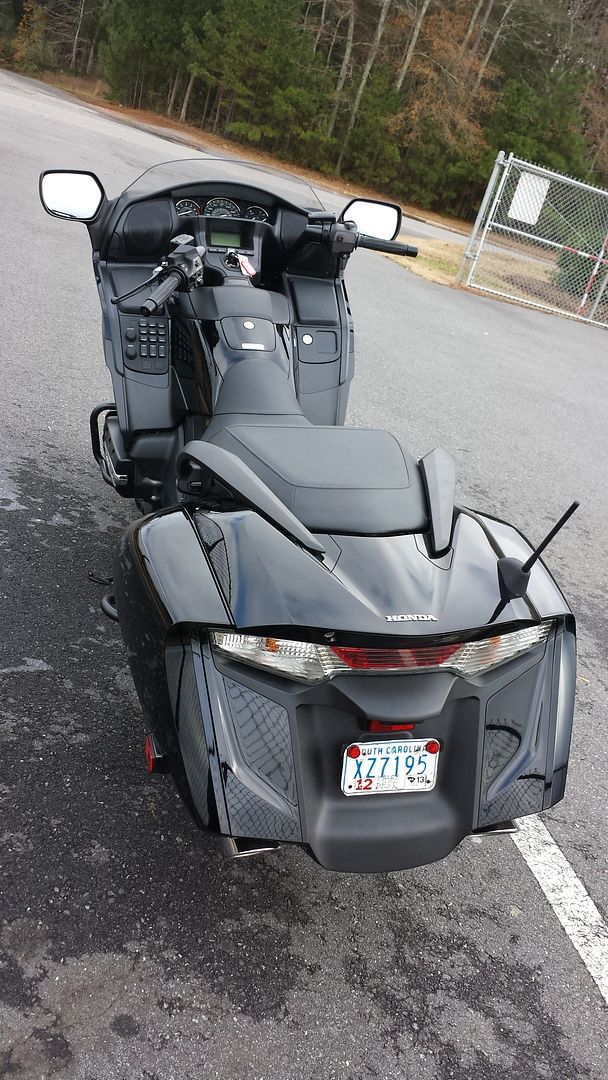 Despite the heft of the Honda F6B, it is surprisingly easy to ride.  Once above parking lot speeds the weight really disappears below you, and you are left with a bike that is surprisingly agile (for its size), and has a confidence inspiring feel in the corners–planted and secure.  This sporty handling pairs very nicely with the torque 6 cylinder, which propels you forward with authority from just about any rpm.  The result is a motorcycle that is just as at home carving up a twisty road as it is gobbling up the miles on the highway.
Feet are in a neutral position below you, and rather than having floorboards, the F6B has oversize, rubber coated footpegs that I found to be very comfortable.  The seat is also nice and large, with ample padding for long distance comfort.  The passenger seat is also very comfortable, and although I didn't have a passenger for my test ride, I get the sense that the F6B is probably one of the better 2 up bikes money could buy.  Going for the deluxe package will provide your riding partner with a backrest, along with heated grips, self cancelling turn signals, and a center stand.
Although you do give up a bit of storage space when compared to the Goldwing, the F6B still provides ample space to haul your things, whether it's running errands around town or loading up for a cross country trip.  The built in saddlebags, no bagger would be complete without them, can hold up to 11 liters each.  They open up for side loading, and a gas strut lowers them down nice and slowly while a cable supports them when fully open.  While the side entry makes access fairly straightforward, the bags can only be opened by inserting the key and unlocking them every time.  The key cannot be removed without locking the bags again.  On one hand you'll never accidentally leave the bags unlocked, but on the other it is a bit annoying since you can't quickly grab something.  There are two additional glove compartments up front, one of which is nicely hidden in plain sight and can only be opened with the key – a nice place to stash a wallet or important documents.  For extended trips, luggage racks and other Honda Goldwing F6B Accessories are available on our website.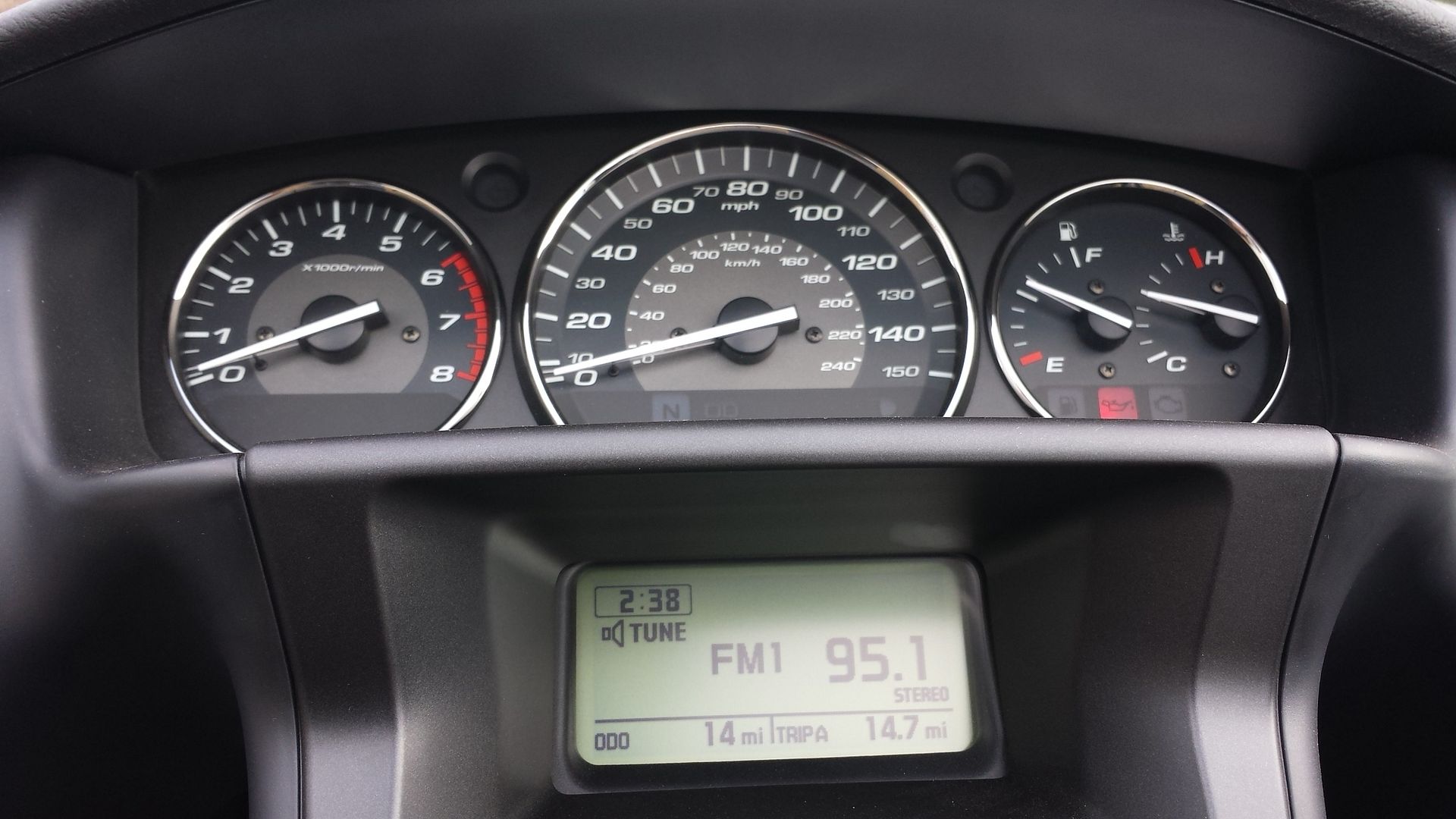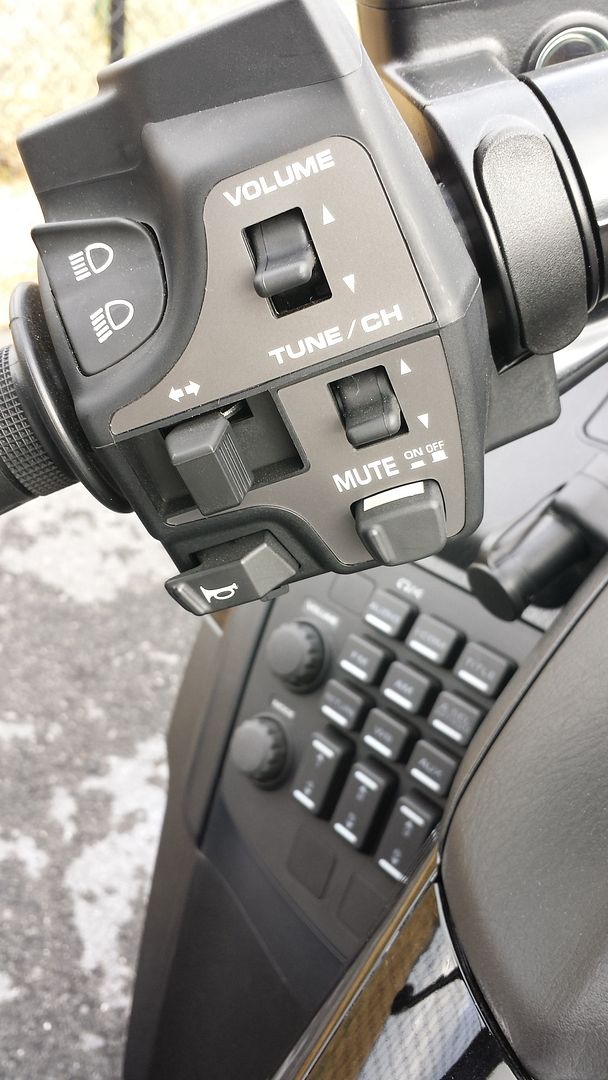 The dash of the F6B is nicely laid out, with large analog gauges that let you see rpms, speed, fuel level, and engine temp at a glance.  Below the analog gauges is an LCD screen which displays other information such as the radio settings, clock, and odometer.  Speaking of the radio, the Honda F6B can provide the tunes via radio station, or through the built in auxiliary plug located in the left side glove compartment.  I found sound levels to be adequate for around town, even while wearing a full face helmet.  Once out on the highway wind noise prevailed, although you also have the option of routing the sound to headphones, which will likely work better for highway speeds.
Overall I was very surprised by the Honda F6B, which I think will be the case for most people who ride it for the first time.  On paper it looks like it would be a real handful, heavy, and more or less a bike you'd just sit straight up and down on and ride down a straight road.  This notion quickly disappeared as I rounded the first few corners and realized that this bike is really just a big sport tourer that is plenty fun in the corners.  Granted, the F6B doesn't have anywhere near the performance of a proper sportbike, but it certainly leans further in that direction as opposed to more traditional bagger cruisers that I have ridden.  This is  thanks to the aluminum frame, which provides a sporty, taught feel–with a decent amount of ground clearance for the corners.  Paired with the grunt of the flat 6, the F6B really does feel more like a gigantic sportbike than a traditional cruiser that its lines may convey.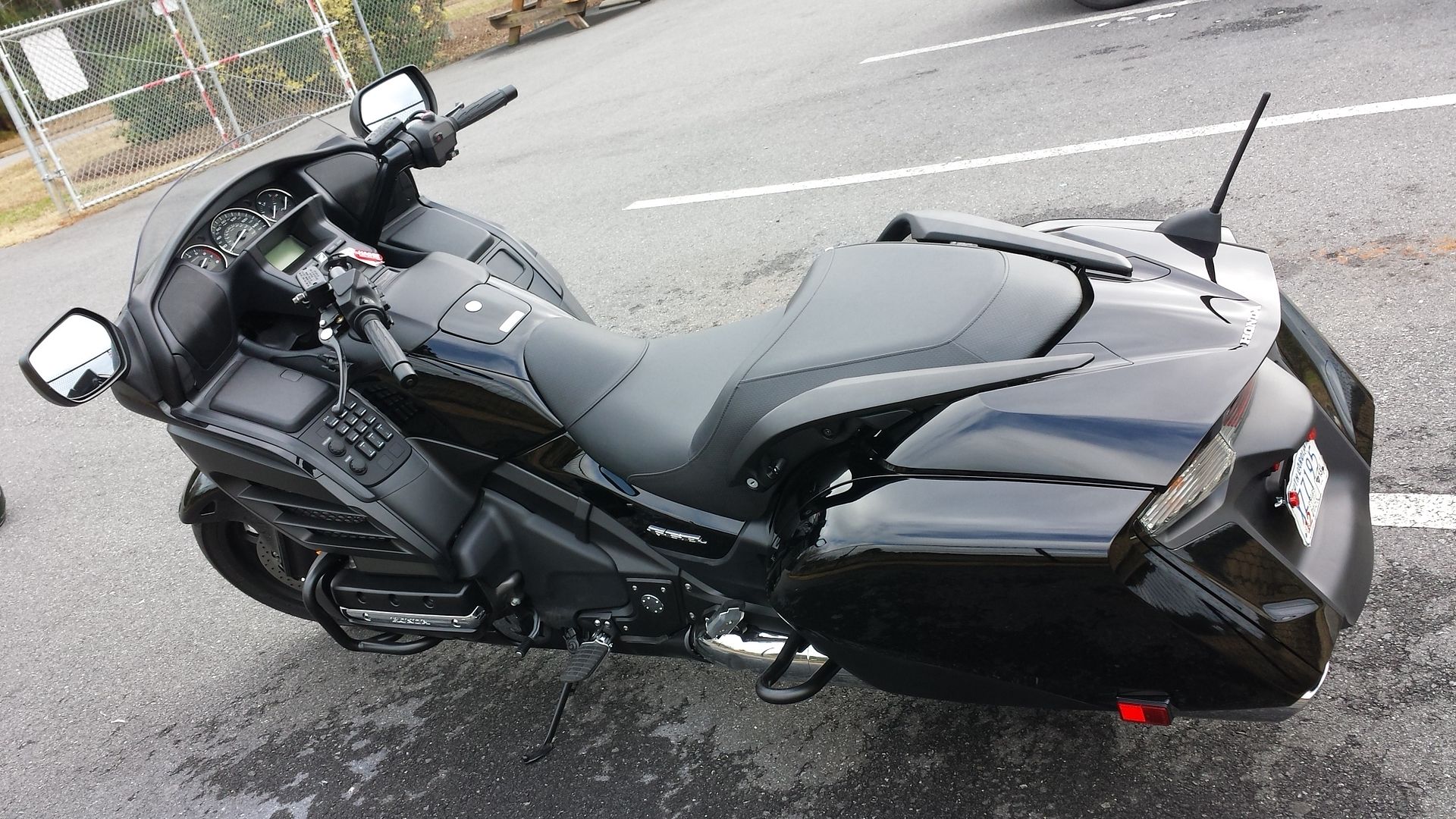 Weekly Rides with Reuben are uploaded to our YouTube Channel every Wednesday.  Be sure to subscribe and ride along with us!  We are also currently giving away a $1,000 shopping spree to a lucky e-mail subscriber–subscribing in both places will double your chances of winning!  Click here to learn more about the contest and get signed up!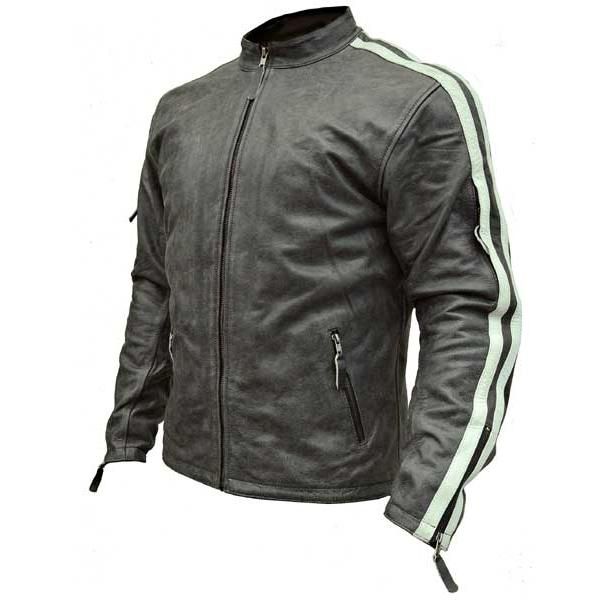 For this weeks ride, I wore the new Aeromoto Roadster Leather jacket, a super comfortable vintage leather jacket available in a number of colors.  Definitely recommended!
Hagar Cycle World and Competition Accessories have teamed up to provide you with the latest motorcycle news and reviews!  Located off of I-77 exit 82 in Rock Hill, SC–both Hagar Cycle World and Competition Accessories strive to provide you with the best customer service experience in the industry.  Come see us both if you are ever riding through area (just South of Charlotte, NC).
'till next week!