Choosing the right motorcycle boots may seem a bit overwhelming, there are hundreds upon hundreds of options to choose from. Balancing style, protection, and comfort are all part of the process. Knowing what kind of riding you plan on doing and the weather you expect to encounter are other considerations. In this guide we show some examples of different boots you can buy, and what makes them work for different situations. Have a question? Leave a comment below and we'll do our best to steer you in the right direction!
Types of boots in the video above: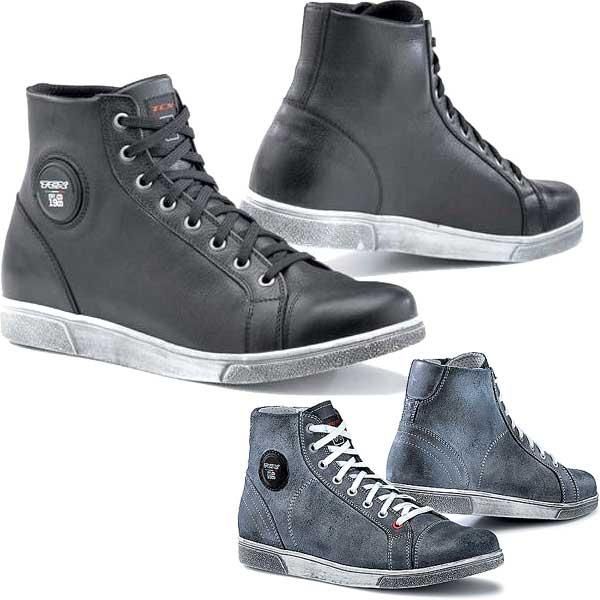 Short Motorcycle Boots / Motorcycle Shoes
Boots in this category are available in both waterproof and non-waterproof, although the waterproofing will only work if you have good waterproof pants on that will not allow any water to come in over the top of the low top boots.  For hot weather, several boots in this category are very well vented.  The main advantage to this style of motorcycle boots is they are quick and easy to put on, and most of them are very comfortable off the bike as well.  These are a great way to stay comfortable on more casual rides around town, or even commuting.  While they certainly have more protection that regular shoes, they aren't quite as protective as a full motorcycle boot.  Lack of ankle support and shin protection are their main shortcomings.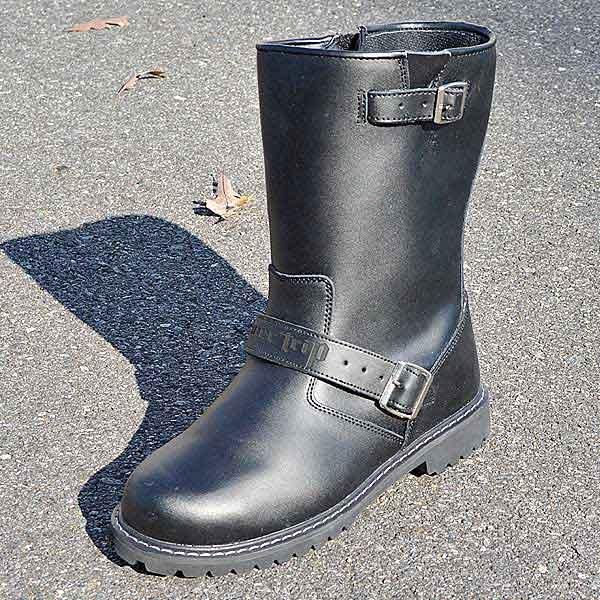 This category is the one that started it all.  After all, people were wearing boots long before the motorcycle was invented.  The Power Trip PT-100 in the video is a good example of an engineer boot design.  While these boots are sometimes adorned with buckles, there is usually a zippered entry on the other side that makes them a bit easier to get in and out of.  There are many styles that fall under this category.  Take note of what protective features are built in, what the materials are, and if there is a waterproof liner or if they are more simple, leather boots.
Probably the most popular category of boots, touring boots typically feature a waterproof liner, ankle bone armor, and leather construction.  These boots are at home on any motorcycle, and it could be said are the ultimate compromise between comfort and protection.  Since it's one of the most popular categories, there are a ton of options to choose from.  The Tourmaster Solution Boots shown at the left are a great option, with a pocketbook friendly price, waterproof liner, and leather construction, they are a great value.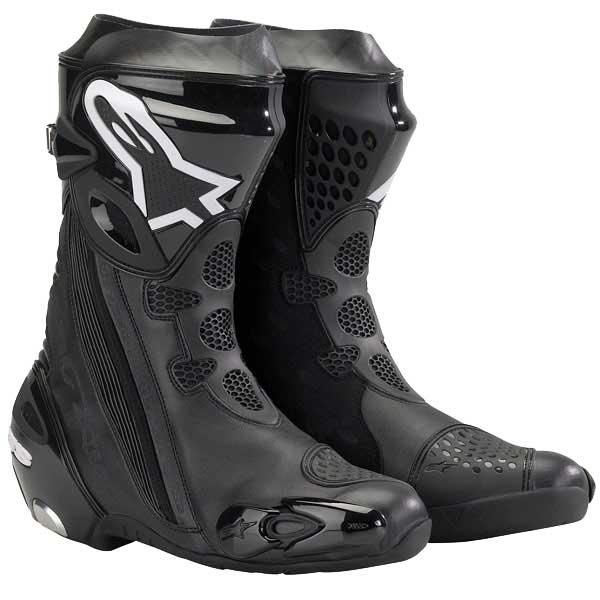 Sportbike Boots / Motorcycle Racing Boots
You can usually spot a sport oriented boot by the toe sliders on the outside of the foot.  These are usually replaceable, and protect the foot and boot if it touches down occasionally while on a spirited ride.  Sport boot design goes well beyond toe sliders, however.  Most sport boots are vented in some way, and exchange breathability for waterproofing – meaning most are not waterproof.  As prices go up in this category, so does ankle support, impact protection, and the ability to customize the size and fit of the boot.  The Alpinestars Supertech R Boots shown at right feature an internal lacing system for a very secure, snug fit that feels great on the foot and provides excellent protection.
Adventure Boots / Dual Sport Boots
Last but not least, lets talk about a few options for guys who enjoy the dirt.  First up is the world of Dual Sport riding.  A rapidly increasing number of motorcyclists are discovering the joy of being able to ride down the road on your [license] plated bike and then pull off down a trail to go exploring.  I have often said dual sporting is the ultimate compromise.  You really need the protection of an off-road racing boot in some situations, and other times you might be doing more street oriented riding and the off-road boots are overkill.  Comfort when walking can be important as well (something true off-road boots are not known for).  We are seeing more and more boots being offered in the dual sport boot category, some of them lean towards their off-road big brothers, while others are street boots in off-road clothes.  Key things to look for: ankle support, buckle closures (zippers don't like mud), and a sole that provides grip off-road.  One big advantage this category offers is waterproof options.  True off-road boots are rarely waterproof – as most racers would rather have a boot that breathes a little vs. one that keeps you dry in a creek crossing.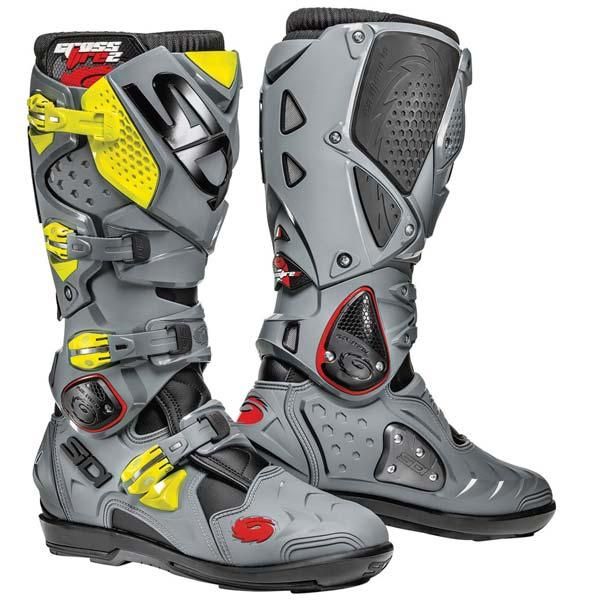 While off-road boots may be a bit stiff to walk around in, they offer the most protection out of any other boots out there.  Take a look at the Sidi Crossfire 2 pictured at right, when you slide these on, you are encasing your foot in a hinged cast that will do it's best to protect you no matter what you encounter.  Whether you are tackling some serious trails on the dual sport or going out on the dirt bike, having some good off-road boots is a must.  They provide much better structure and support to the small bones in the foot, as well as your ankle.  These boots also offer much tougher soles, which will last much longer on sharp metal foot pegs.
We hope this boot guide helped you understand your options.  We realize that it can be fairly intimidating to choose the right boots, considering there are hundreds and hundreds to choose from.  If you have any questions, feel free to leave a comment below, or give us a call at 1-800-543-3535.