A Motorcycle Rain Suit is one of those things you know you should probably have, but kick yourself for not buying when you are caught out on the road when the rain starts to come down.  Not all rain suits are created equal, either.  In this guide, we take a look at the differences between the different types of materials used, different price points, and what each feature can mean for you when you are stuck in the rain.
With motorcycle rain suits, you essentially have 3 types of construction:
PVC Rain Suits are the least expensive types you can buy.  They are very basic, pack down small, and get the job done when you need to stay dry.  There are some downsides to this material, however.  PVC melts extremely easily, and most inexpensive PVC Rain Suits do not have any type of heat shielding – so you will probably want avoid this style if your bike has exposed pipes.  PVC is also the least durable – once it has a hole or a tear, the wind tends to make quick work of destroying the rain suit.  Since they aren't too expensive to buy, this may not be a total deal breaker.  PVC Rain Suits are a great option if you need that "just in case" rain suit that probably won't see too much ride time.  They also block wind more than any other type in this comparison – making them one of the warmest options, good for winter time, not so great for summer thunderstorms.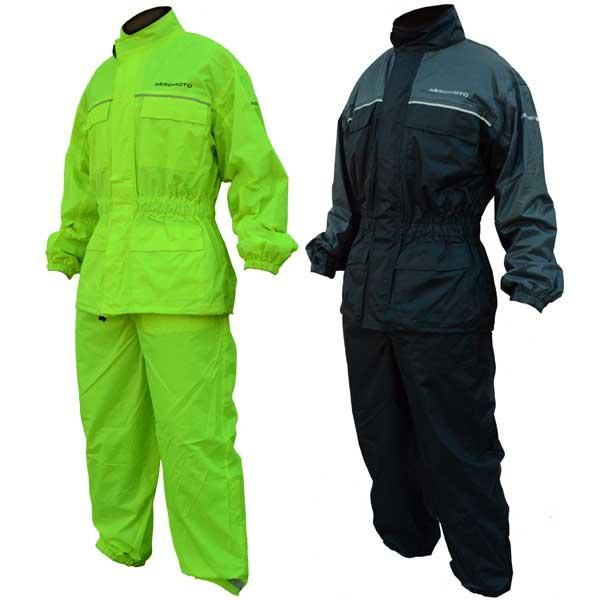 The next style you will encounter is the most common type of rain suit for motorcycles.  This is a Polyurethane backed Nylon or Polyester construction.  This style of motorcycle rain gear is a lot more breathable than straight PVC construction, and some suits even include zippered vents to give that heat somewhere to go when it's warm out.  This next step up in rain suits will generally give you more stretch material and adjustments for fit, and a mesh lined interior for comfort (prevents the material from sticking to you).   You may also occasionally see a suit in this style where the fabric is backed with PVC instead of Polyurethane.  The feel is about the same for both, and they are both obviously waterproof.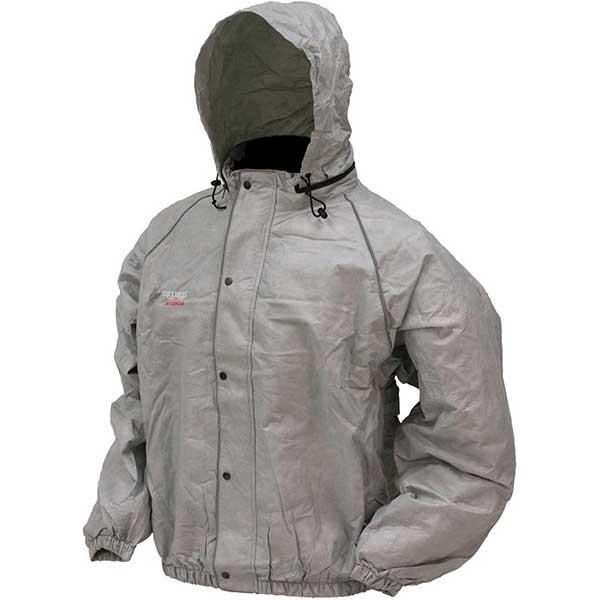 Last but not least is Polypropylene. This material feels the most like fabric, and is also the most breathable.  Frogg Toggs is one of the more popular rainsuits that we sell here, and they primarily use Polypropylene in the construction of their suits.  This material is very durable, although it does tend to flap and billow up quite a bit on a motorcycle.  Still, it is a great choice that will keep you dry.
Lastly, lets talk about a few features you can look for in a motorcycle rain suit.  The first we already mentioned – and that is heat shielding on the lower legs.  This is mainly important if you ride a bike that has exposed engine or exhaust parts that are very hot.  Rain suit material does not last long when bumped up against these parts, and so choosing a rain suit that has heat resistant material on the lower legs can be very important.  If you ride a fully faired bike with very little chance of bumping into a hot engine part, then this is of less concern.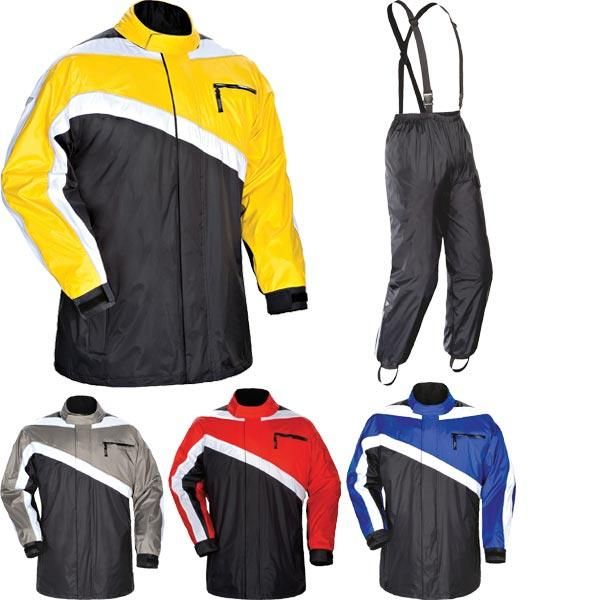 Suspenders on the pants and stirrups for the boots help keep the pants in place.  If your rain suit rides up too high, it can allow water to get down inside your boots, leading to soggy feet.  On the same note, if the pants sag down at all, you might end up with a wet back, so having these extra straps can ensure everything stays in place.
Last but not least is a built in rain hood.  Most rain suits have a good high collar, but if it's really coming down that might not be enough to keep all of the water out.  Water can tend to run down off the back of your helmet and into your jacket.  Some rain suits have a built in hood that will fit underneath your helmet, preventing this from happening.
Having a rain suit stashed under your seat or in a bag is a great way to ensure you stay comfortable no matter what the weather does.  I've even thrown one on over my regular gear when it isn't raining – if it's really cold it's another way to stay a bit more warm.  Make sure you check out all of the different options we have for motorcycle rain gear on our website.  Don't forget you can earn up to 5% Comp-A Cash back when you shop with us!  Have any questions or comments about rain suits?  Leave a comment below and we'll be happy to help!