One thing is for sure: Motorcycles can take you to some interesting places.  About a week or so back I saw an article online about an abandoned nuclear power plant project.  In the early 70's Duke Energy began construction on what was to be a 3 reactor nuclear power plant.  However, a downturned economy in the 80's and reduced power consumption forced them to abandon the project.  After spending $633 Million (over 1.2 Billion if you account for inflation), I'm sure this wasn't an easy decision.
An abandoned Nuclear Reactor sounds like it would be pretty awesome to explore all on its own, right?  Well, it gets better.  In 1987 movie director James Cameron was searching for filming locations for his new Sci-Fi movie, The Abyss.  If you have seen the movie, you know that almost the entire story takes place underwater.  The premise of the movie is that a nuclear submarine is lost in a very deep chasm in the ocean.  A civilian dive team working an underwater oil rig named Deep Core is called upon to search for the lost sub, but instead they discover an alien species.  The movie is actually quite good, quite underrated in my opinion.  It did win an Oscar for best visual effects.
In order to film all of this underwater 80's sci-fi goodness, James Cameron needed an underwater movie studio.  A big one.  The ocean might have worked, however the added dangers of open water would have certainly complicated things.  Then he discovered Cherokee Nuclear Power Plant, partially constructed, and sitting empty.  Only one of the reactors had been partially built, but they were large enough to accomplish what he needed.  They started by sealing off the turbine pit and filling it with over 2 million gallons of water.  Turned out that wasn't quite big enough.  They then worked on preparing the reactor chamber, a large concrete cylinder.  200 feet across and 55 feet deep, which held 7.5 million gallons of water.  This remains as the largest underwater movie set ever constructed.  It was no simple undertaking, either.  Engineers had to setup large pumps and filtration systems to keep the water clear, which was pumped in from the Broad River.  The cast and crew had to be trained in advanced SCUBA techniques and equipment, and then of course there is the challenge of lighting and filming scenes entirely underwater.  A very impressive undertaking.
So, all that background to lead us up to our little adventure for the week.  Turns out the movie went over budget by quite a bit, and when filming was over, it was decided that it was too expensive to dismantle the set of Deep Core, which they had built inside the reactor chamber before filling it with water.  The steel structure, designed to look like a cross between an oil rig and an underwater exploration station, remained in the pit until 2007 when it was finally destroyed.  Duke Energy has plans to build a new, 2 reactor nuclear power plant at the site.  With cooling ponds and some infrastructure already in place, it is a logical choice.
Even knowing that the movie set was no longer there, I was still very interested in checking out the site of the movie. I was just really impressed with the undertaking of converting the location to create this underwater Sci-Fi film. There are several stories online of others making the trek out to the site successfully, it was abandoned, after all. I wasn't aware, however, that Duke Energy has already began the process of prepping the site for construction of the new nuclear plant.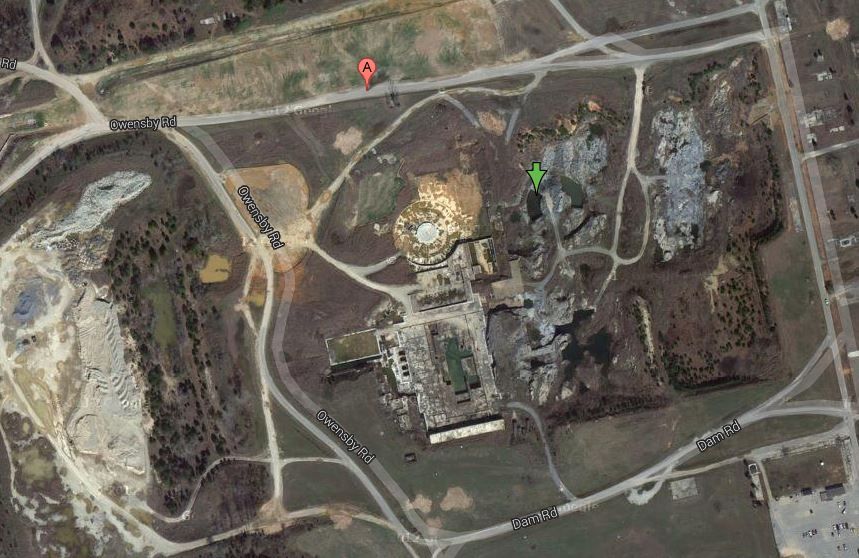 Not knowing what we would encounter, we set off early Wednesday morning to check it out. I was riding my 1984 Honda XL350r, and was joined by my friend Andy on his Ninja 250. We headed out through the beautiful South Carolina countryside in the crisp fall air. On satellite view, I had spied a dirt road that led into the site from the West. It looked like it lead right to the reactor chamber. Of course, when we got to that dirt road, it was barricaded with gates and fresh Duke Energy signs. We skirted the edge of the property, finding shiny new chains, padlocks, and Duke Energy signs – it wasn't looking good. Finally we decided to head to the main entrance where the old guard shack was. We were both surprised to see some cars parked there and the guard shack manned – bummer! We were about ready to give it up, when I saw another road marked on the GPS that looked like it went right by the property – maybe we could at least get a peek.
We found what looked like a 4 wheeler track through the woods, and took it!  We were able to follow Dam Rd for a couple miles all the way down to the river, where there was some sort of antenna setup with a large solar panel.  We turned around at the river and headed back towards the exit – but I had spied something interesting on the way in.  An old cemetery was off to the side of the road, fenced off with a black fence.  We stopped to pay our respects, the graves were all extremely old – most of the headstones were falling over and impossible to read.
We decided we had pressed our luck far enough for the day.  Any motorcycle adventure that you can ride away from is a good one!  So we headed back out the way we had come.  We were disappointed that we hadn't gotten a real chance to explore this place before it was reclaimed by Duke Energy for the new power plant.  It would have been awesome to see Deep Core in its forgotten state.  Oh well, in the end we still got in a good motorcycle ride on some great roads, saw some interesting sites and we didn't get in trouble – always a plus!  The video of our adventure is below – make sure you give the video a thumbs up (if you liked it), and subscribe to our channel!  Weekly  Rides with Reuben are uploaded every Wednesday.  See you next week!