Last month we had the opportunity to ride out to watch the MiRock World Finals in Rockingham, NC at The Rock dragway.  The Rock is about a two hour ride out from Competition Accessories which is located just South of Charlotte in Rock Hill, SC.  Here at Competition Accessories we love all kinds of racing, whether it's on or off road, apexing corners, or in a straight line.
We couldn't wait to watch some of the top drag racers line up for some intense battles on the drag strip at the 2012 MiRock World Finals. Two of the top racers we were going to see were Rickey Gadson, 9 time drag racing world champion, and Dystany Spurlock, an up and coming young star who has made a huge impact in the sport since she started racing just two years ago.  What do both Dystany and Rickey Gadson have in common?  They are both sponsored by Speed and Strength, one of our favorite brands of riding gear for both the street and the track.  What I love most about Speed & Strength is they really do make something for everyone, and at prices that won't bottom out your bank account.  Whether you are looking for some gear with some flash, or if you prefer to fly "Under the Radar," Speed & Strength is sure to have a product you'll love.  For the ladies, we have a separate blog post up that takes a look at some Speed & Strength Women's gear and a quick interview with Dystany Spurlock. For this ride, I chose to support Rickey by wearing the Speed and Strength 62 Motorsports Jacket, along with some other awesome gear from them that we'll cover in a minute.
As we pulled in to "The Rock," the smell of race gas and burnt rubber filled the air.  There was a tangible excitement hanging over the place as racers queued up for their respective classes.  The scream of inline fours barreling down the track or the occasional rumble of a big twin added to the atmosphere.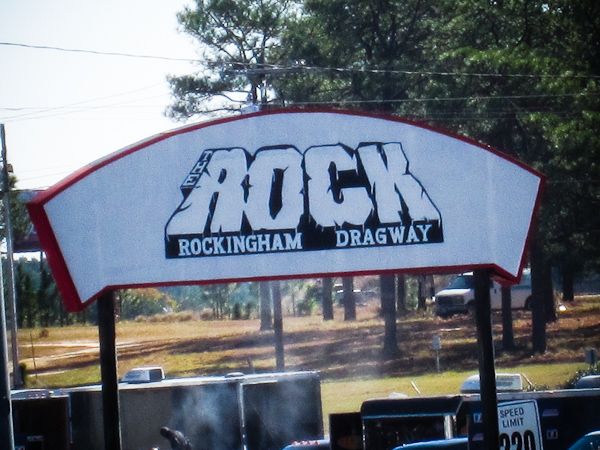 It was easy to spot Rickey's trailer as we pulled into the pits.  He has a nicely setup rig to haul his awesome Kawasakis.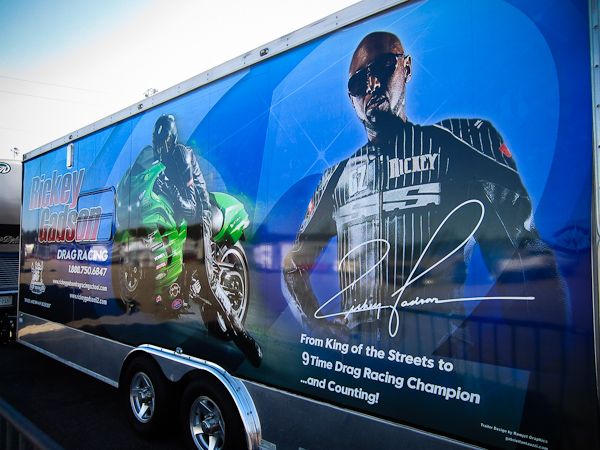 A few pictures of Rickey's 2012 Kawasaki ZX-14R: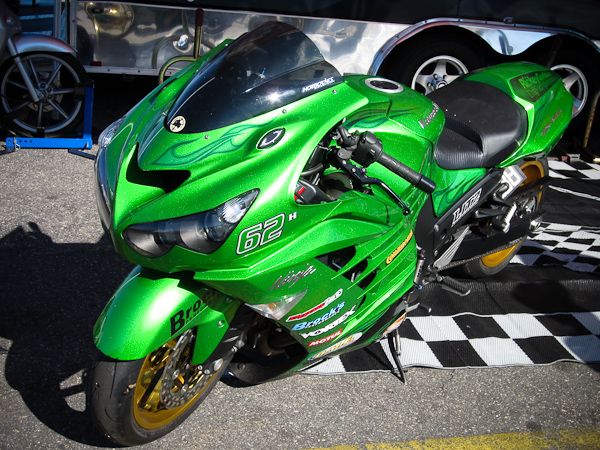 No Speedo Needed.  It's all about reaction time, perfect shifts, and a good launch down the track.  A speedo is an unnecessary distraction!
Drag racers often go with just a single front brake rotor to reduce weight and rotational mass.  An added side benefit is showing off those awesome wheels.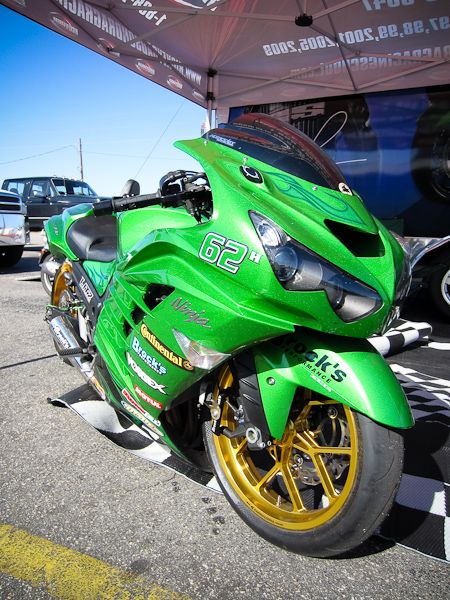 This was the scene as riders staged for their respective classes.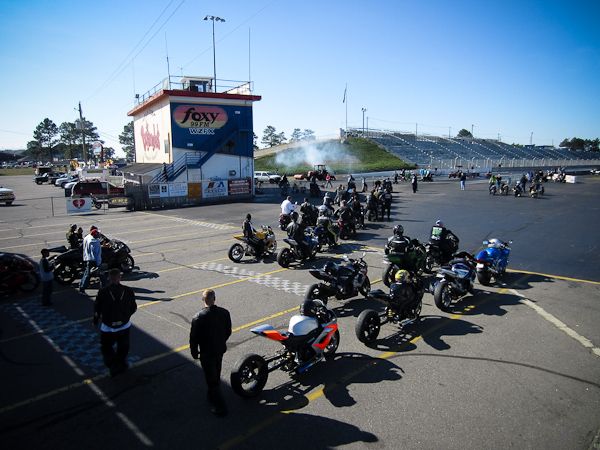 It's not too often that you see a Suzuki B-King.  This guy was quick!  His Yoshimura Exhaust is a huge improvement over the giant boat anchors the B-King comes with stock (IMO, of course).
The previous generation ZX-14 is still a force to be reckoned with at the drag strip!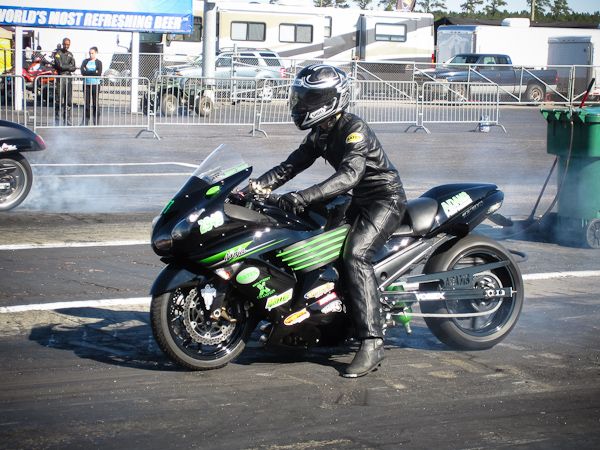 I had to give a little love to the fellow ZRX rider.  It was a tough race against the Kubota ;)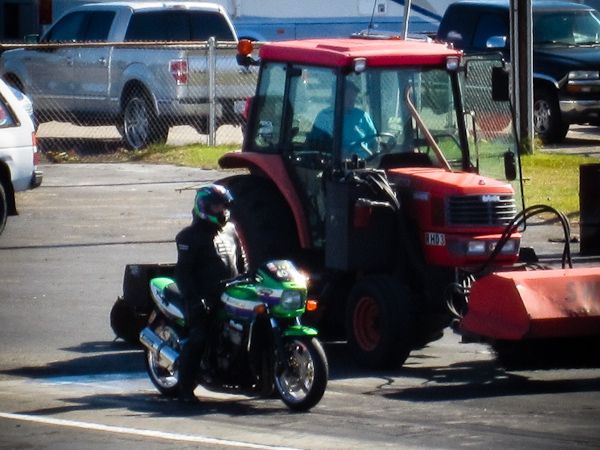 A few other drag bikes hanging around the pits: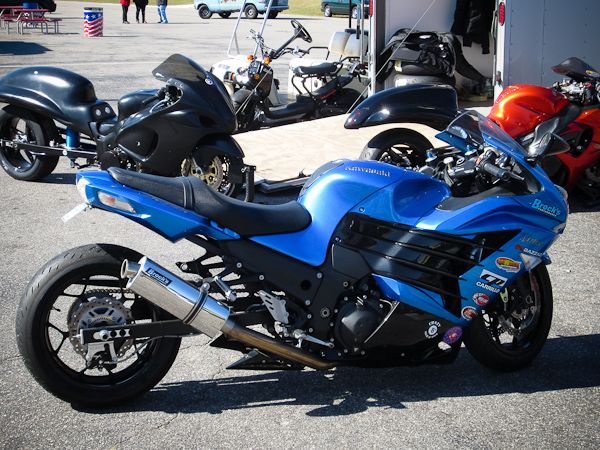 The new Speed and Strength King of the Streets helmet will be out in 2013 – stay tuned!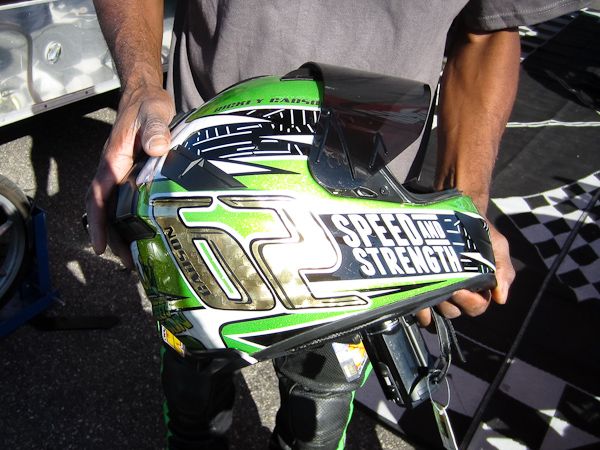 So lets talk about the gear I got to wear for this ride.  I'll start with my new favorite motorcycle gloves – the Speed and Strength Rage with the Machine Gloves!  Not only do these gloves fit great, with great comfort and protection, they also have what Speed & Strength calls "Speed Dial" technology.  The first two fingers and thumb of these gloves has been specially treated to work with touch screens!  This sounds great on paper, but in real life situations, it's even better than you imagined.  Want to stop and take a picture?  No problem.  Buddies trying to text you and figure out where you're at?  No problem.  Need to check the maps?  No problem… I could go on and on, but this feature should be on all motorcycle gloves.  I found them to work perfectly on my phone, and if you just use the tips of the fingers or thumbs you can actually type and press buttons just fine (I was concerned they'd make my fingers too fat to use the phone well).   Besides the awesome Speed Dial feature, the Rage with the Machine gloves are actually really, really nice gloves.  They fit like gloves should, without any extra material that would make them feel bulky.  You get leather in all the right places, so you know they'll last, with a little bit of fabric at the back of the hand to keep things cool and comfortable.  A split molded knuckle protector will keep your hands protected, and they double as ram air scoops to help keep your hands cool.  I have ridden in these gloves from everything from the 50's and up into the 80's.  They aren't insulated at all of course so they get a little chilly on longer rides in cold weather, but for those days where the weather is great these are now my go-to gloves.  Really happy with them overall – you can watch the video review below:

Now that we've covered my hands, lets talk about what I had on my feet.  The Speed and Strength Run with the Bulls Shoes are a cross between a casual shoe and motorcycle boots.  These were great for days like today – where we were riding our bikes to a destination where we would be walking around a lot.  These are super comfortable to walk in, but offer the protection you need when riding a motorcycle.  The laces keep the shoes comfy and secure on your feet, and Speed & Strength has what they call their "Under Cover" system, which is basically recessed laces with a strap that holds the laces down an out of the way.  Anyone who has had a shoelace get caught up on their bike will tell you it is NOT fun.  You either manage to get your foot down or you go down with the bike on top of you – I've seen it happen several times.  Shoe laces need to be tucked away where they won't get caught on your pegs, shifter, brake lever, etc, etc.  The Under Cover design works well.  There are small armor pieces over the ankle bones, and a reinforced shifter pad helps keep these shoes looking good for miles.  The Run with the Bulls shoes have a generous amount of perforation which allows a good amount of air to pass through, keeping your feet cool and comfortable even on those hot summer rides.  So while these certainly aren't race boots, I feel they serve a great purpose and they look great with jeans too, which leads me to my next item….


The Run with the Bulls Kevlar Jeans have a relaxed fit and a pre-distressed look that don't scream "motorcycle pants!"  Riding in your Levis is certainly comfortable and convenient, but what a lot of riders don't realize is your favorite pair of 501's aren't going to hold up to the asphalt if you go down.  Denim just shreds on impact – I've seen it happen.  The Speed and Strength Run with the Bulls Jeans are reinforced with Kevlar panels in the knees and the seat of the pants.  Kevlar is incredibly tear resistant, and offers the abrasion protection you need when riding.  These are a great compromise between a full on motorcycle pant and your favorite pair of jeans.  I found these to fit true to size, and the relaxed fit and boot cut makes them very comfortable both on and off the bike.  They are available in both black and blue varieties, and I think you'll probably want at least a couple pairs of these in the closet if you ride a lot; I'm definitely happy with these jeans!
Finally – my new jacket.  The Speed & Strength 62 Motorsports Jacket was the brainchild of 9 time drag racing world champion Rickey Gadson.  Rickey told us that he goes to work every day in a suit – just so happens it's a leather race suit for the drag strip.  But, Rickey is a pretty stylish guy, so he made sure his suit looked good, and added some pinstripes for a little class.  It was such a huge hit with the fans that Speed & Strength decided to make a textile jacket for the street with that classic pinstripe look.  The Speed & Strength 62 Motorsports Jacket is available in both black and green versions.  I picked the green version, which goes perfectly with my Kawasaki ZRX 1100.  The 62 Motorsports jacket has a few patches on the chest and sleeves, but they are pretty subtle and not too "in your face."  I found the jacket to be very comfortable on the bike, and it's not one of these huge bulky motorcycle jackets, either.  That's thanks to it's very basic design – no extra liners to worry about, just a good looking jacket.  Although this jacket doesn't come with a liner, I found it had enough room inside to wear a good sweatshirt, which kept me comfortable down into the 30's in the mountains.  For warmer weather there are zippered vents on the sleeves and torso, which allow a good amount of air to flow through.  The Speed and Strength 62 Motorsports Jacket isn't waterproof, which means it's not super hot and sticky in warmer weather, either.  Genuine CE Approved Knox Armor is found in the shoulders and elbows, along with a dual density foam back pad for impact protection – I definitely feel safe with this jacket on.  Not only is it smart to wear a protective jacket when you're out on your street rides, it helps you look good, too.  Check out the Speed & Strength 62 Motorsports Jacket as Rickey Gadson tells us all about it in the video below!

This was a great experience.  Not only did we get to try out some great new Speed & Strength Motorcycle Gear, we got to hang out with racers like Rickey Gadson and Dystany Spurlock.  The racing action was awesome, the weather was great, and it was just an overall good day!  We put together a little video talking to Rickey about his racing along with some exciting race footage in the video below – enjoy! (and go buy some Speed & Strength gear!)