It was a rather spontaneous trip.  Although I had been hoping to visit the folks at Wheels Through Time for quite a while, I hadn't actually put a plan in place.  That all changed on a Thursday afternoon when my riding buddy Andy gave me a call.  He had a tool for an injection mold that had to be dropped off for polishing at a shop up in the mountains, and asked if I might like to make a bike trip of it.  I was needing to head up that way to visit the museum, so I made a couple calls, and a plan was hatched!
I left my house at 5:30am Friday morning.  We knew we had a LOT of miles to cover, as well as visiting the tool shop and the museum, so sleep was not exactly a priority.  So in the dark and cold, I threw my leg over the ZRX and headed West to meet Andy at a gas station about an hour away.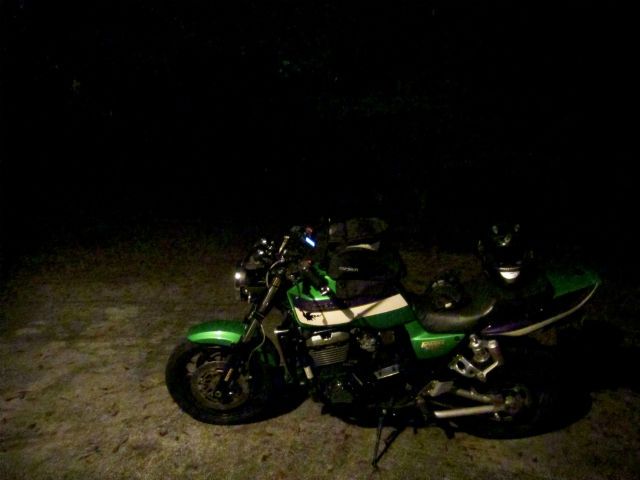 After gassing up and grabbing some coffee to warm up, we continued West, burning some miles as the early morning sun burned away the morning fog.  We found ourselves heading up the Saluda Grade as the sun peeked through the trees.  Andy wore his Frogg Toggs Rain Suit over his leathers to stay warm.
That sun will reach us and warm us up soon!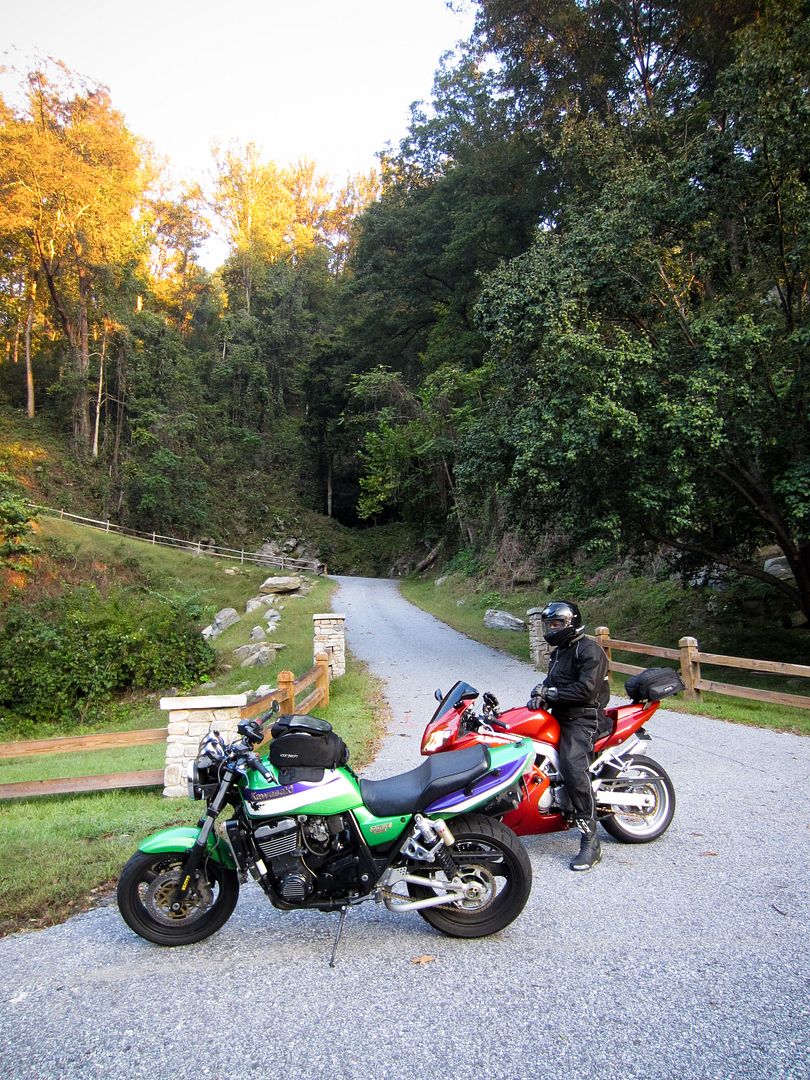 The Saluda Grade was a steep mainline railway that crested in the town of Saluda, NC.
The sun comes up over the town of Saluda, NC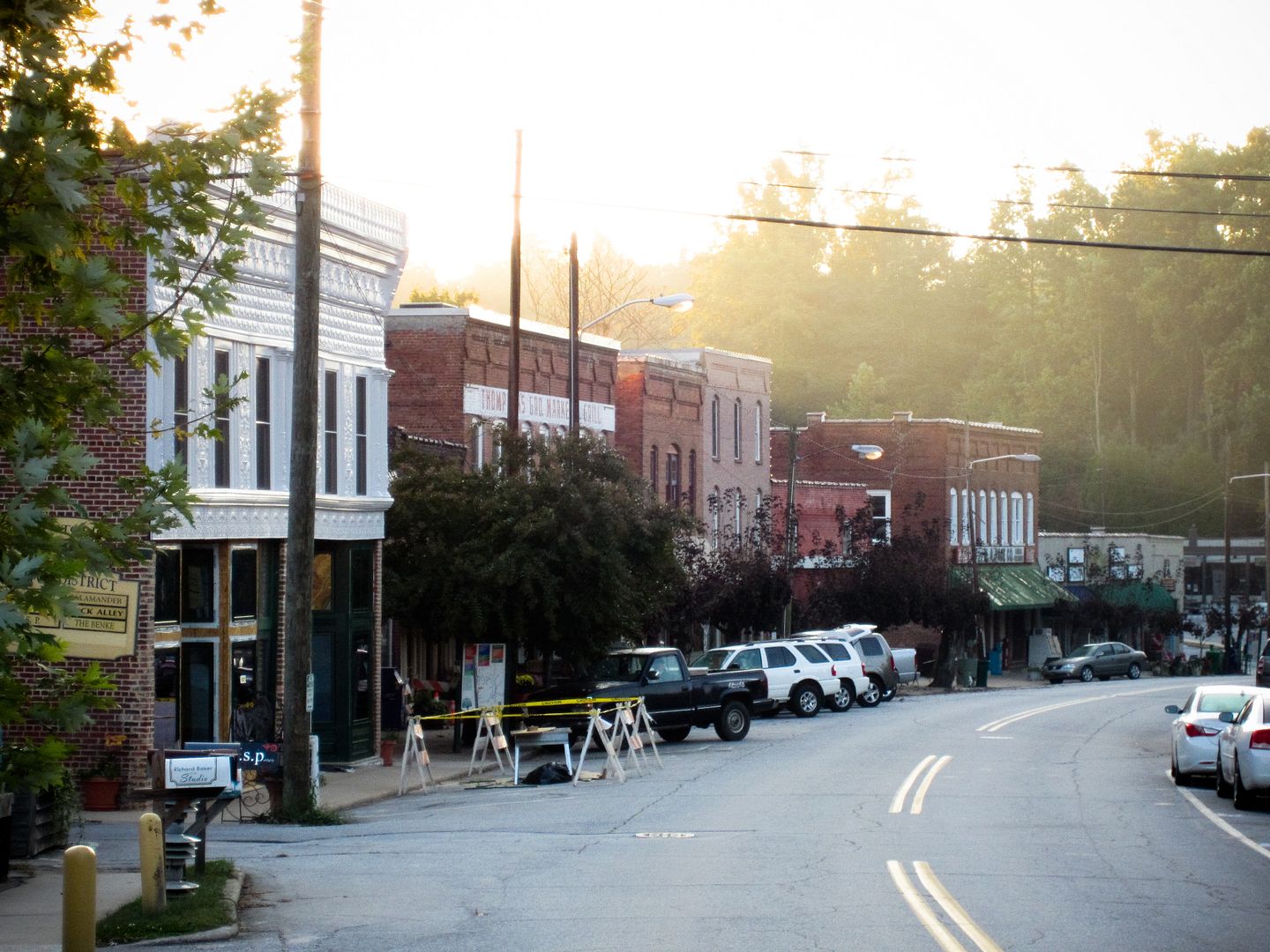 The old train station is now home to quaint little shops and cafe's.  The town was just waking up as we rode through.
From Saluda it was time to head further up into the mountains towards the tool shop so Andy could drop off his part.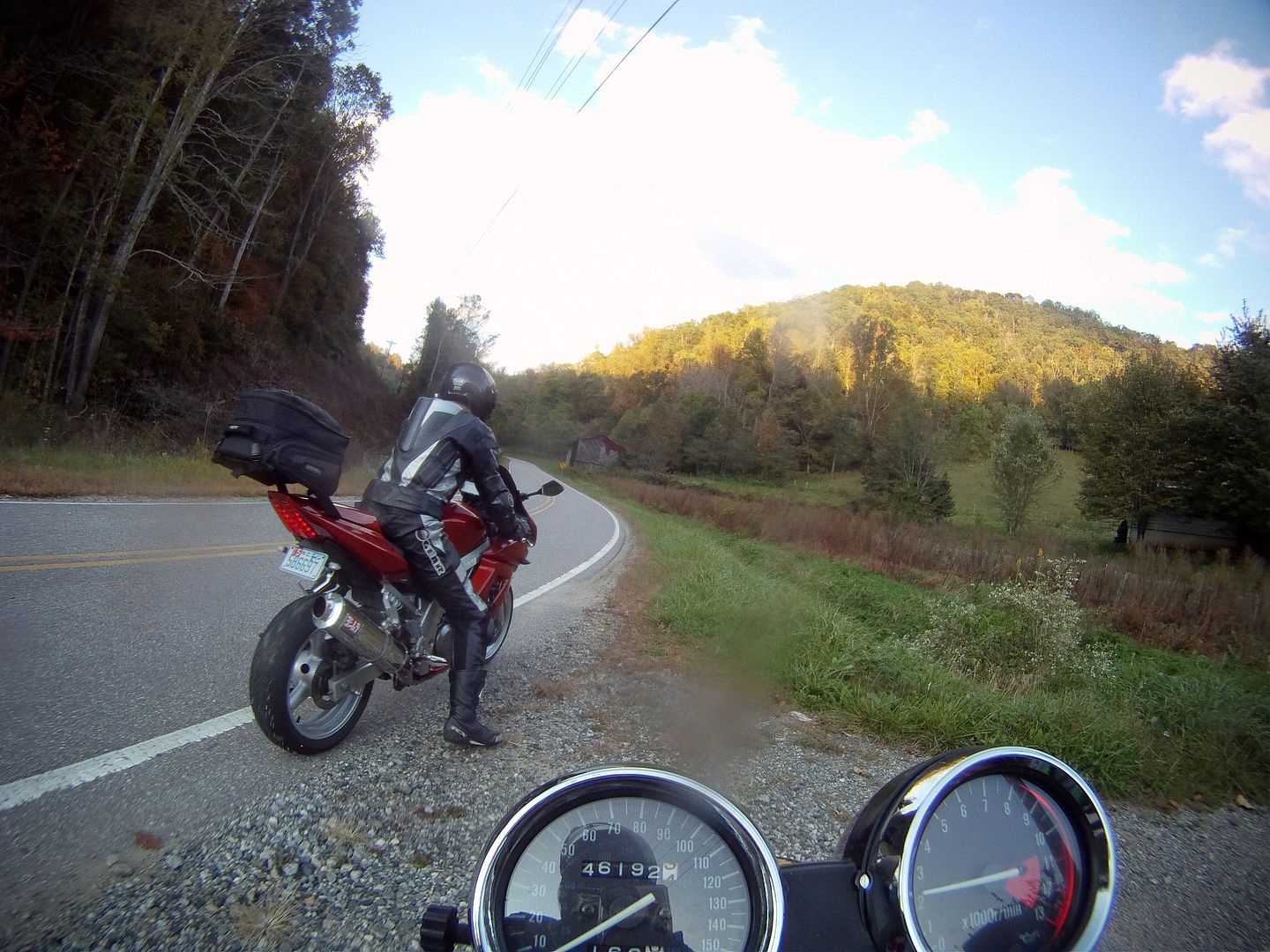 With blue skies above and the sun shining, we headed further into the mountains.  A thick blanket of fog greeted us as we  dipped into a valley.  The fog was so thick we had to keep turning our heads to the sides to keep our visors clear.  A few turns up some back roads and we found the tool shop!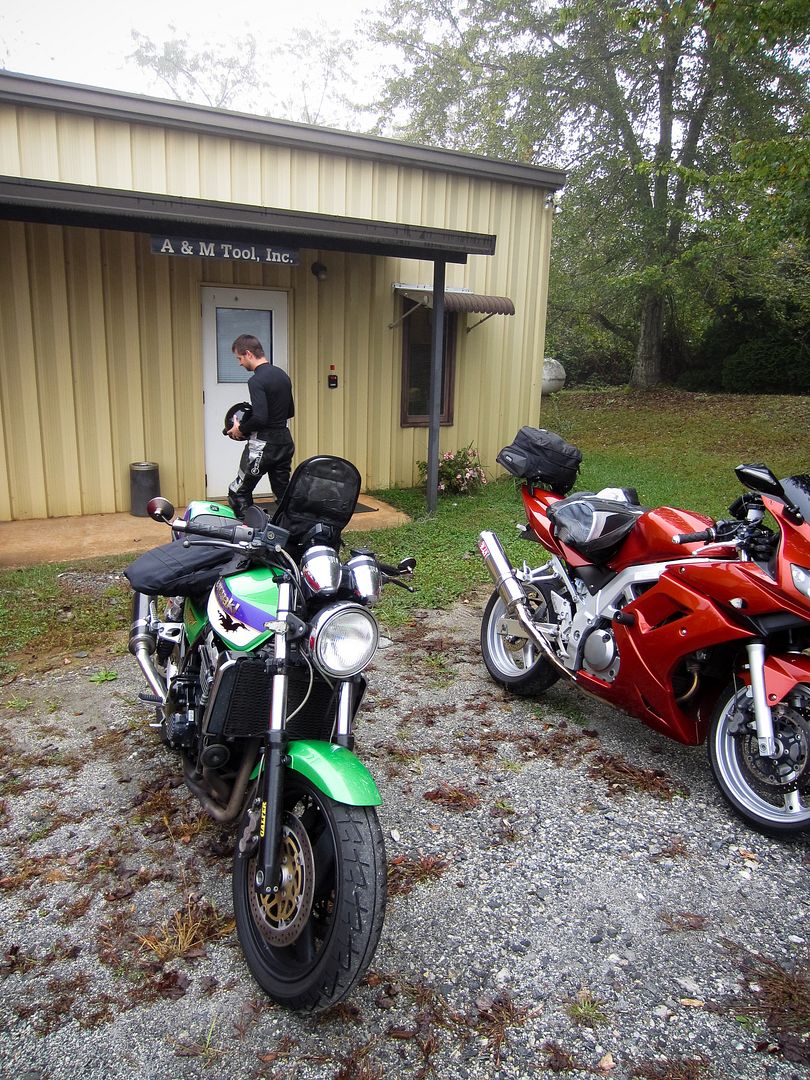 Unfortunately I snapped that picture and then threw the camera back in the tank bag.  I wish I would have brought it in because I got to see some really cool technology.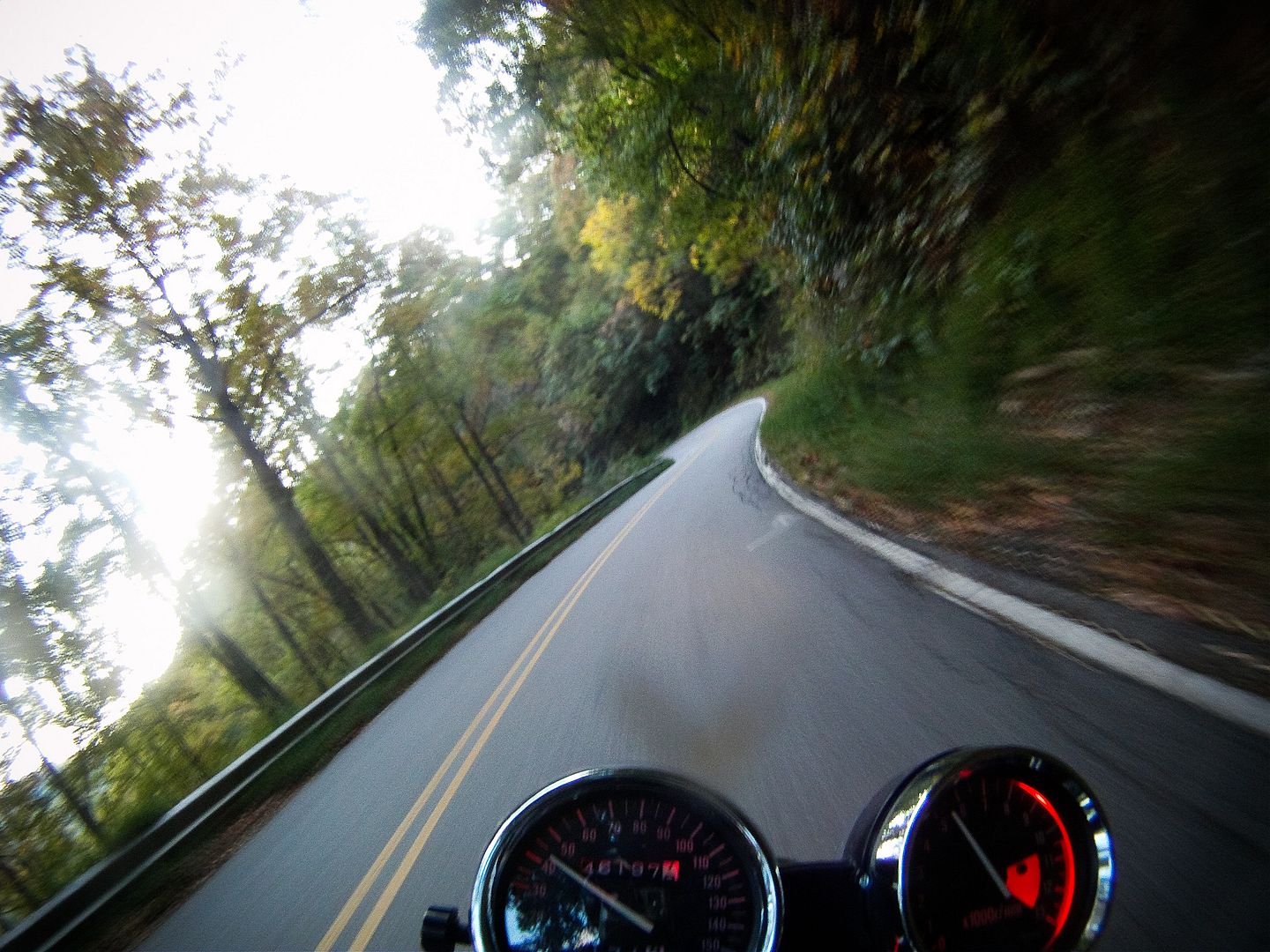 After a great tour through the shop, it was time to tear up some roads and head up towards Maggie Valley, NC!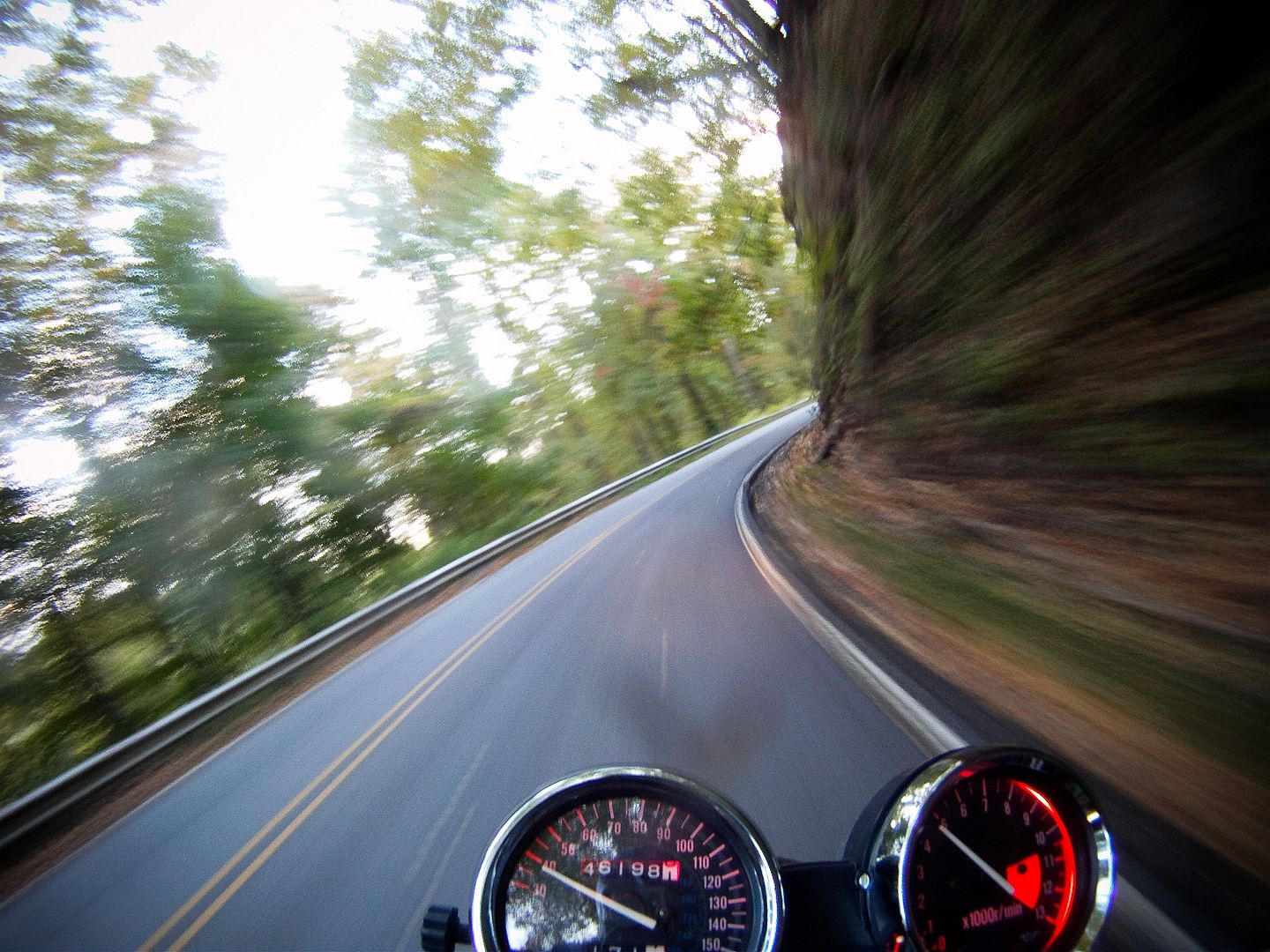 Warp drive – Engage!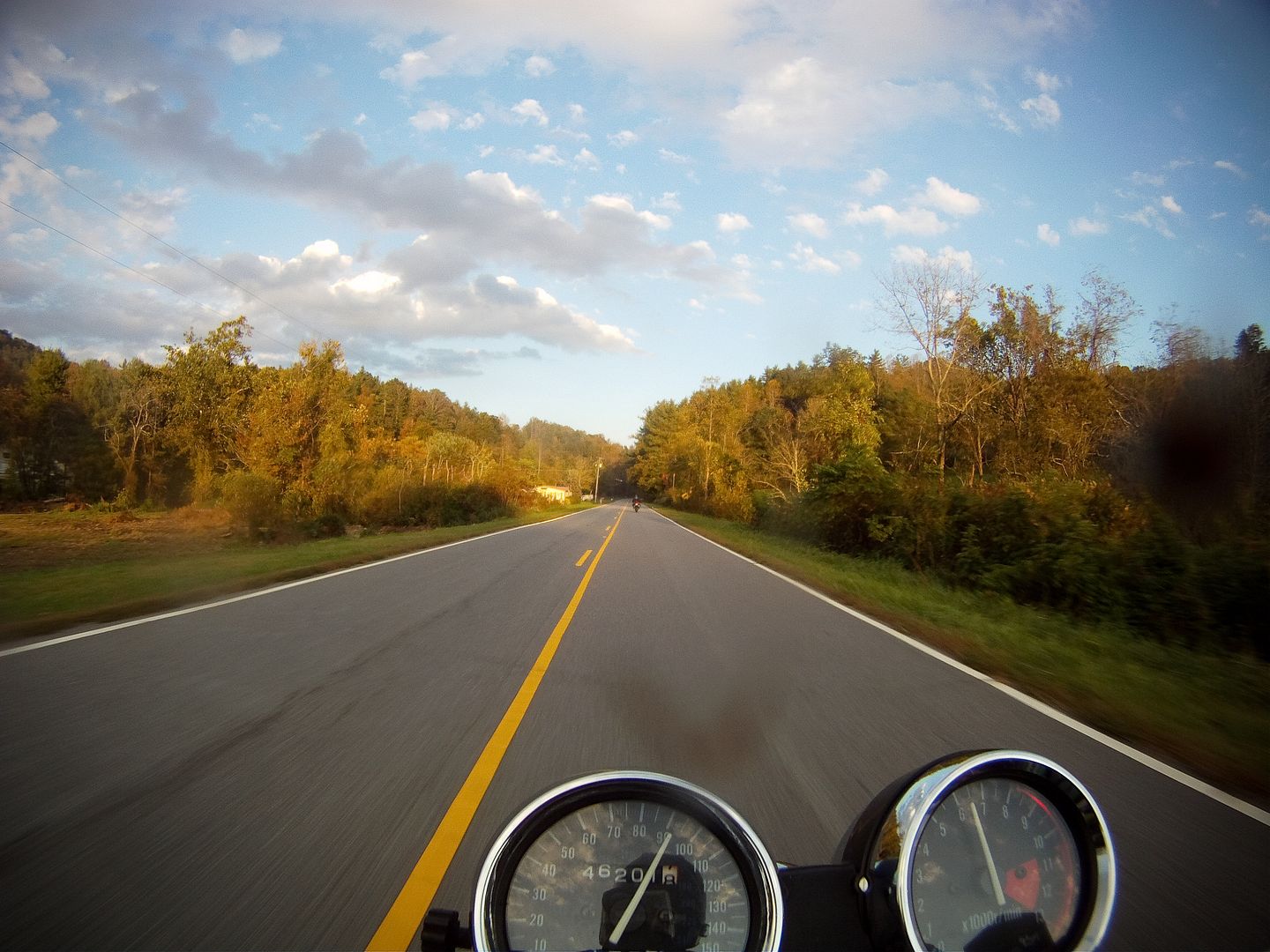 It's always amazing when you get up really early, you feel like you have done so much and it still isn't lunch time…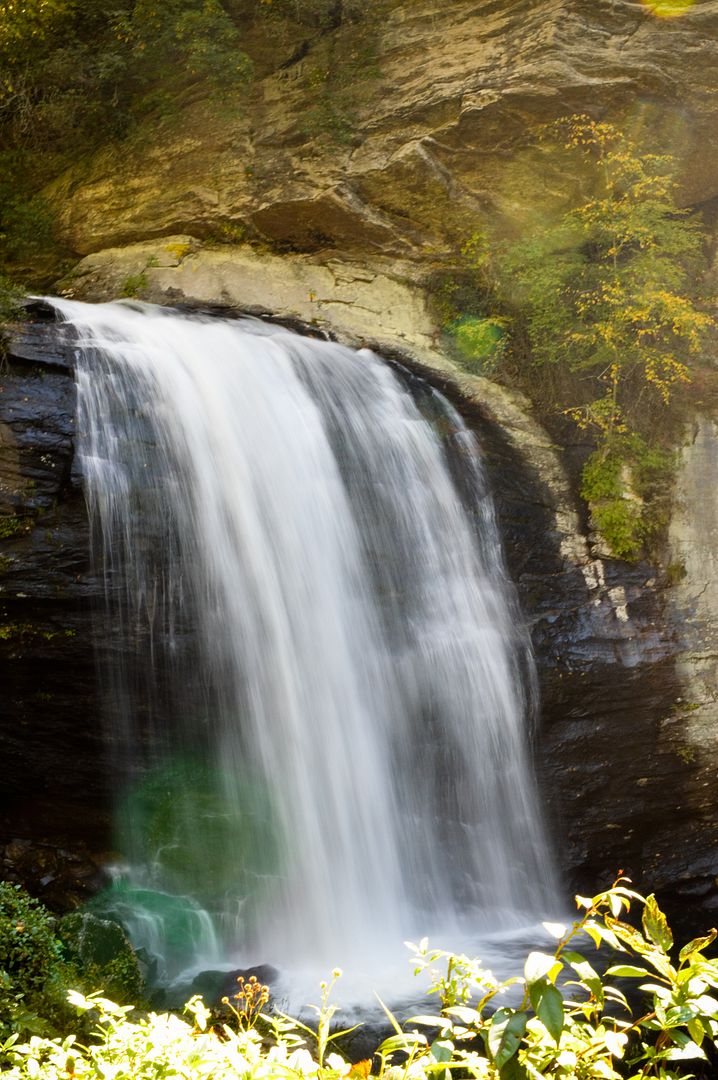 We stopped to check out this waterfall off of HWY 276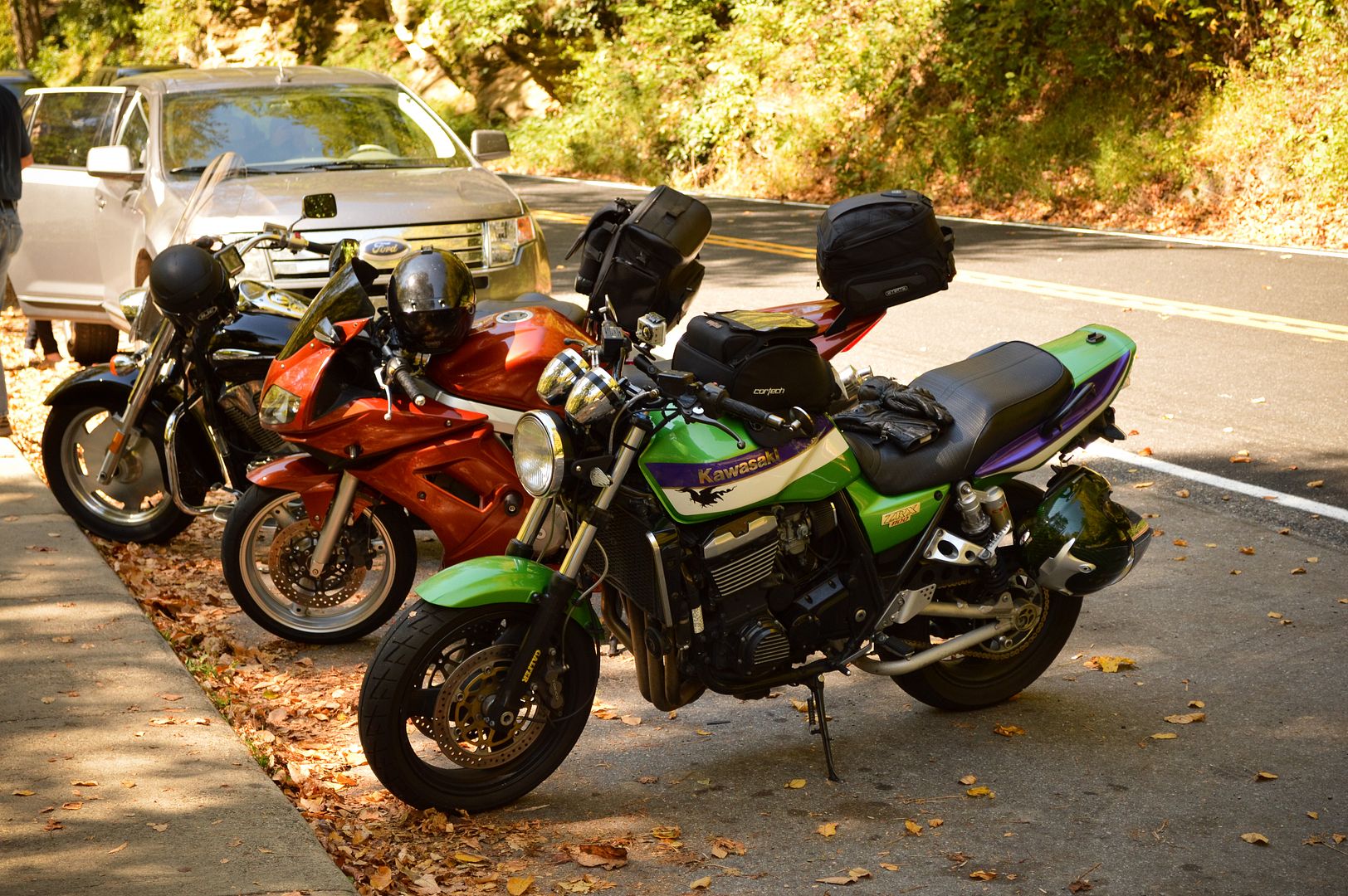 We weren't the only bikes out enjoying a beautiful day on some beautiful roads!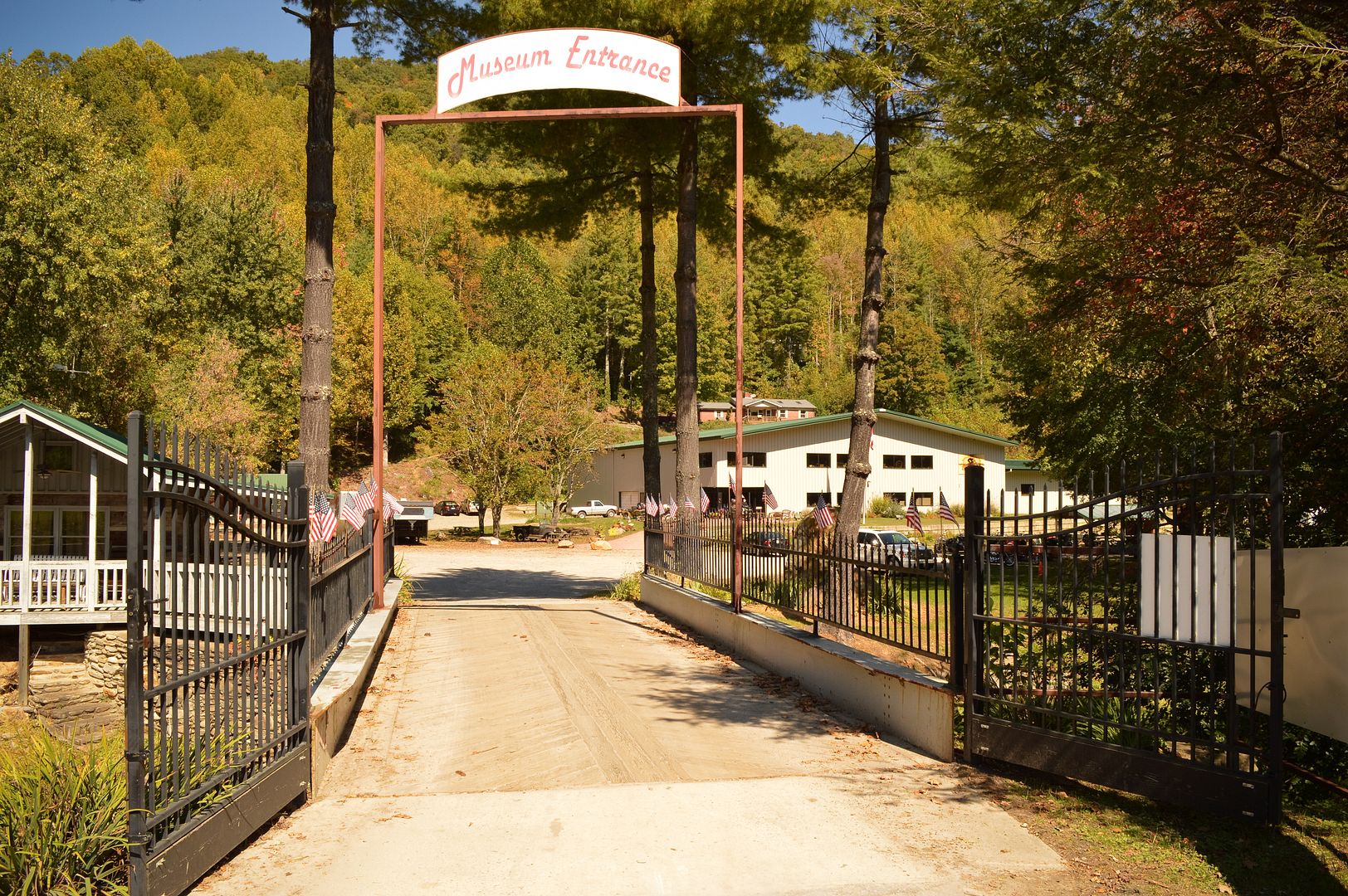 Finally!  After a couple hundred miles and a never-ending morning, we finally made it!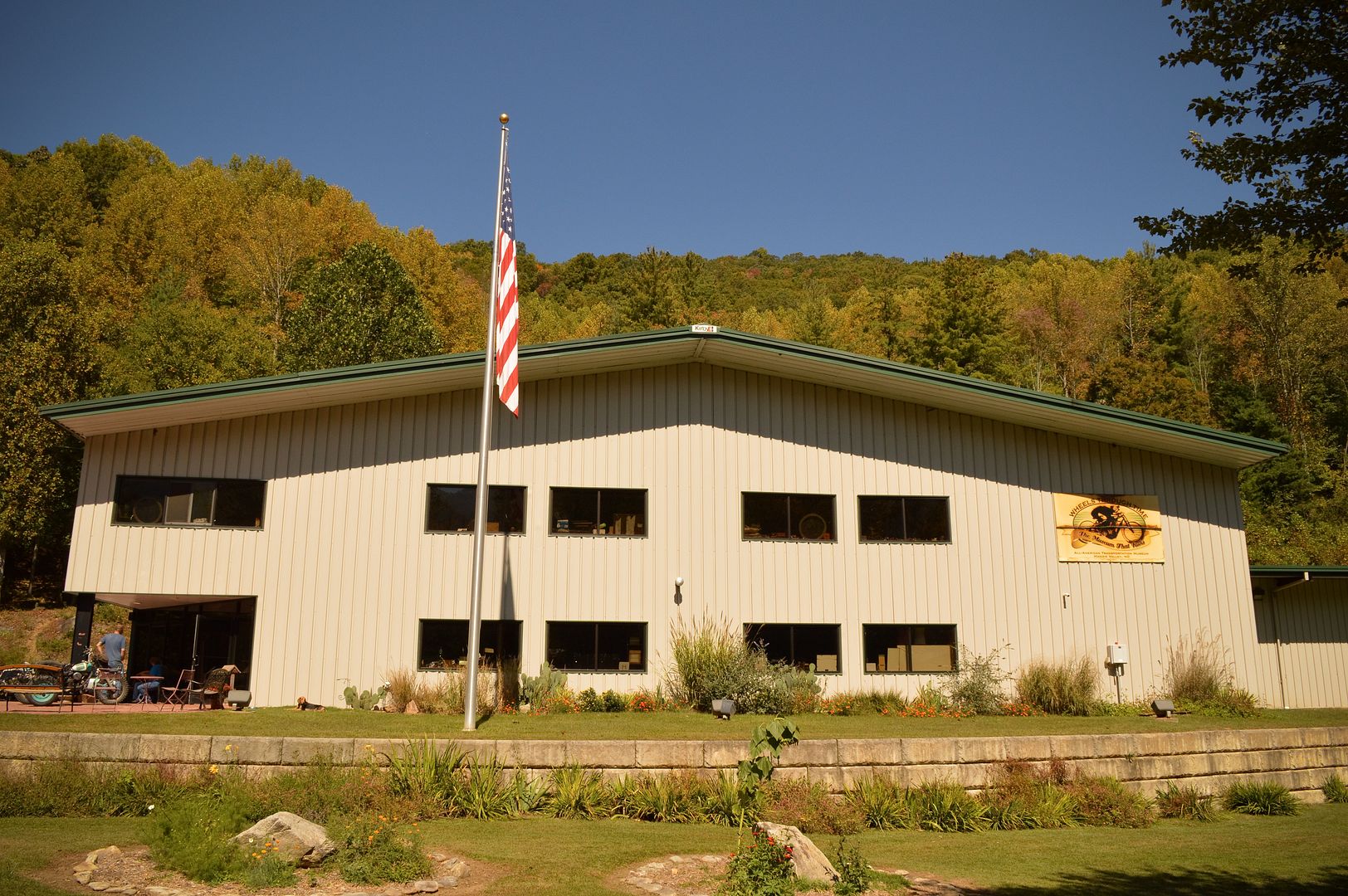 I have to admit I wasn't entirely sure what to expect.  I knew they had a collection of rare bikes, but had no idea how big the place was.  Upon arriving I could tell just from the sheer size of the building that we were in for a treat.  For those of you who aren't familiar, Wheels Through Time is a motorcycle museum located in Maggie Valley, NC.  Wheels Through Time was started by Dale Walksler back in 1993.  Dale and his son Matt restore and build bikes in the attached shop, finishing about 1 bike a month currently.  The museum has been in North Carolina for about 6 years now, and is run primarily by volunteers who are passionate about what they do.
Many bikes from many different states filled the parking lot.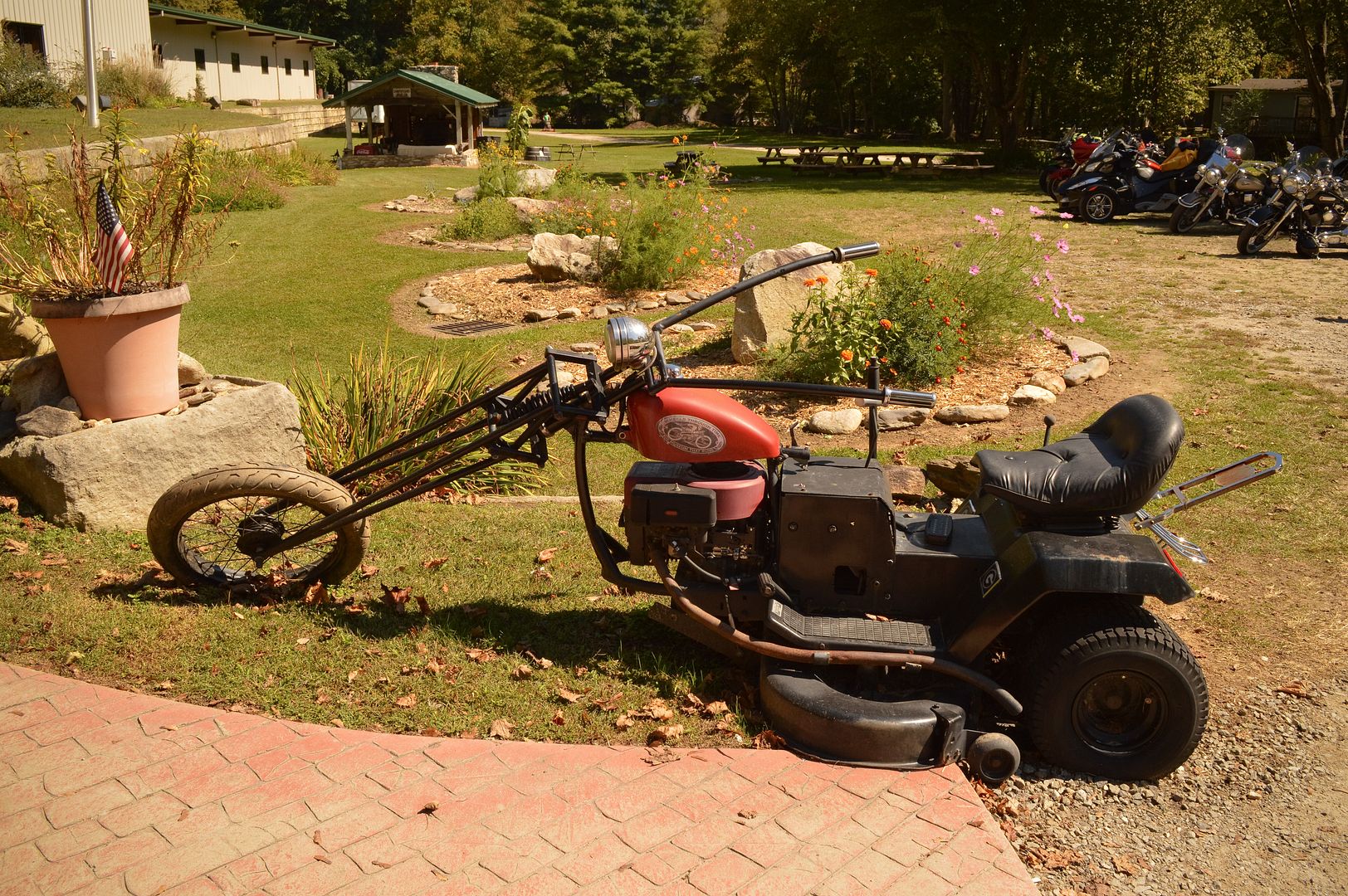 Now you know how they keep their grass so nice!
We barely made it past the main entrance.  As soon as you walk in you are greeted with so much to look at that you can only go a few feet at a time.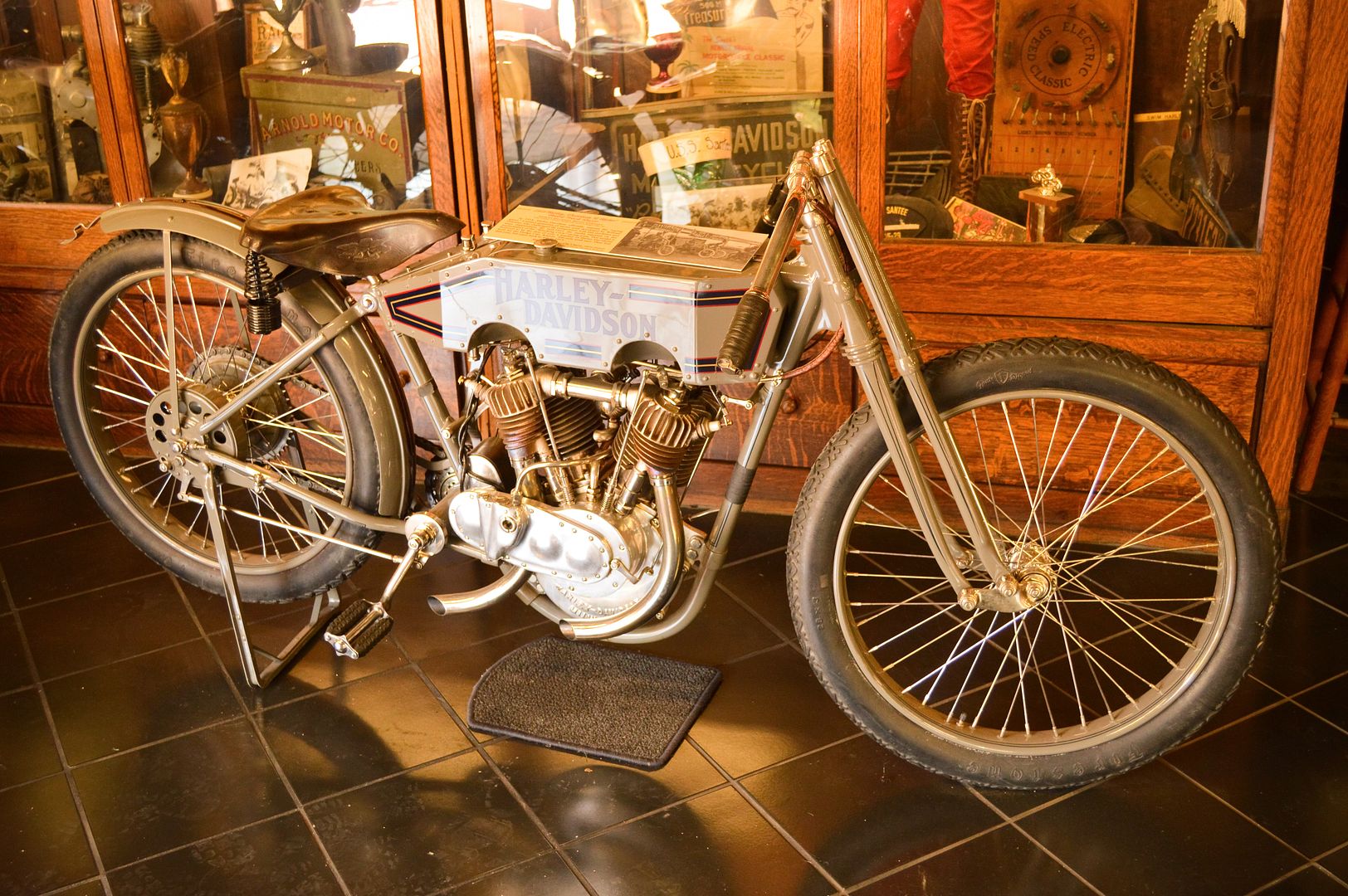 Soon Matt popped out and greeted us, I had exchanged a few e-mails with him a few months back, but again, this visit was fairly unplanned – I wasn't even sure if he was going to be there that day!  What happened next is something I'll never forget.  Matt proceeded to take us on a personal tour of the museum, starting up bikes for us, letting us sit on them and check them out.  Wheels Through Time is called "The Museum That Runs," and they really mean it!  Almost all of the bikes in their collection have actually been restored or fixed up to run again.  It is truly amazing to see something that was built 100 years ago fire up and run.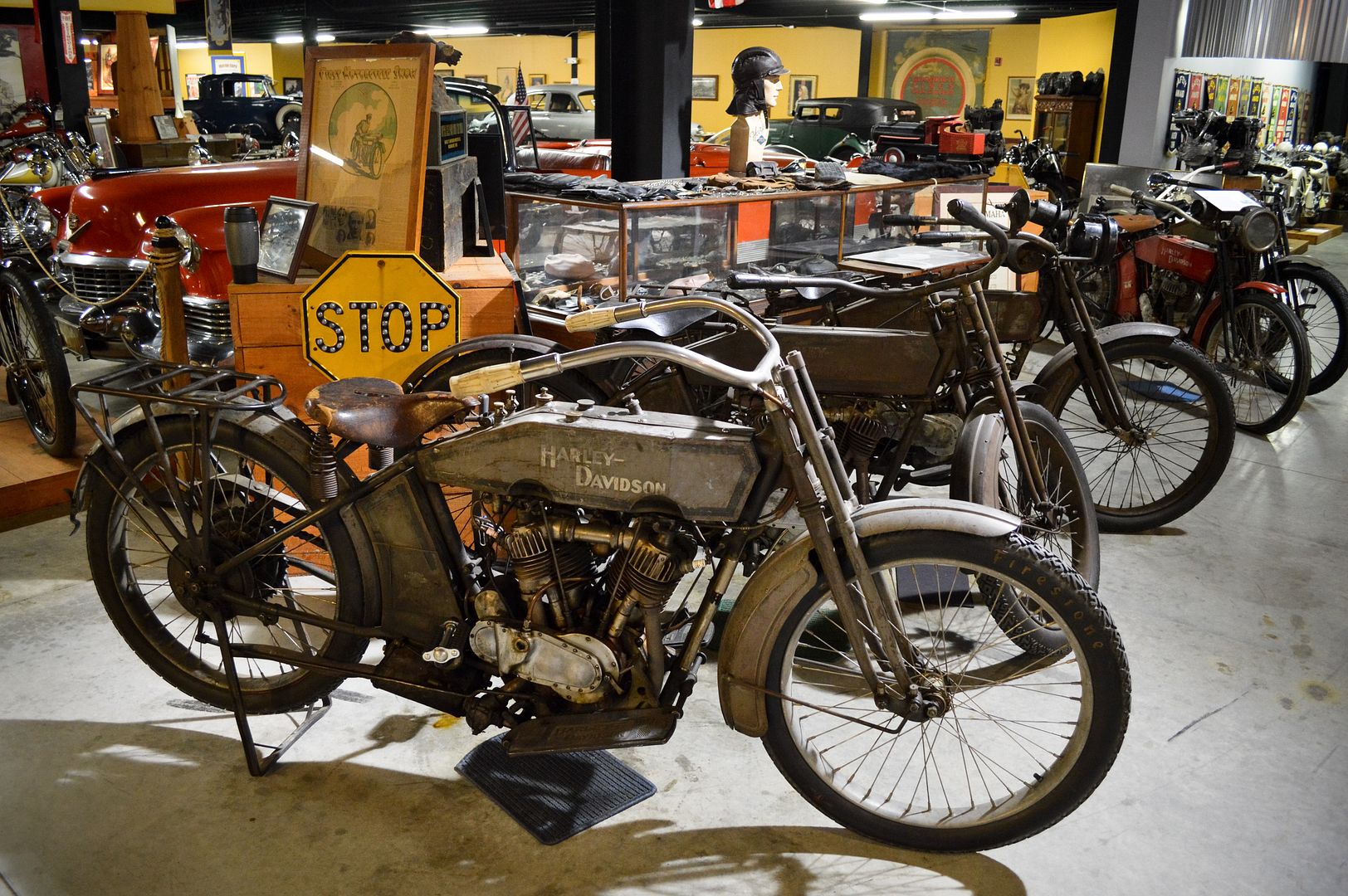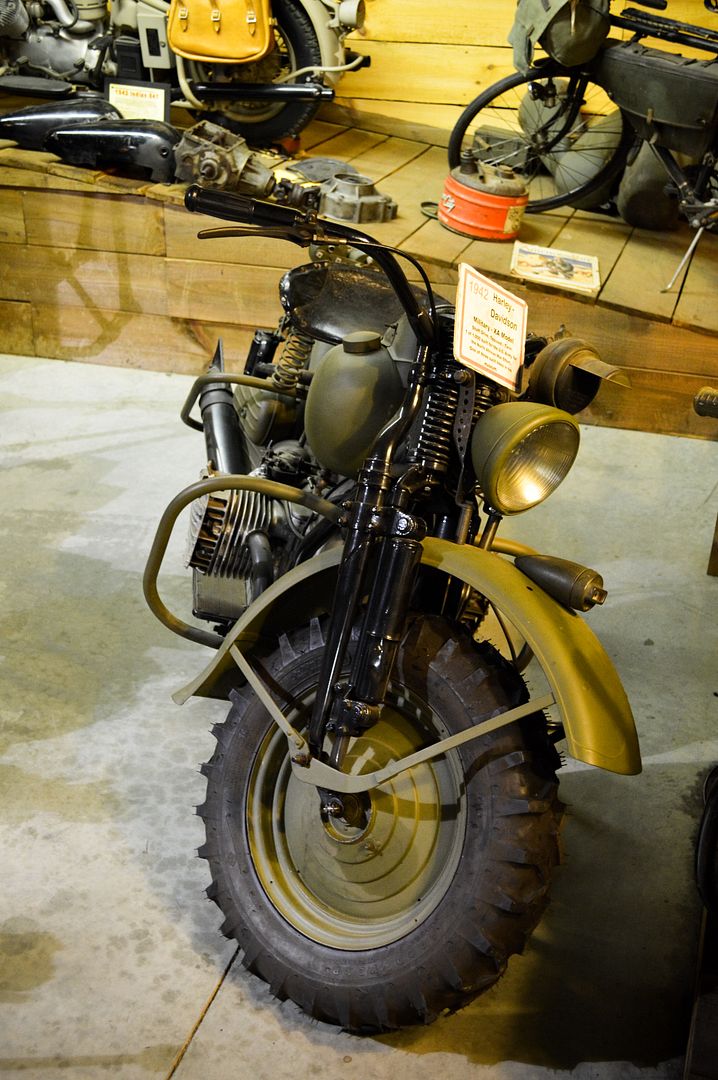 This has to be one of the manliest motorcycles I've ever seen.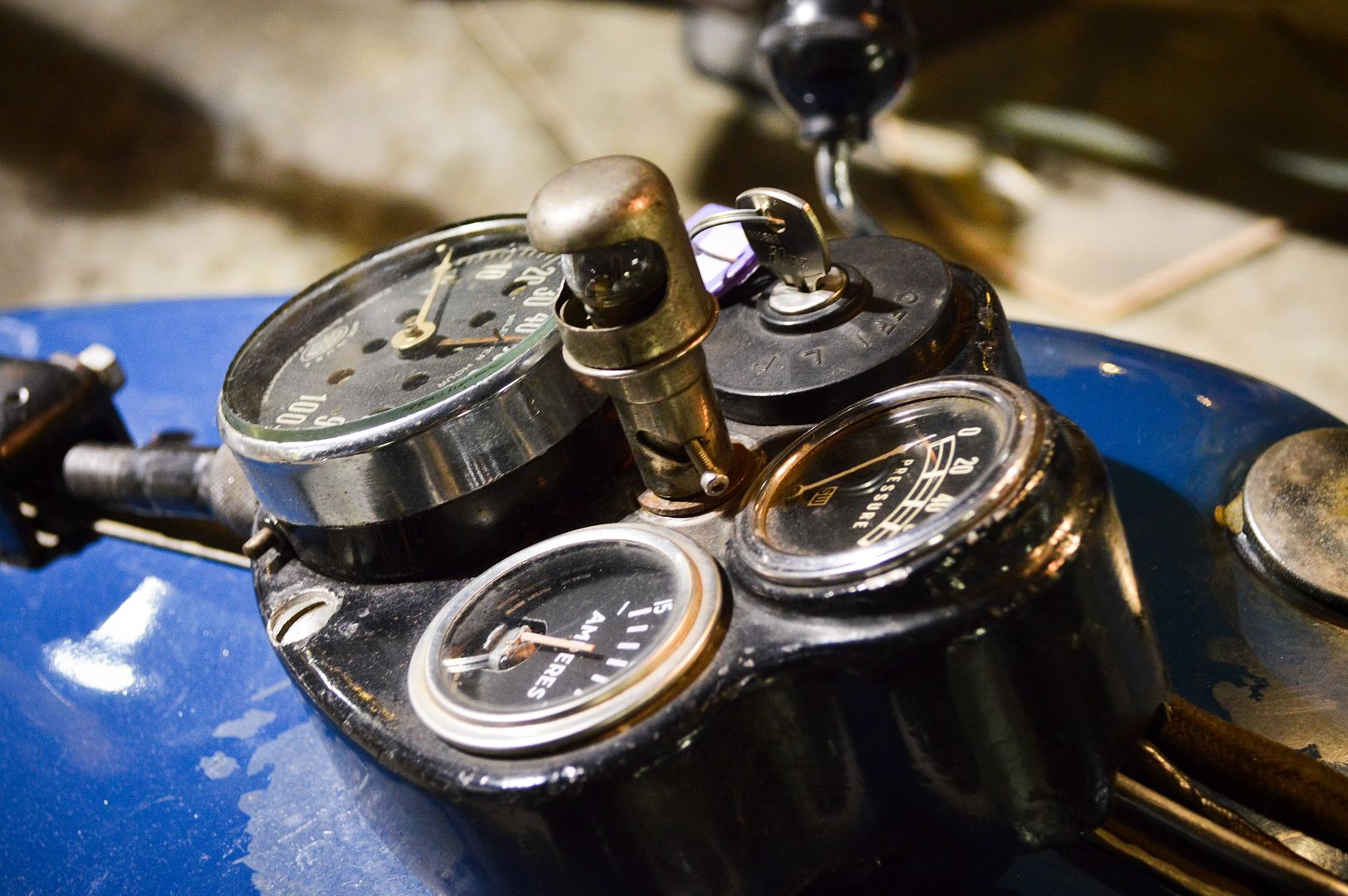 Well, that's one way to light your instruments.  Little things that we take for granted now had to be invented and refined over time.  You actually had to turn the little "hat" to shine the light on whichever gauges you were trying to read.
This was a really unique sidecar rig, that you actually ride (drive?) from the sidecar!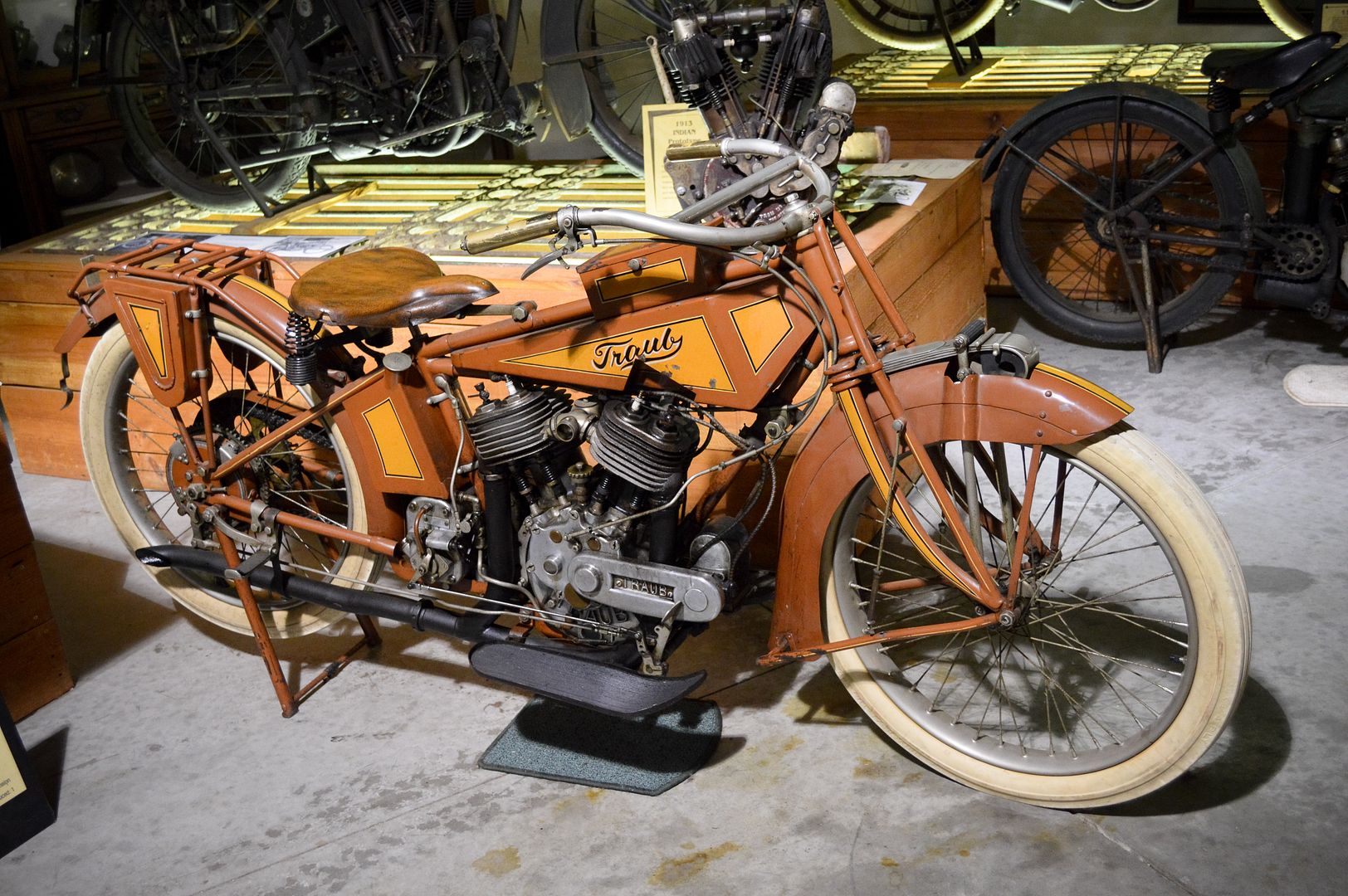 The bike above is truly special.  It was found by a plumber in 1967 behind a brick wall of an apartment building in Chicago.  The building's owner admitted that his son stole it before heading off to World War One, and he never came back.  To this day, nobody knows who built it!  The assumption, of course, is that it was a Mr. Traub, but there is no record of the build or who he was.  Every part of this bike is truly unique, apparently custom built and way ahead of it's time.  Matt and Dale estimate that it was probably built sometime around 1916, based on a few key components.  The seat, carburetor, and magneto are the only parts on this bike that are recognizable as stock parts, and they date back to that time.  Everything else is custom made, from the engine cases to the pistons.  This bike was truly ahead of it's time, and probably one of the biggest mysteries in the history of motorcycling.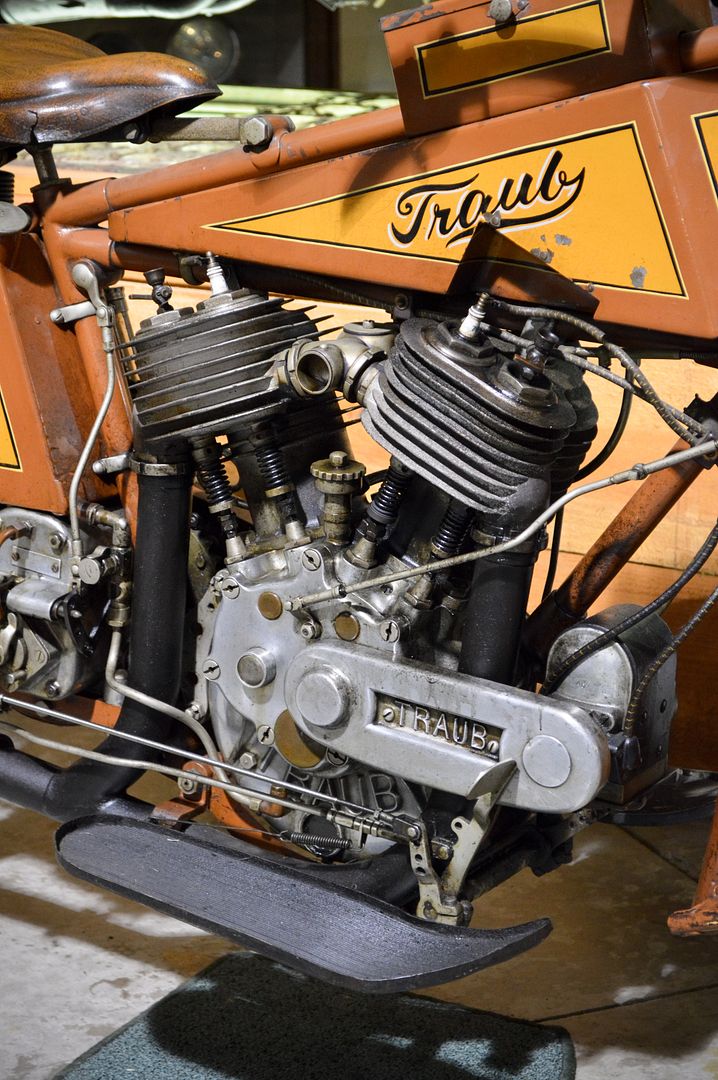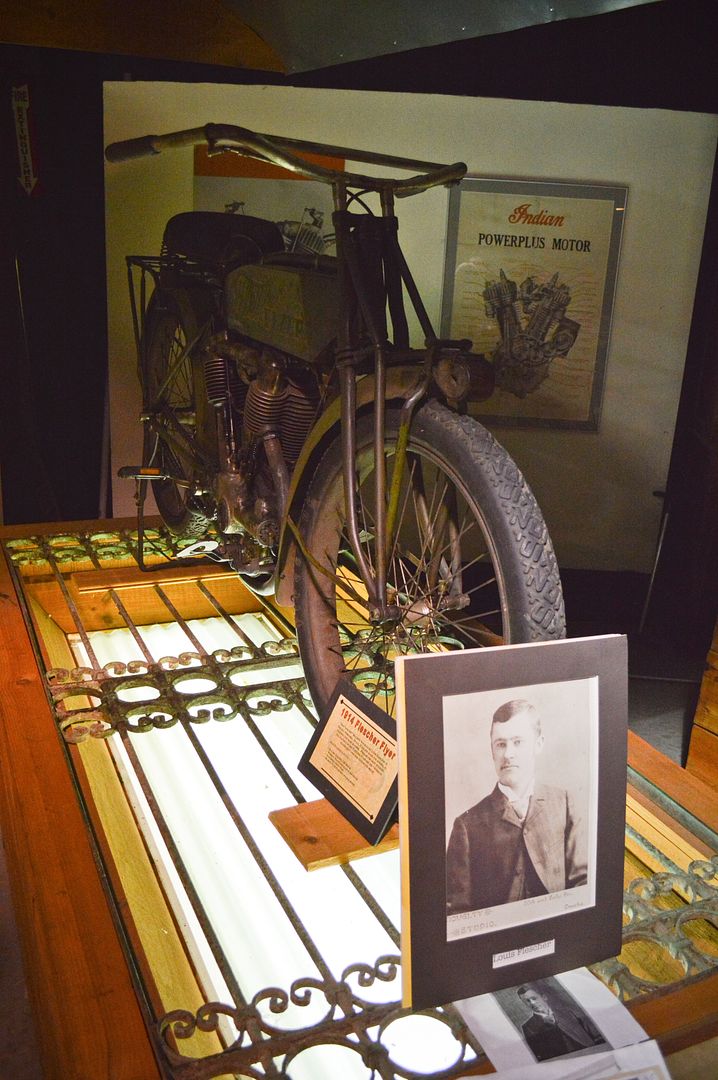 Pictured above is the 1914 Flescher Flyer.  Lois Flescher had a very innovative bike that featured floorboards that could rotate to operate the brake and clutch.
It runs!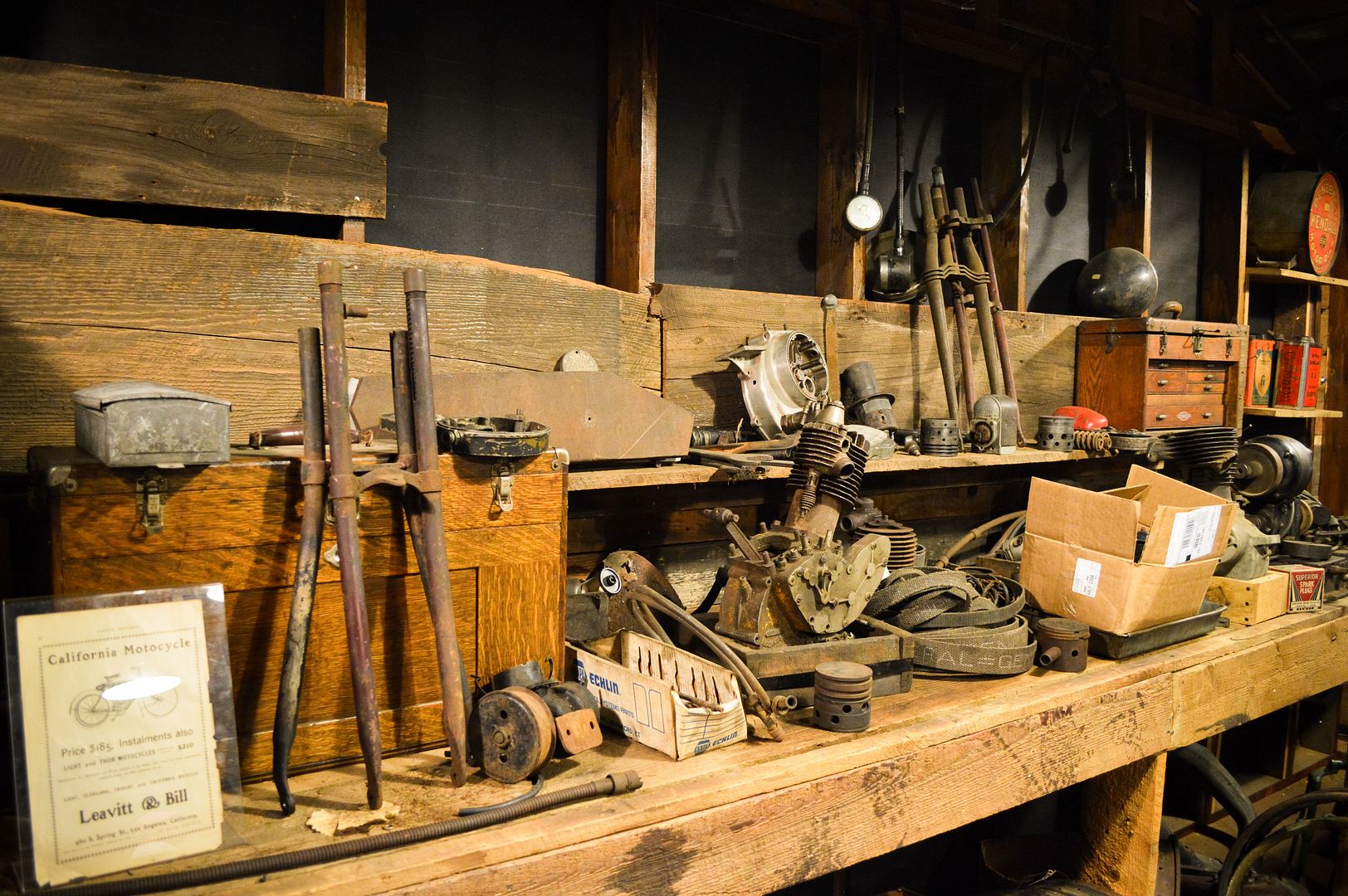 Some of the scenes around the museum leave you feeling like you are peering through a window into another time.  This old workbench full of parts could have been your grandfathers!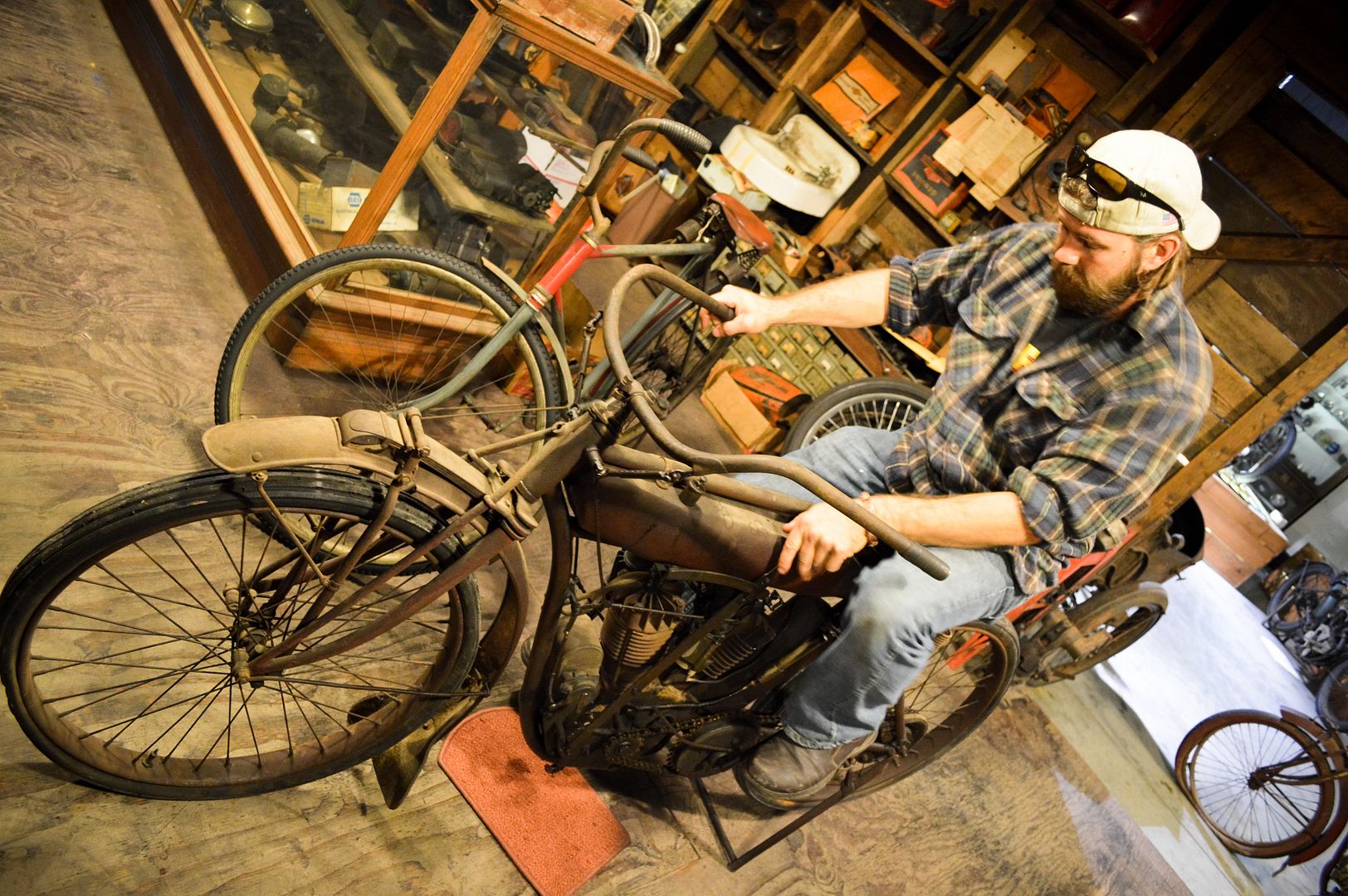 Matt gets another bike going for us.  Check for gas, pedal pedal pedal POW POW chugachugachuga.  Too cool!
Since we figured out how to suspend a motor between two wheels, it seems people have had the urge to race and compete on motorcycles.  Wheels Through Time has an impressive Hill Climb display.  Full of many bikes from the early 20th century with their sometimes crude but effective modifications for hill climb competitions.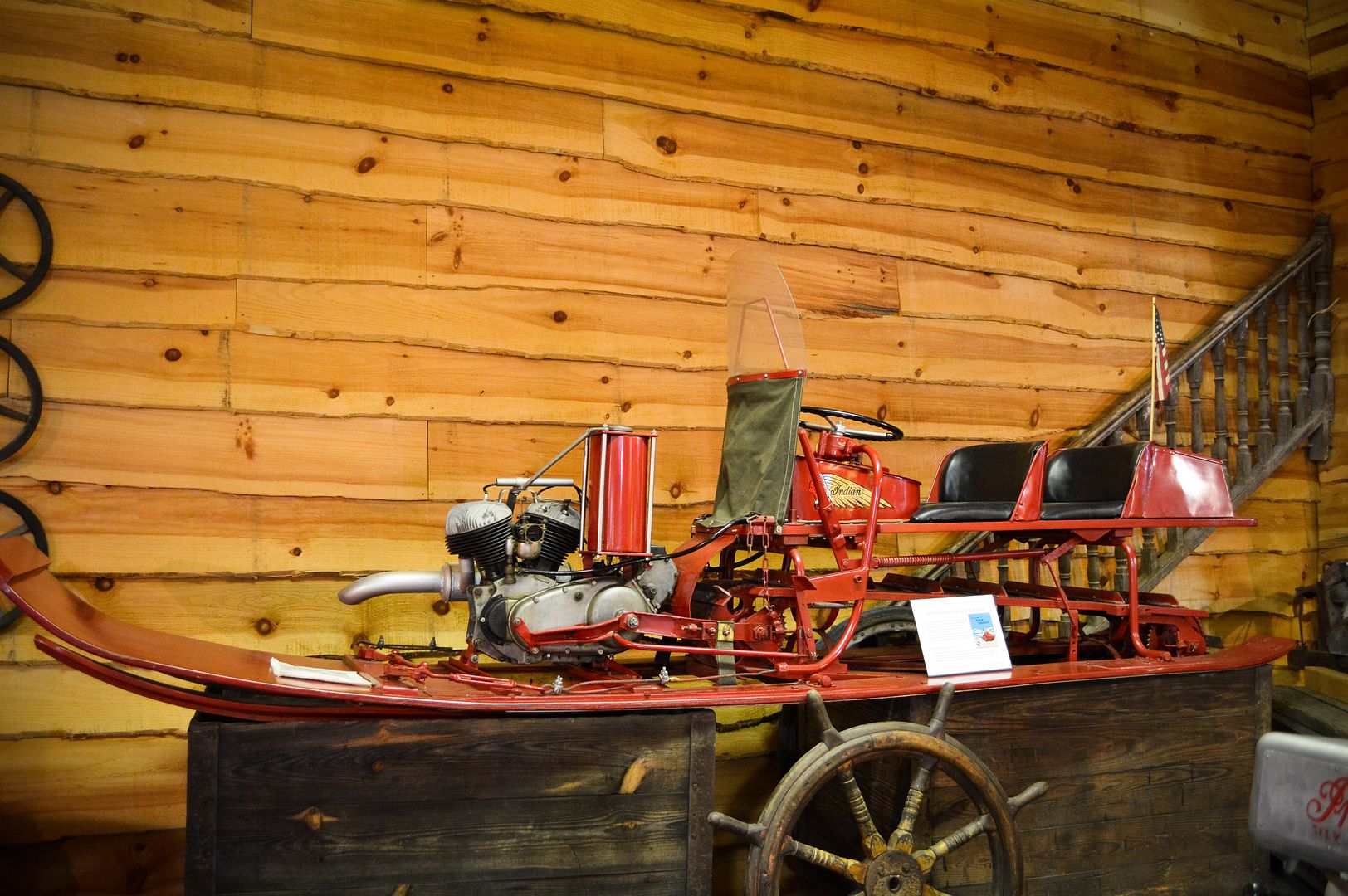 Santa, is that you?
Excelsior produced some very cool bikes up until they closed their doors in 1931.  Dale started this one up for us, a big leather belt drives the rear wheel.
Very cool to see these old motors fire up and run.
Every year, Wheels Through Time does a raffle to support museum costs.  This year they raffled off this 1932 Flathead Bobber.  We didn't win…  Maybe next year!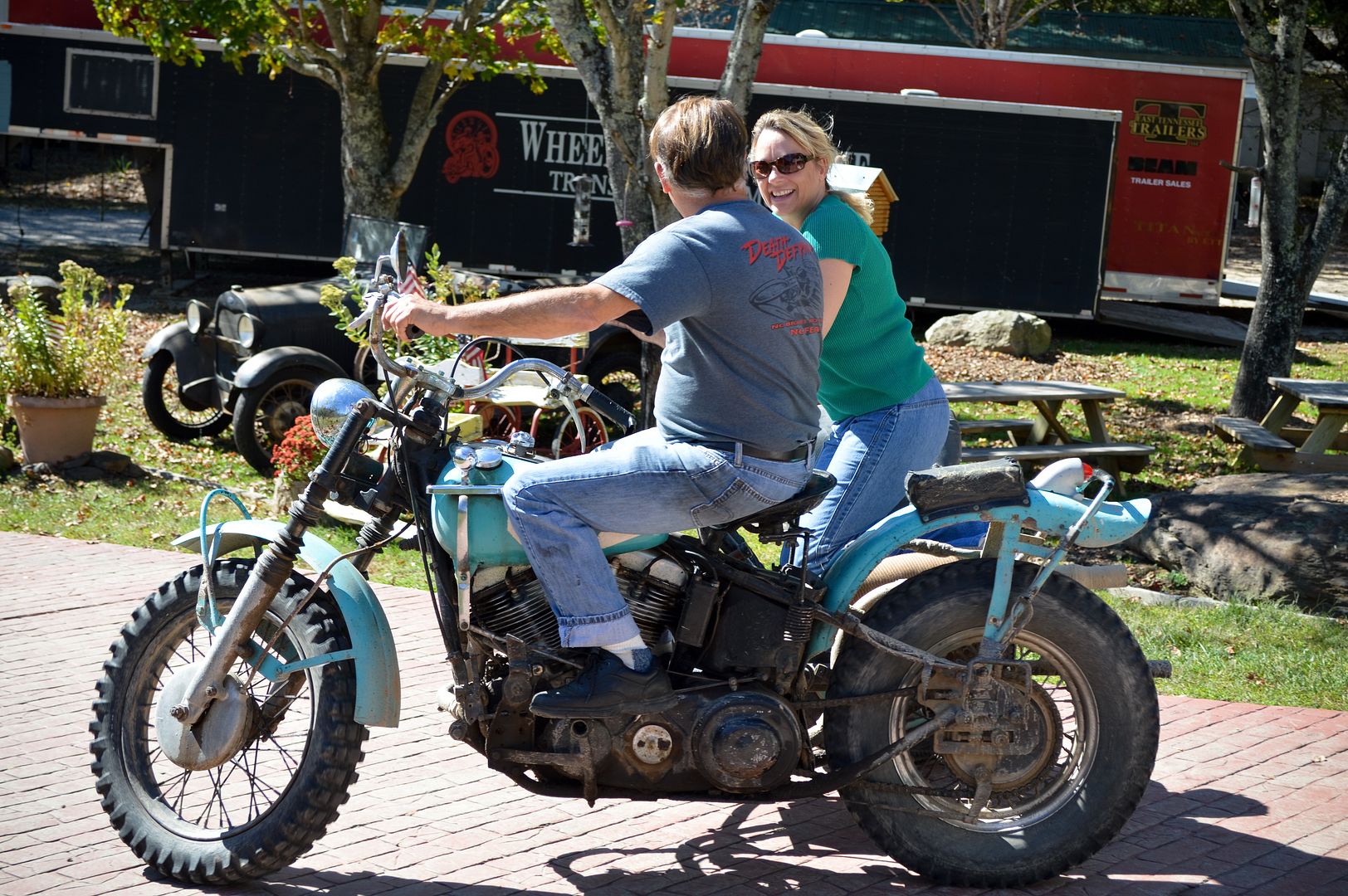 Ok… what other museum to you know of that will take you for a ride on a piece of history?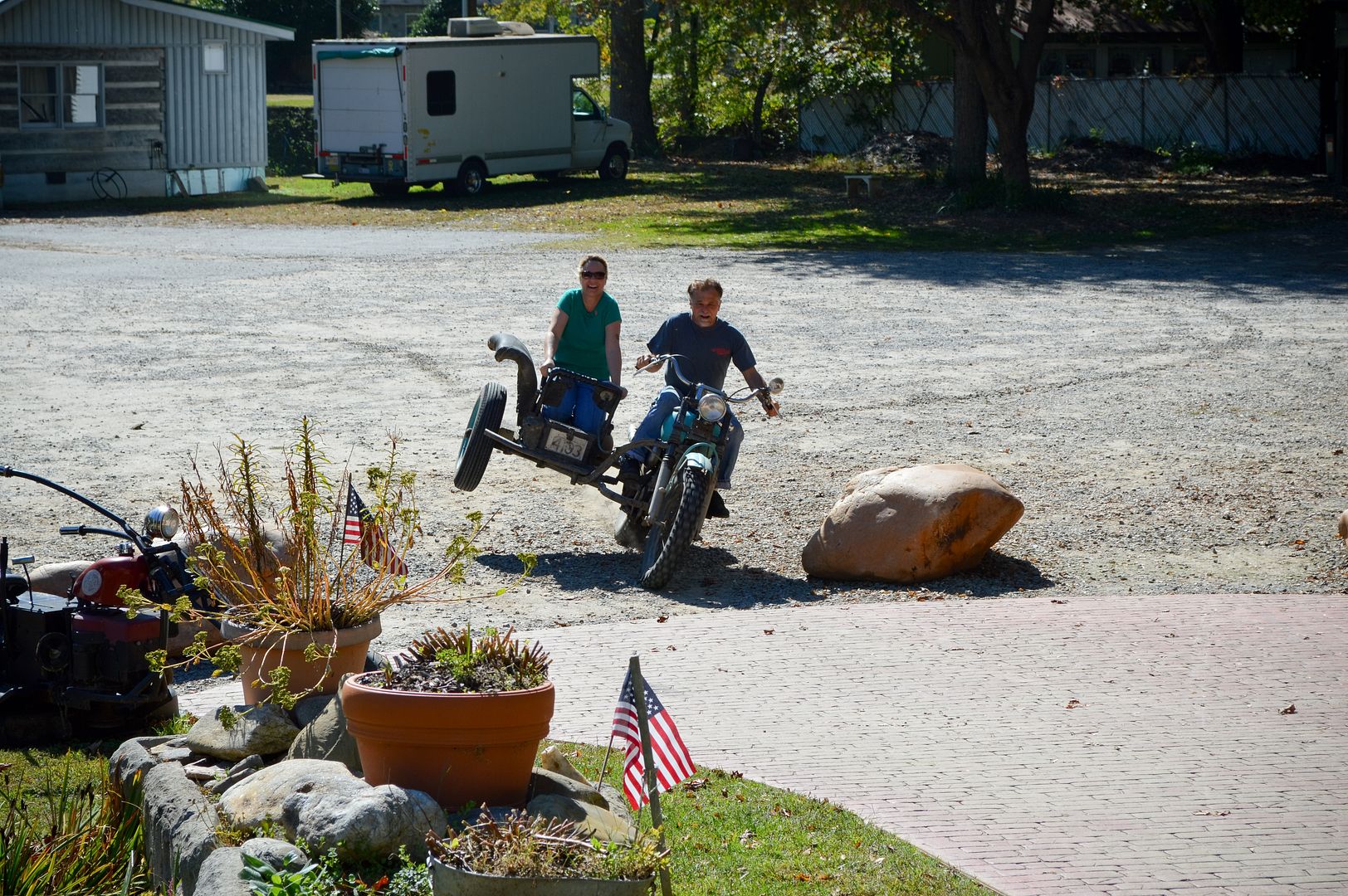 Dale is quite the proficient sidecar flyer.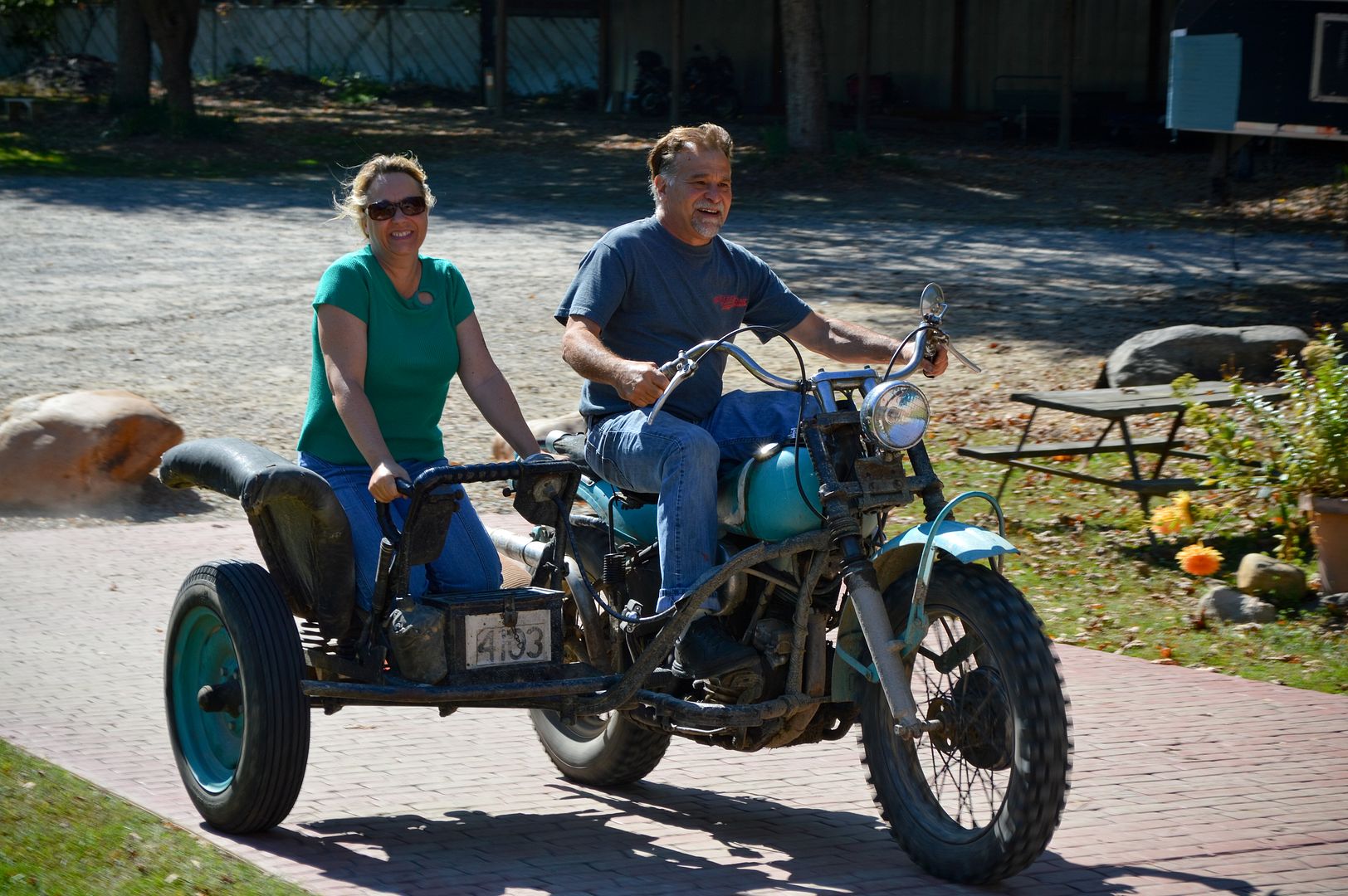 You know this kid won't forget this!
They even have a few four wheeled contraptions around the place.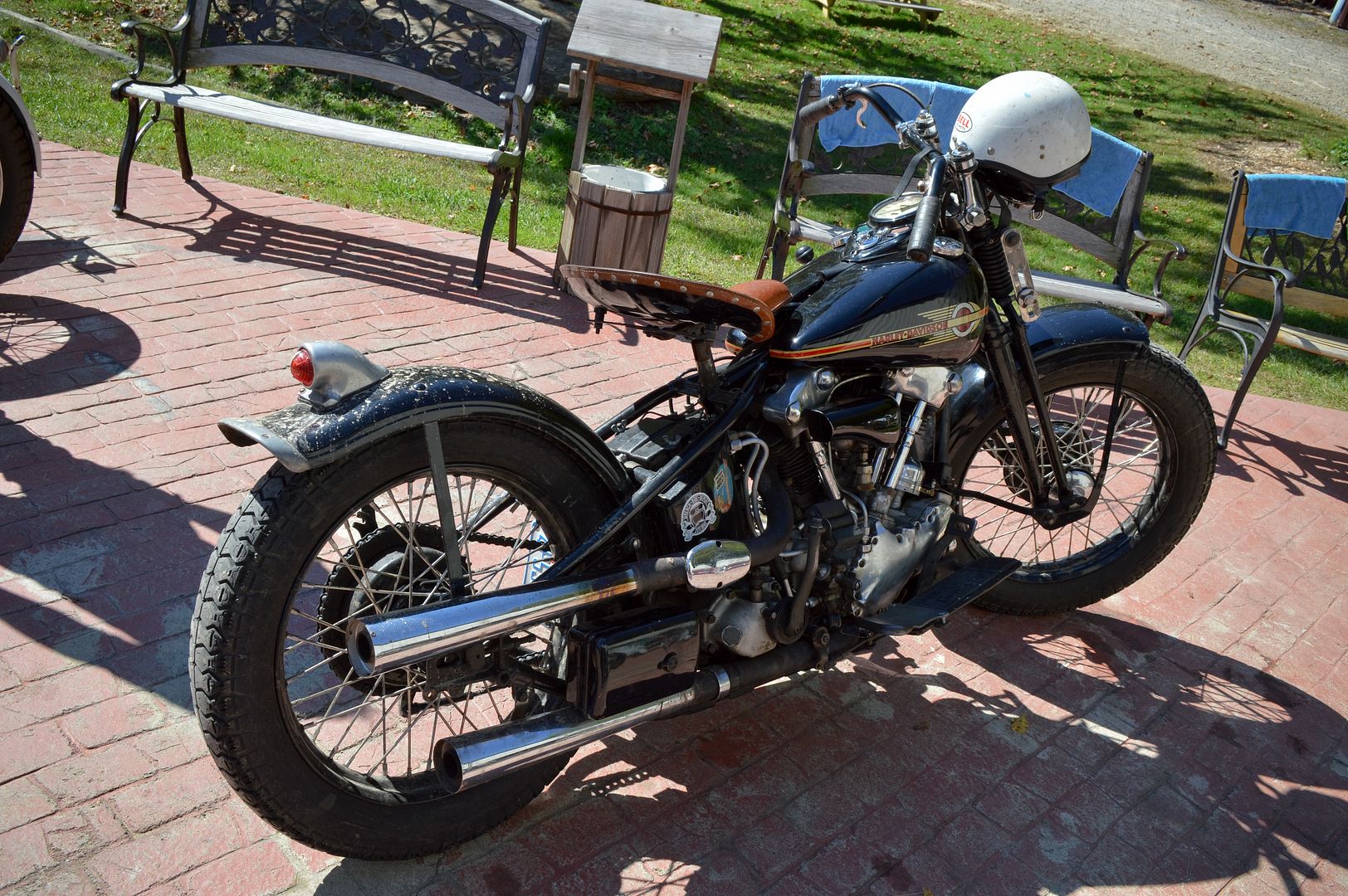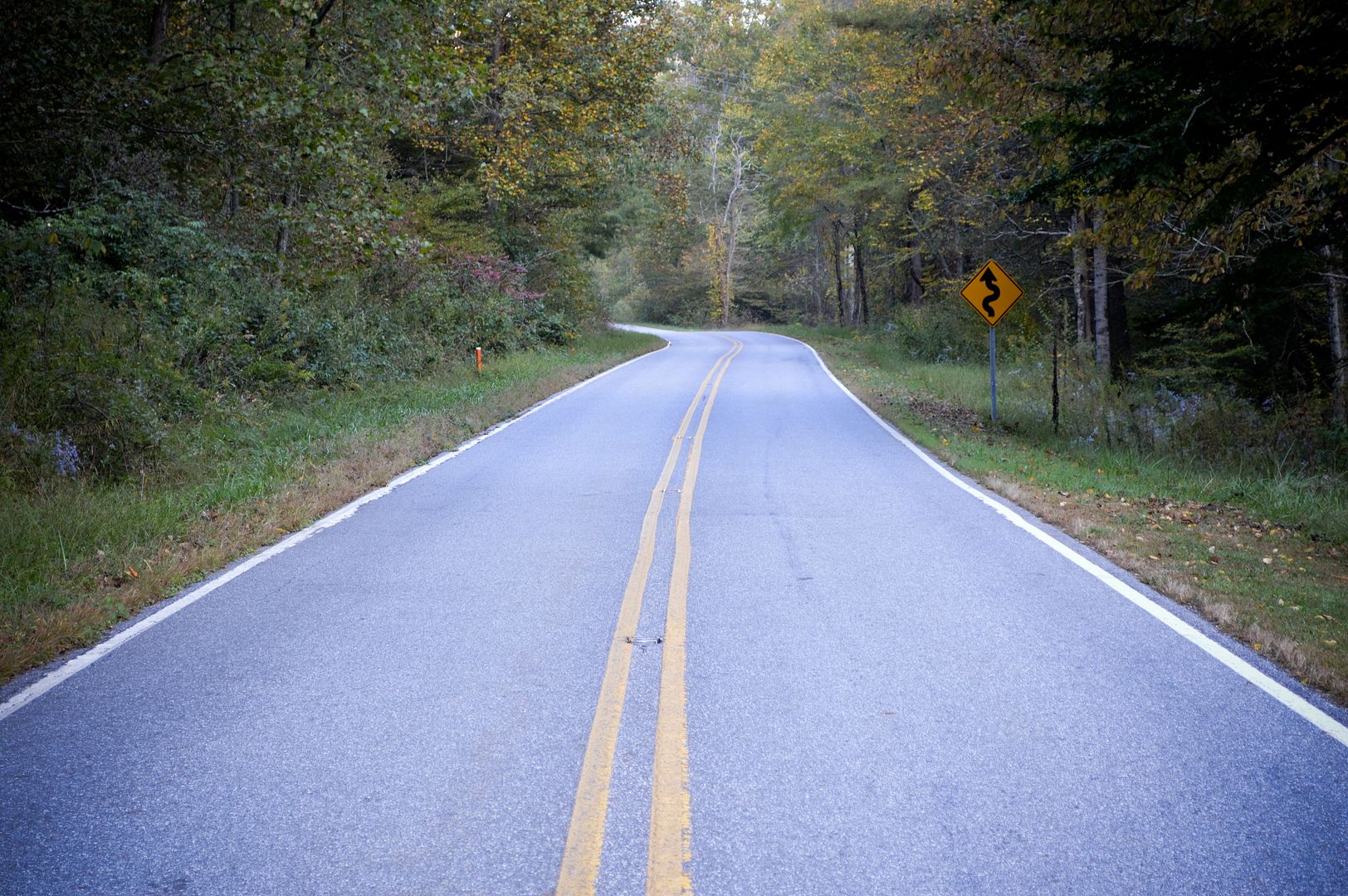 After such a wonderful time at the museum it was hard to say goodbye, but the sun was setting and we still had many miles to burn to get home.  So we fired up our modern liquid cooled motorcycles and rode home, imagining what it would be like to be instead on a classic piece of American history, sputtering along into the sunset.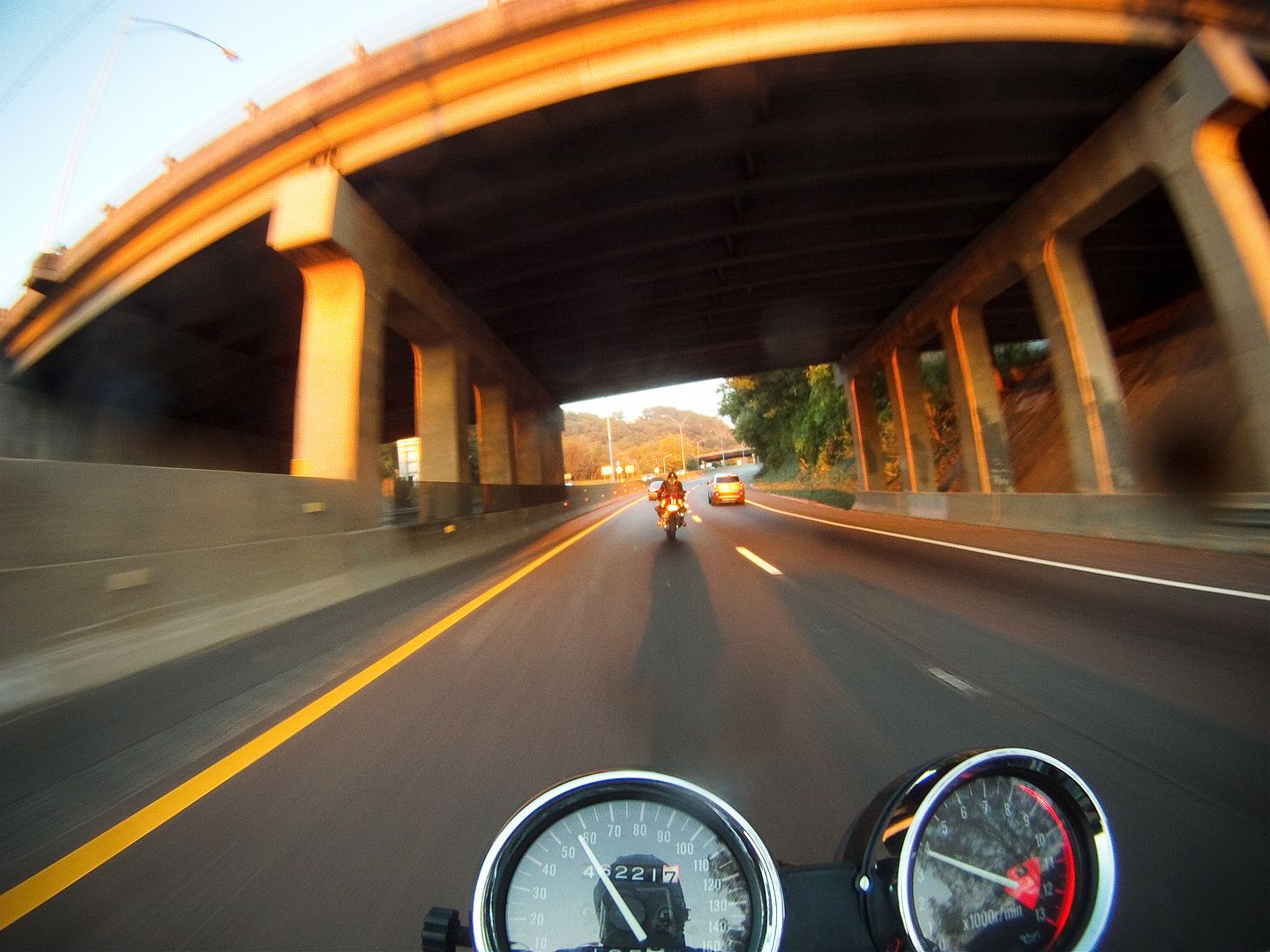 The sun set as we rode through Asheville, and we rode the last couple hours home in the dark. We covered close to 500 miles that day, and enjoyed every minute of it!
Check out our Wheels Through Time video that we made during our visit!  Dale and Matt started up quite a few bikes for us, which was fantastic!  Seeing something run that is literally 100 years old is something quite special, and some of the stories behind these bikes are just incredible.  You owe it to yourself to visit Wheels Through Time – it's one of the best museum experiences you'll ever have!  Check out http://www.wheelsthroughtime.com