Fall has officially arrived. With cooler weather rolling in and leaves starting to change, we knew it was time once again for our Annual CompAcc Fall Group Ride. We gathered at our retail store in Rock Hill, SC early Sunday morning for what would turn out to be an absolutely beautiful day out on the bikes. We had about a 300 mile route planned, with some great roads and stops along the way.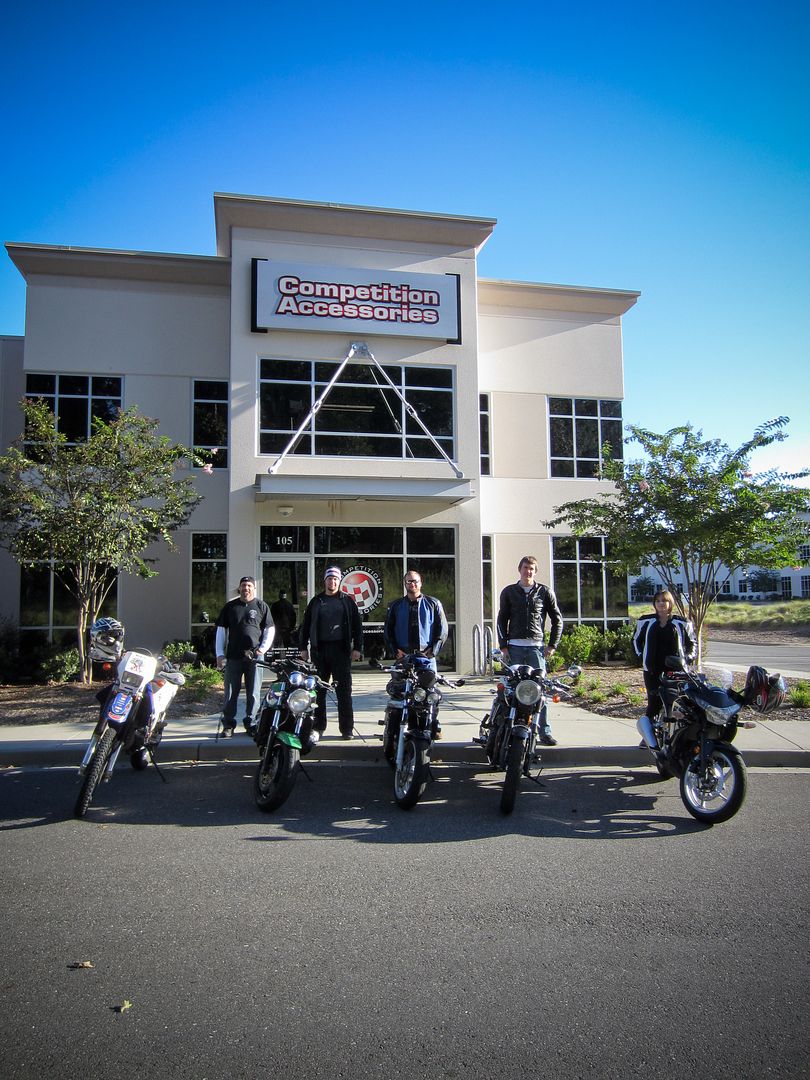 From left to right: Dave – Suzuki DRZ400, Reuben – Kawasaki ZRX 1100, Baron – Yamaha FZ-6, Graham – Triumph Bonneville, and Amber – Honda CBR 250A very wide mix of bikes with one thing in common – riders who love to ride, and this day would not disappoint!  The air was cool and crisp, with not a cloud in the sky.  Perfect riding weather!
Getting out of SC and up into the mountains the ride is a little flat, but the scenery is nice and we took the opportunity to snap a few pics: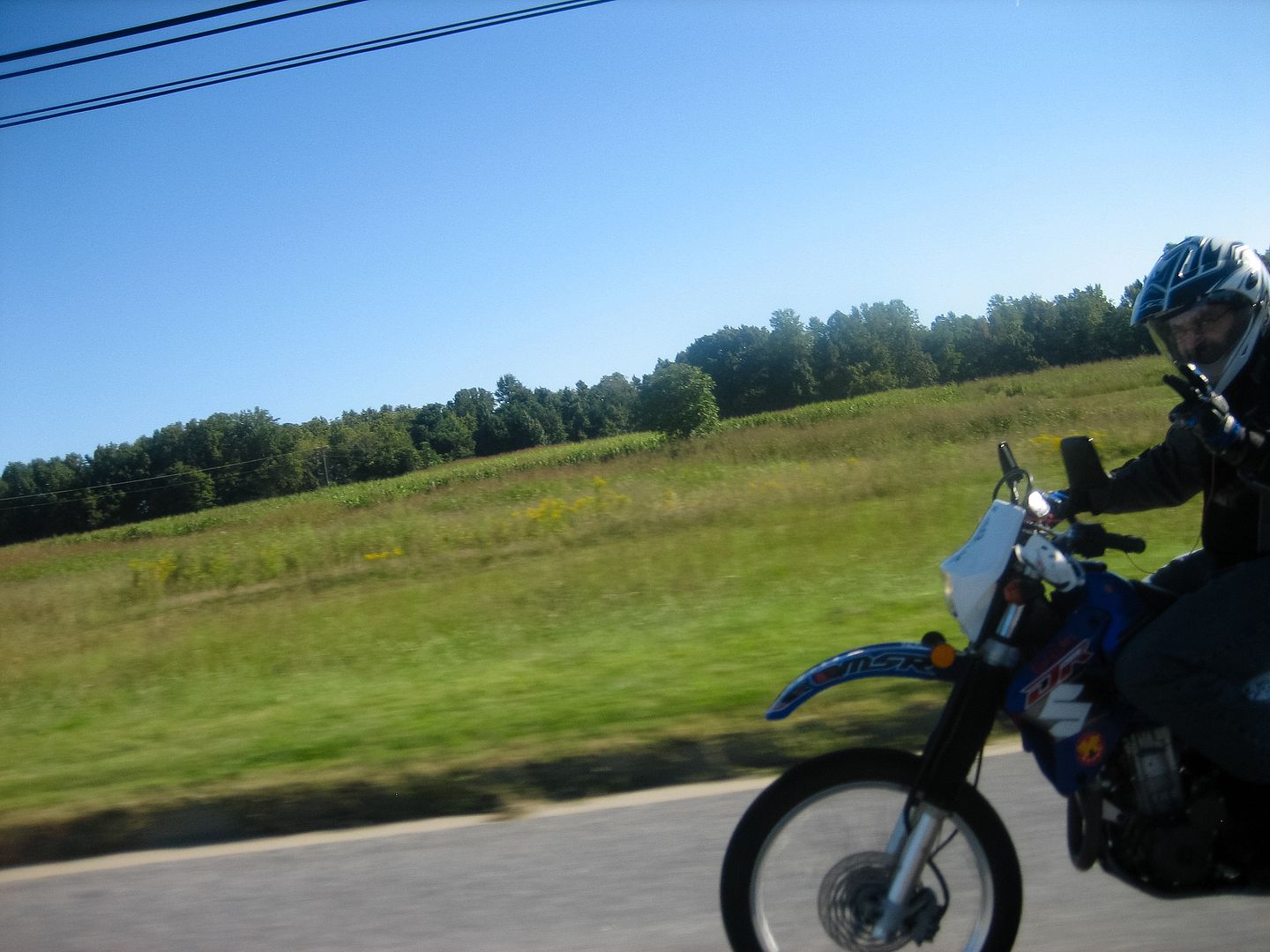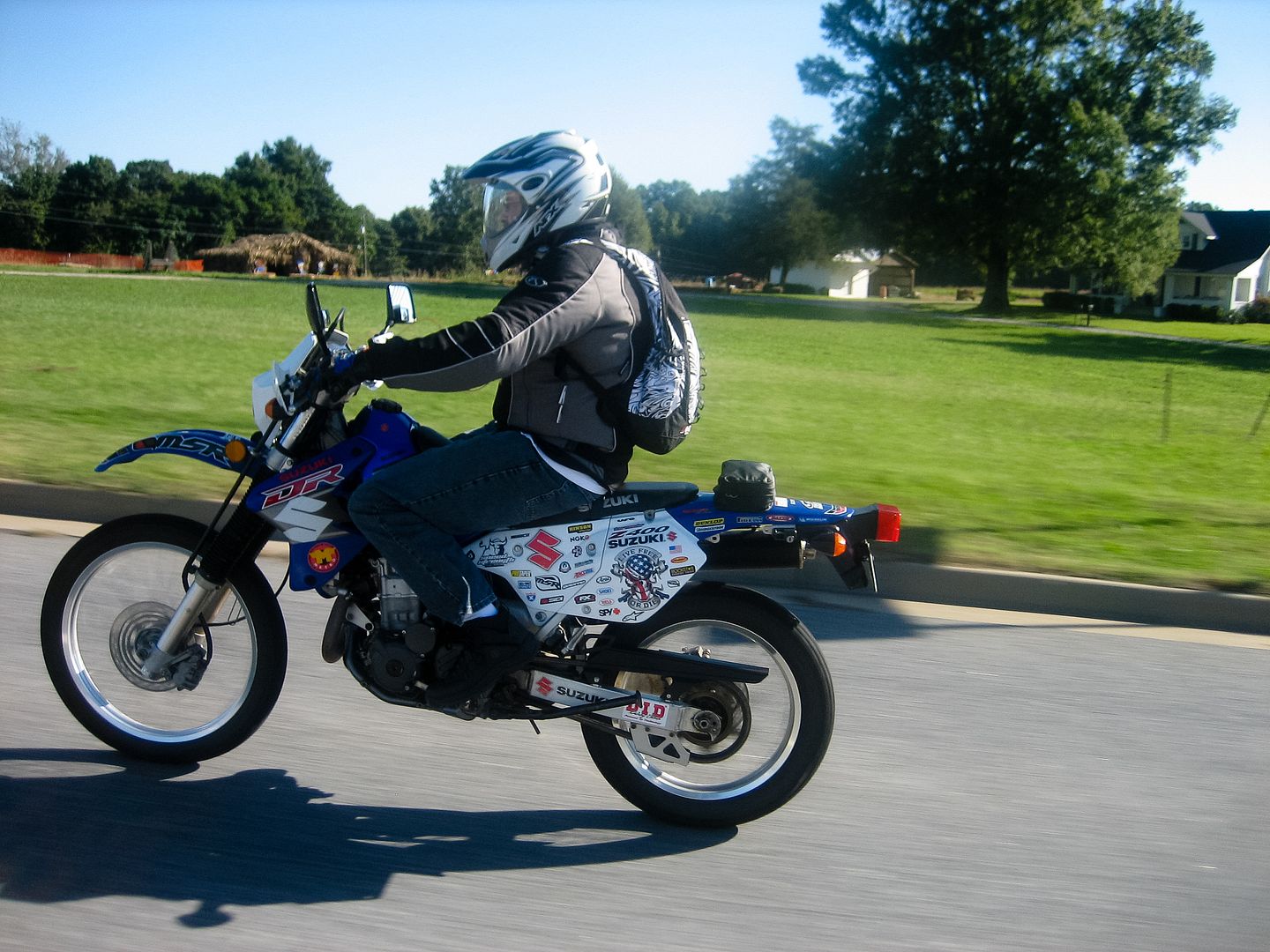 We think Dave needs more stickers!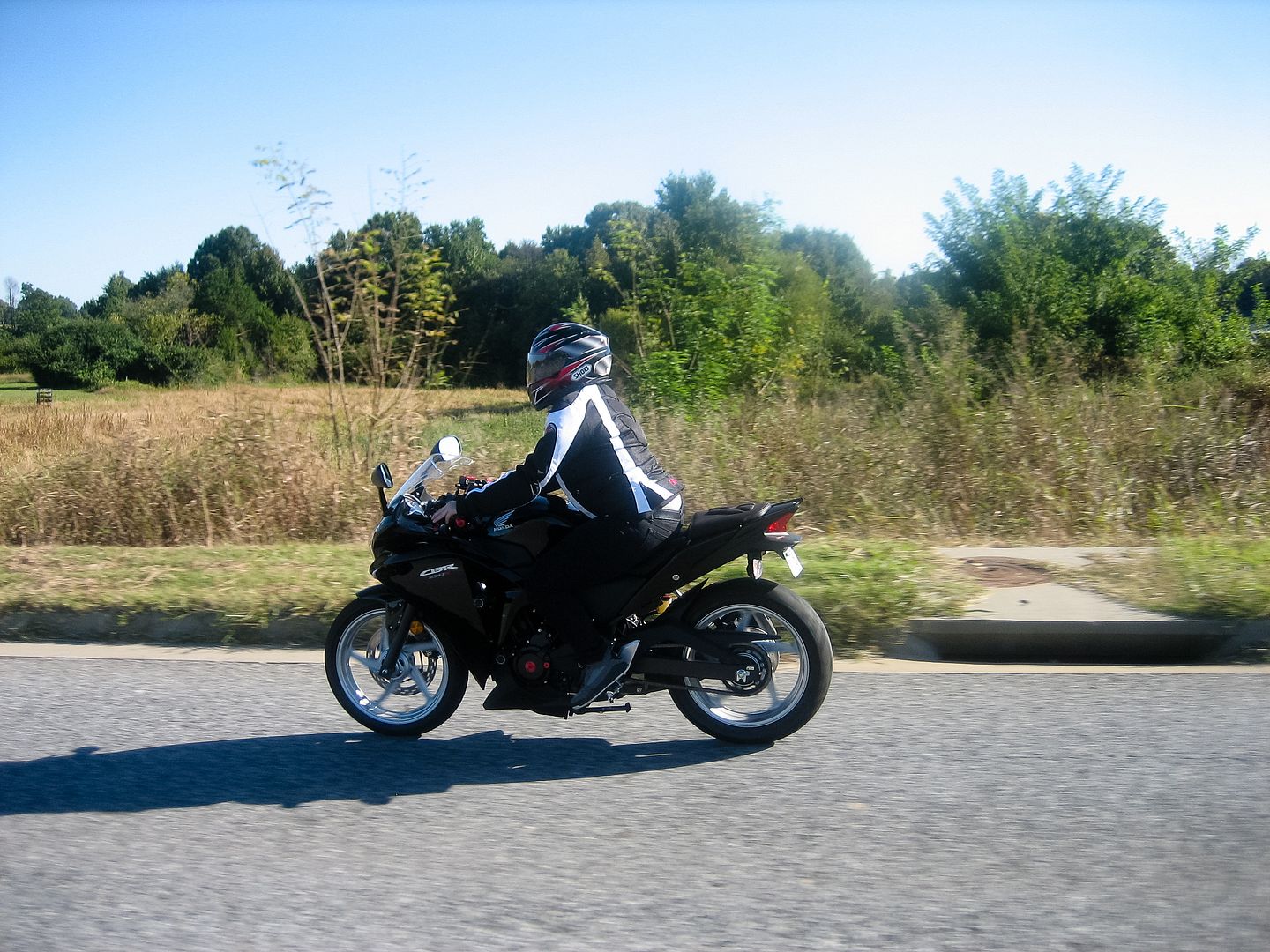 Amber recently bought her Honda CBR 250 and has already accessorized it with some trick bits.  She grew up on dirt bikes and has taken to street riding really well!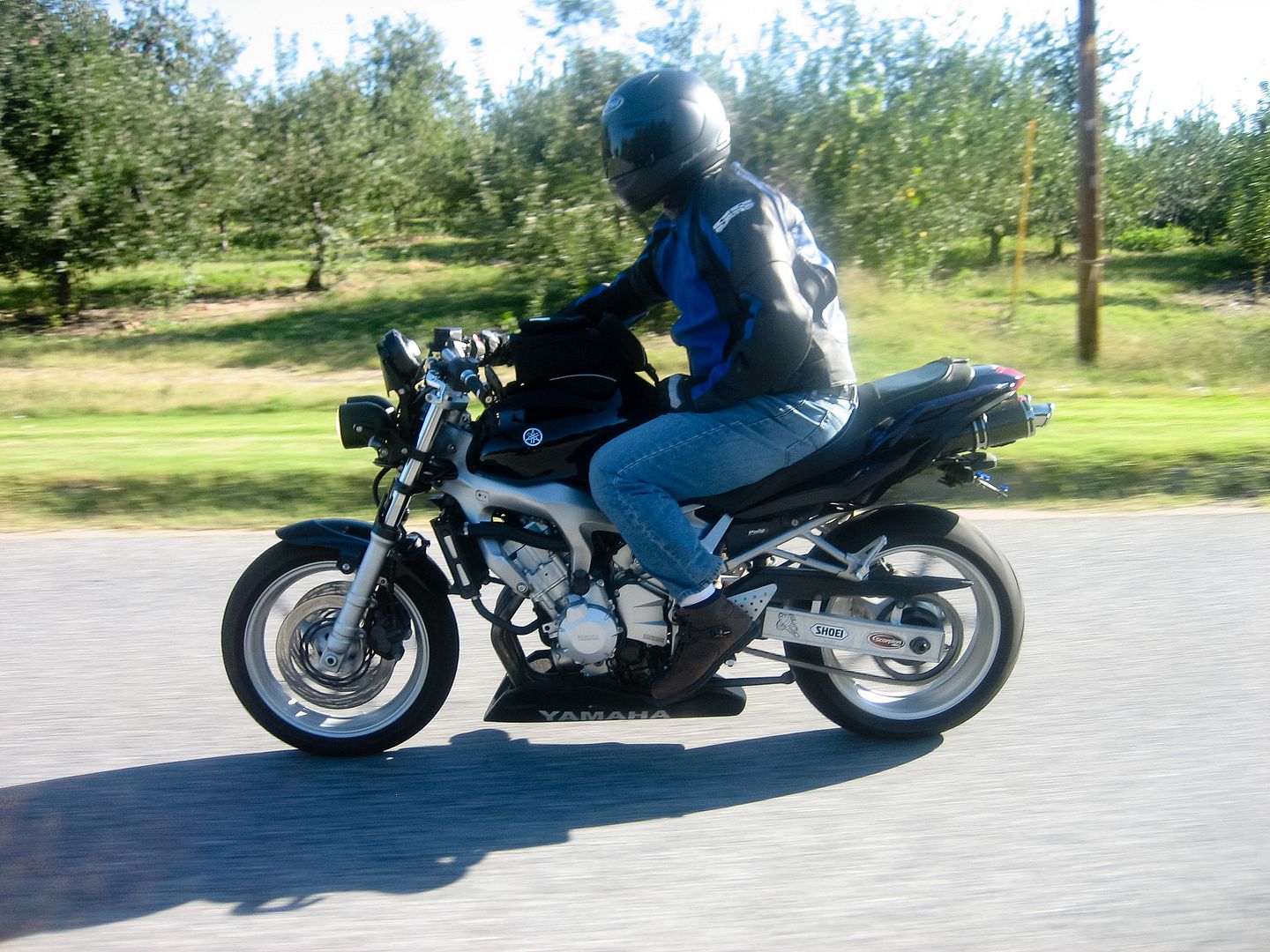 Baron on his street fighter FZ-6!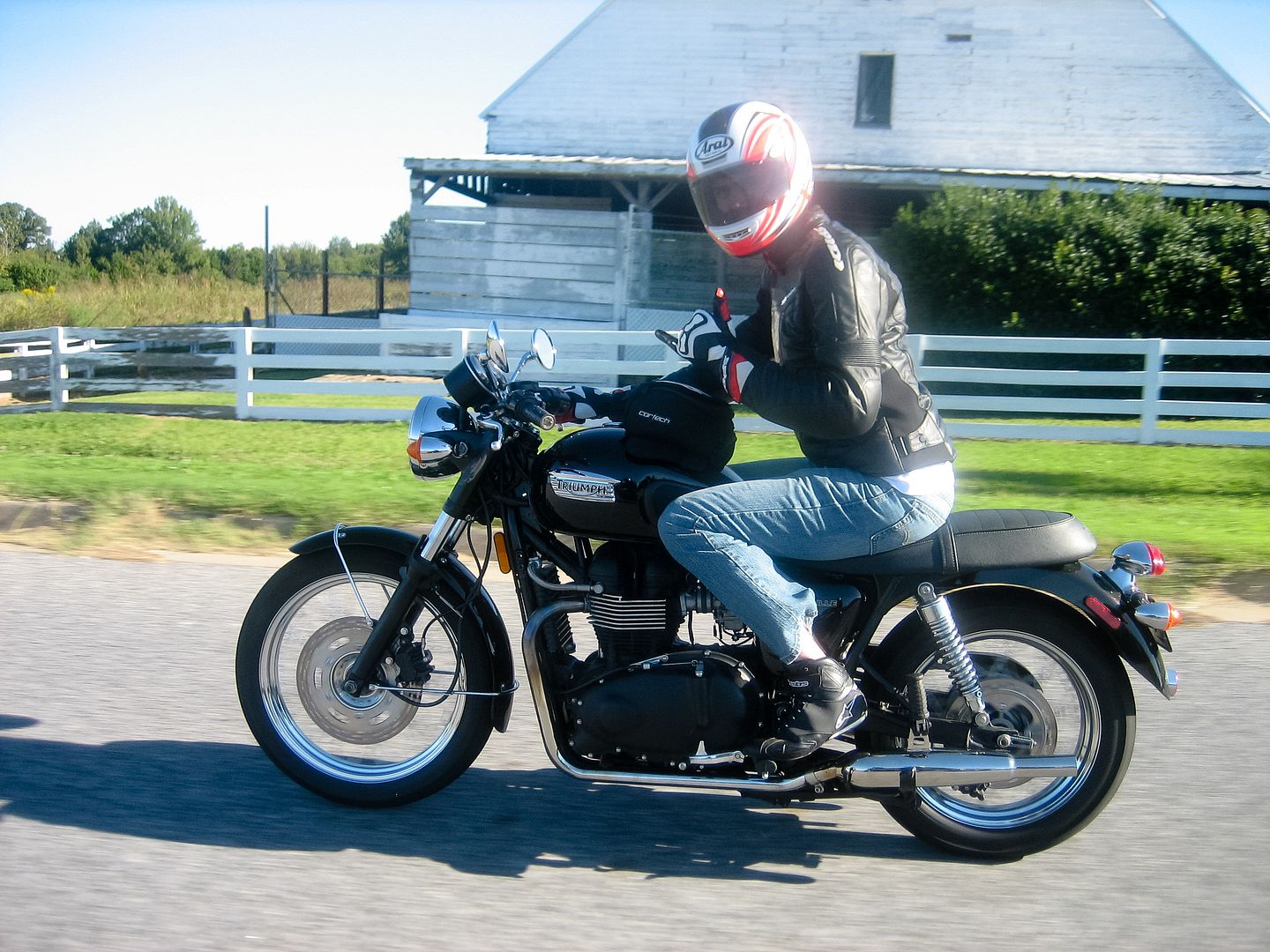 Graham was stoked to be taking his Bonneville up to the mountains!
After a little more than an hour of riding, we made a planned stop at Cowpens National Battlefield.  As luck would have it, a ranger was about to lead a walk through the battlefield to show us the key points of the battle, as well as the original monument.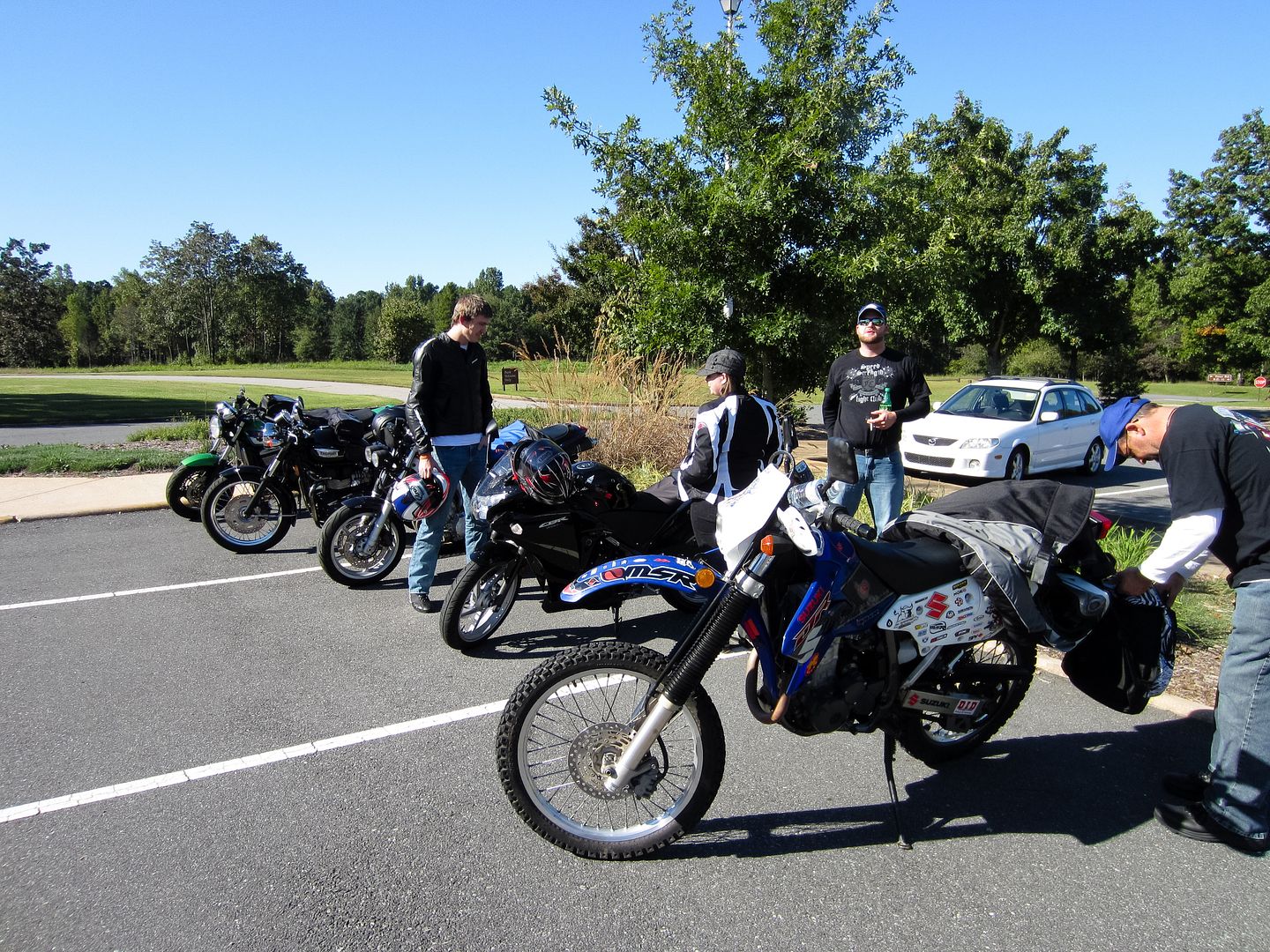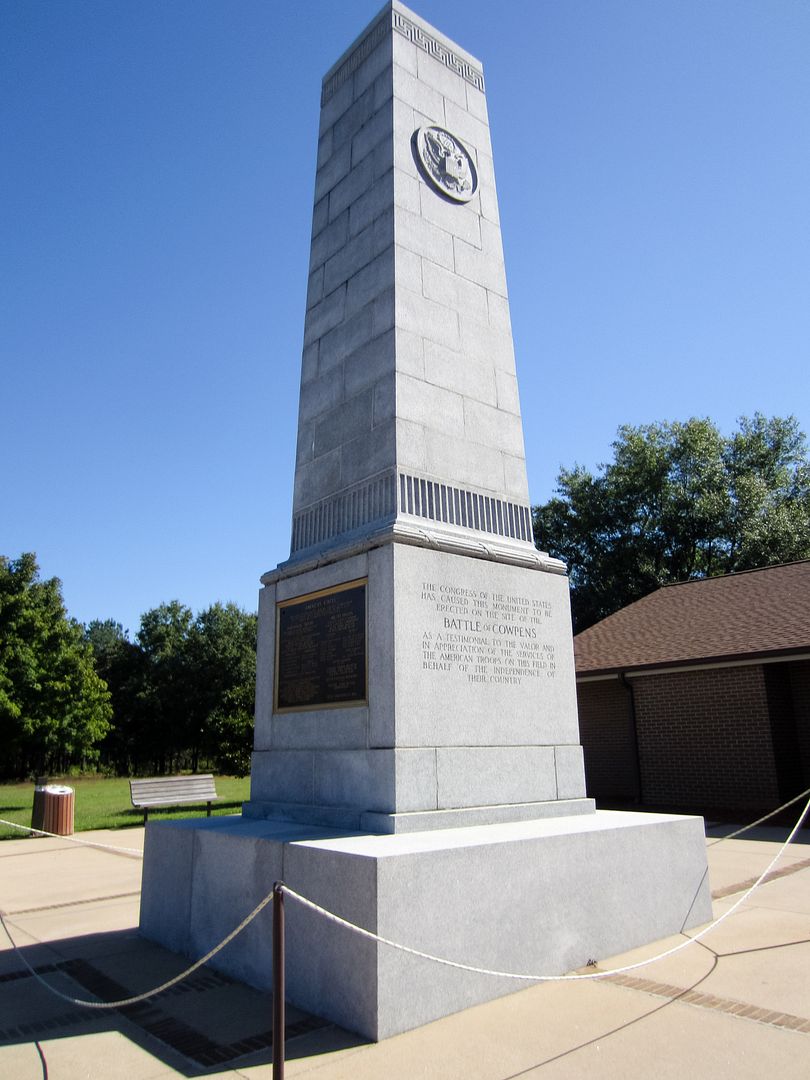 The new monument and museum is very nice, and it's free!
The Battle of Cowpens was a significant Battle in the American Revolutionary War.  If you'd like to learn more about what happened January 17, 1781, you can read the wiki article here: http://en.wikipedia.org/wiki/Battle_of_Cowpens
From Cowpens we headed up Lake Lure, NC for some lunch.  Lake Lure was a filming location for scenes from the movies Dirty Dancing, The Last of the Mohicans, My Fellow Americans, A Breed Apart, and Firestarter.  It's also said to be haunted, but we weren't planning on sticking around to find out!  Our Parts Unlimited rep Gary met us there on his yellow Ducati Multistrada.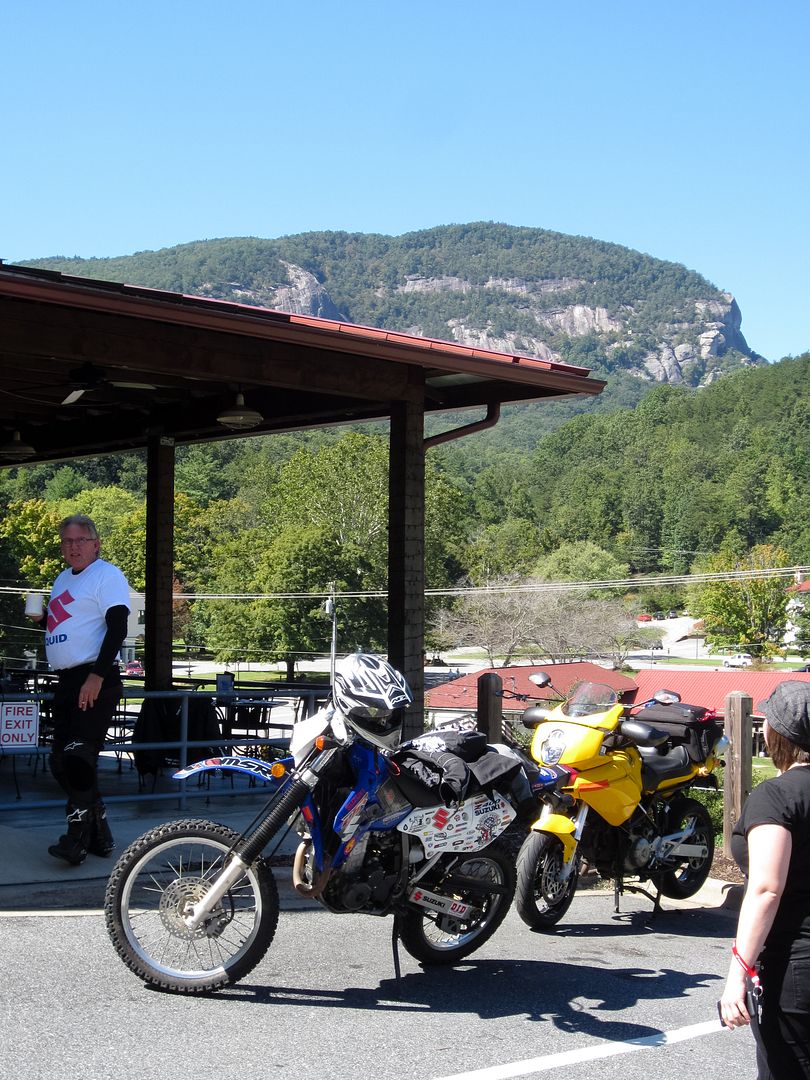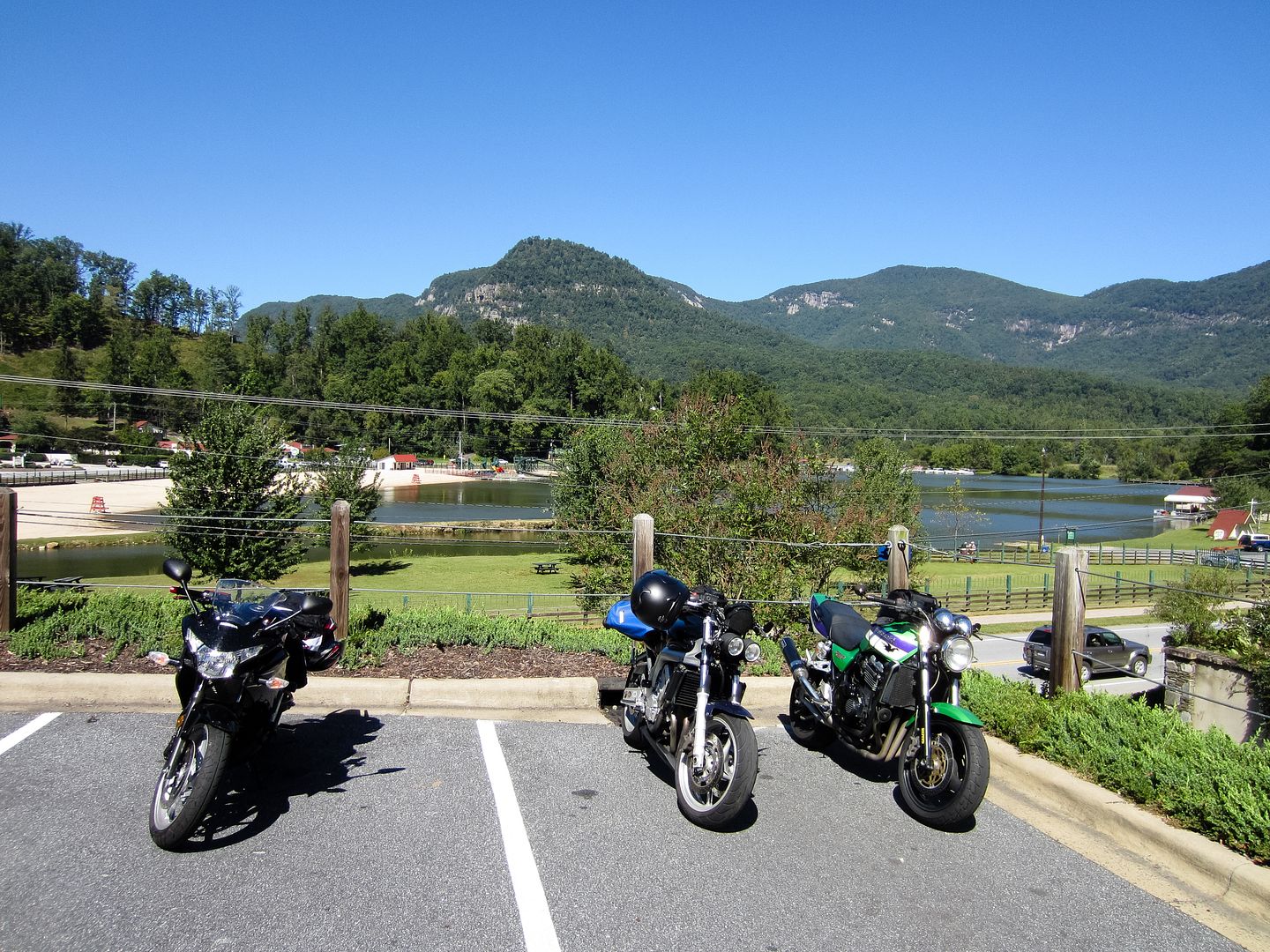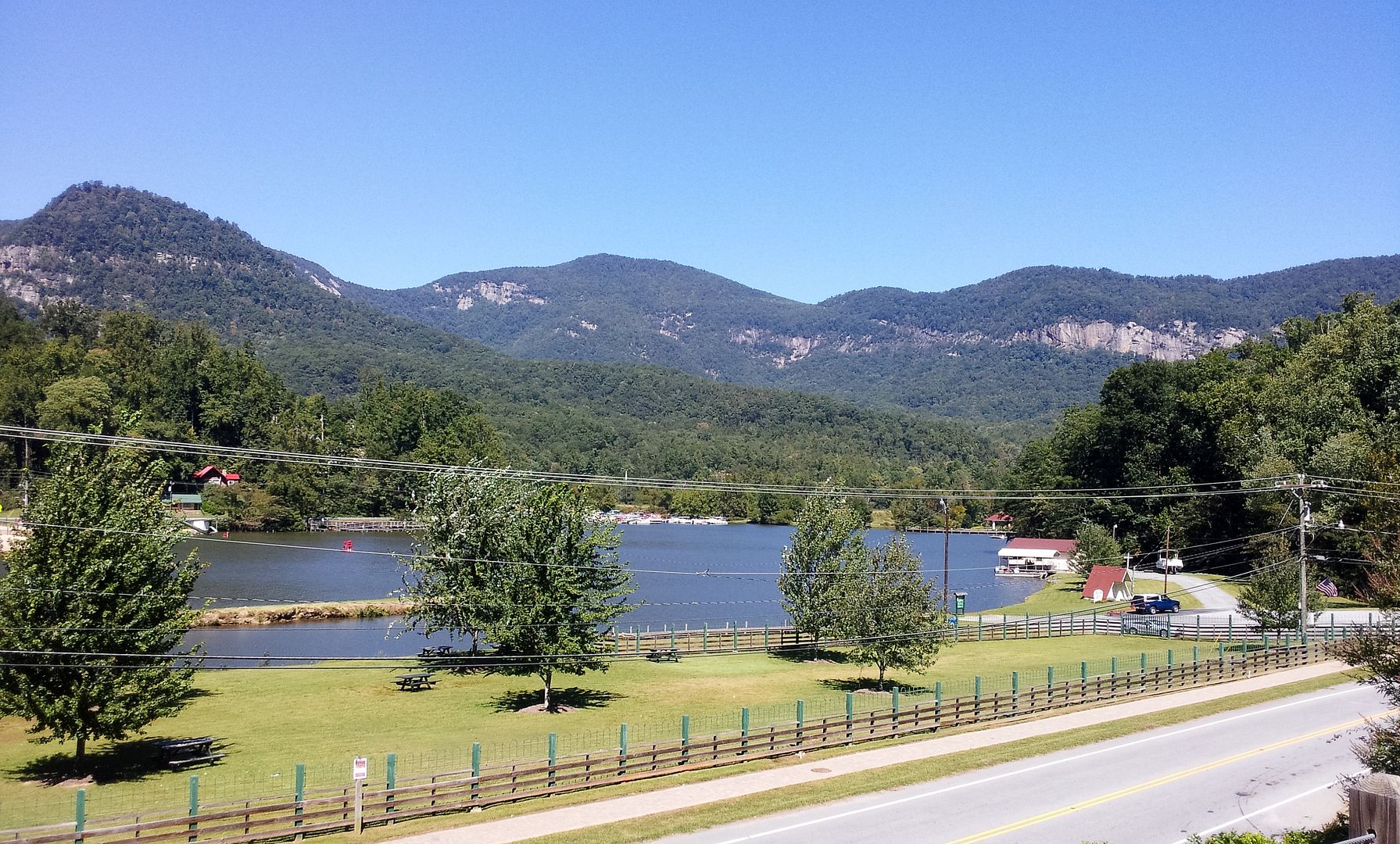 We ate at La Strada, a nice Italian place right on the lake.  The above pic was taken right from their patio.
After Lake Lure is where the fun roads really begin.  We made our way past Bat Cave and up to Old Fort, miles of smiles!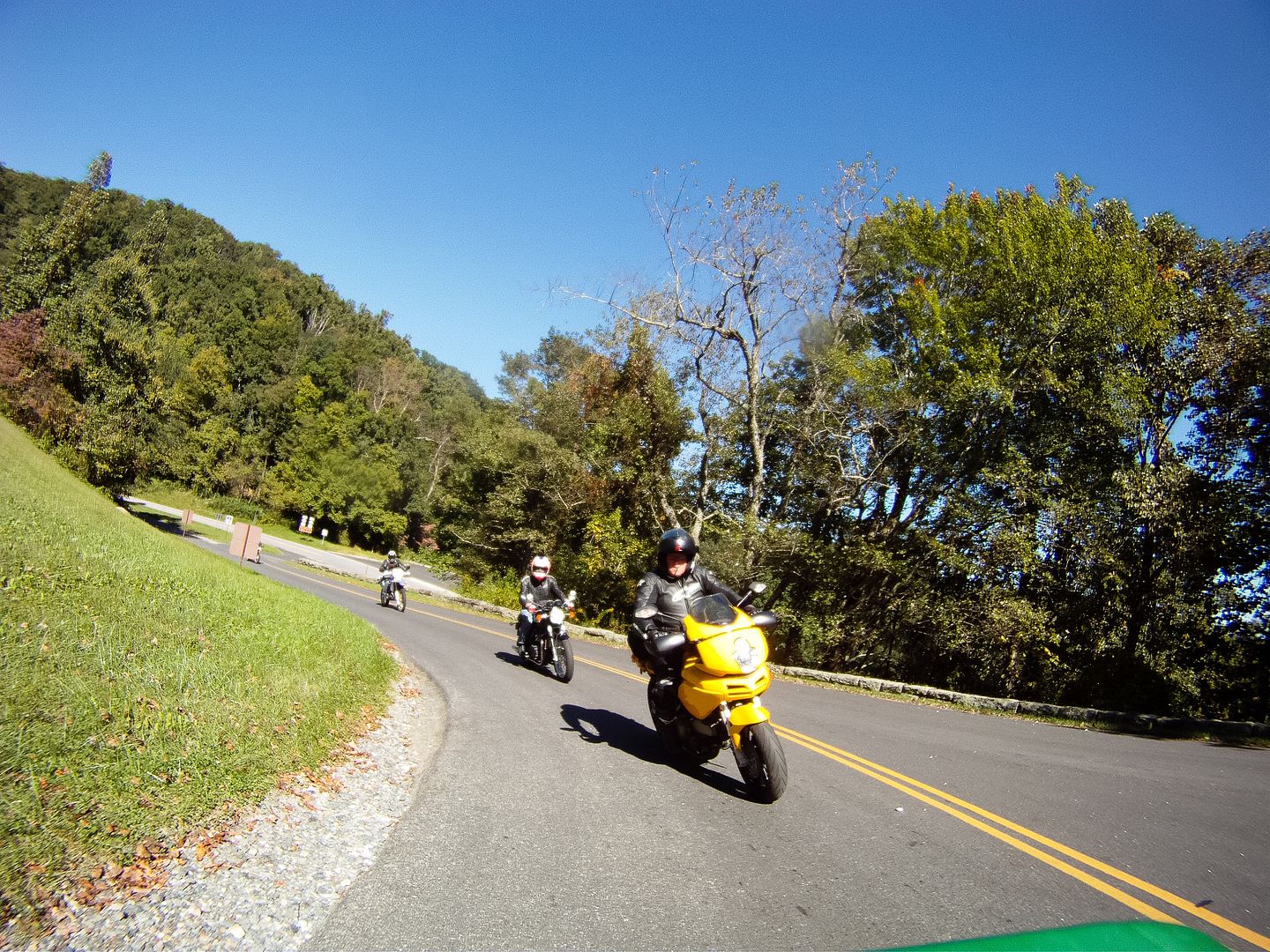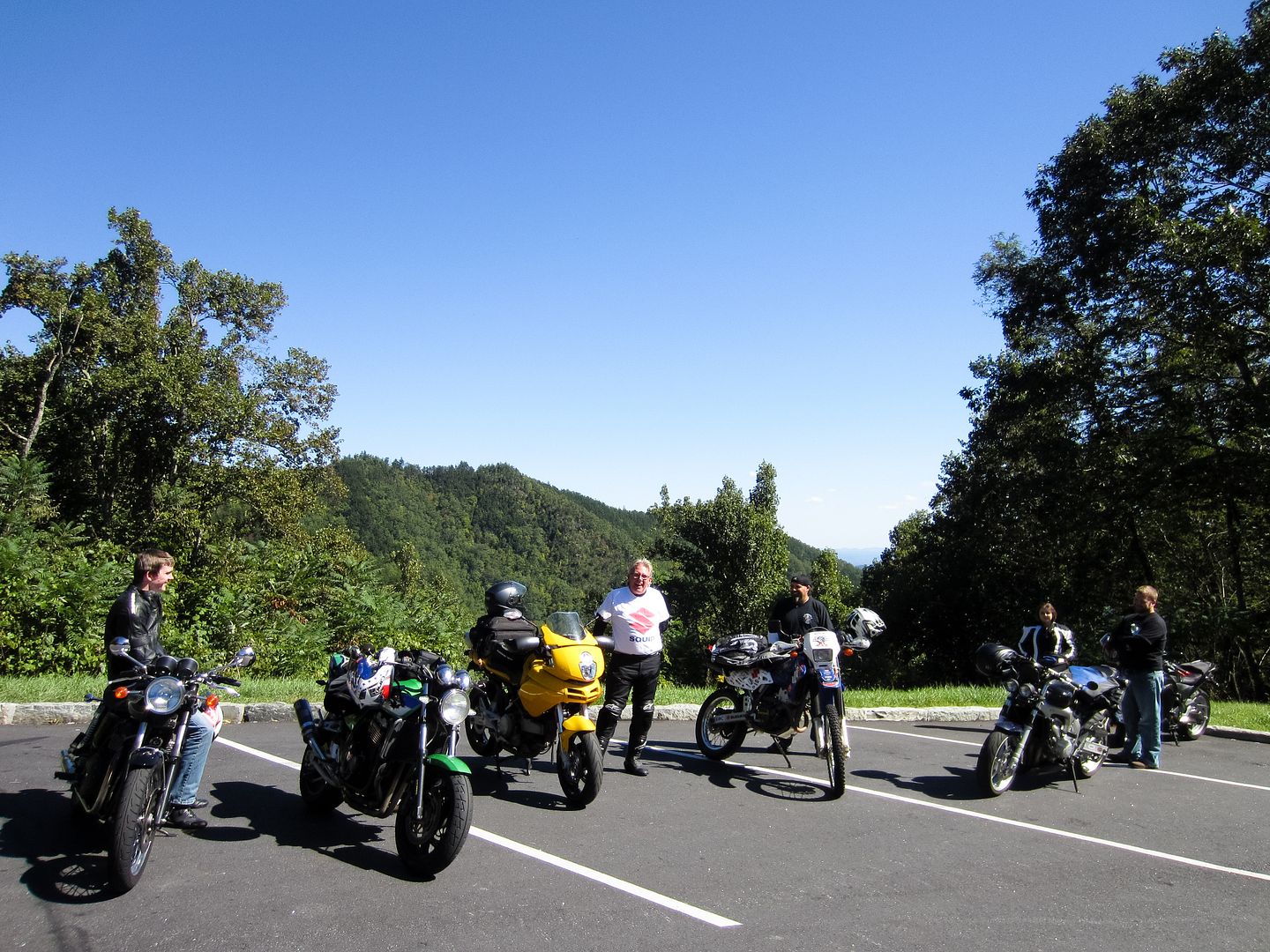 At the top of NC80, also known as the Devil's Whip.  This road is known for its tight, technical sections – many of which have sheer drop offs on the side of the road.  We all caught back up to each other before hopping onto the Blue Ridge Parkway.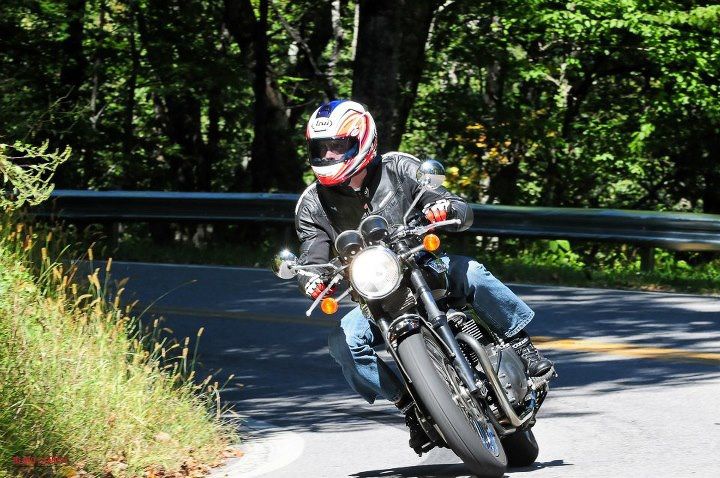 One of Blind Kenny's photos from our ride up the Devil's Whip.  If you've ridden NC80 before, check out http://blindkenny.com/ – he probably got your picture!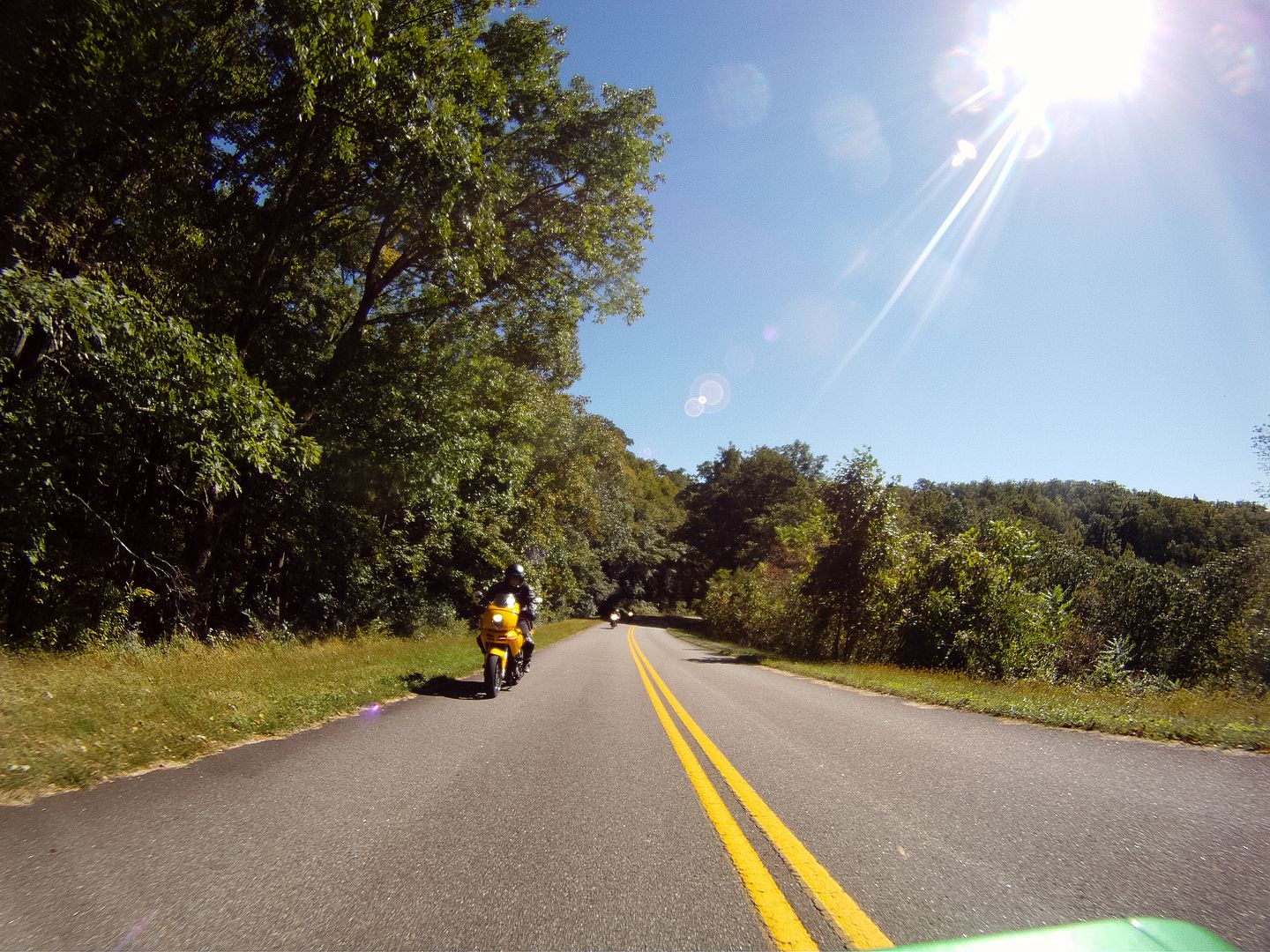 The Blue Ridge Parkway never disappoints!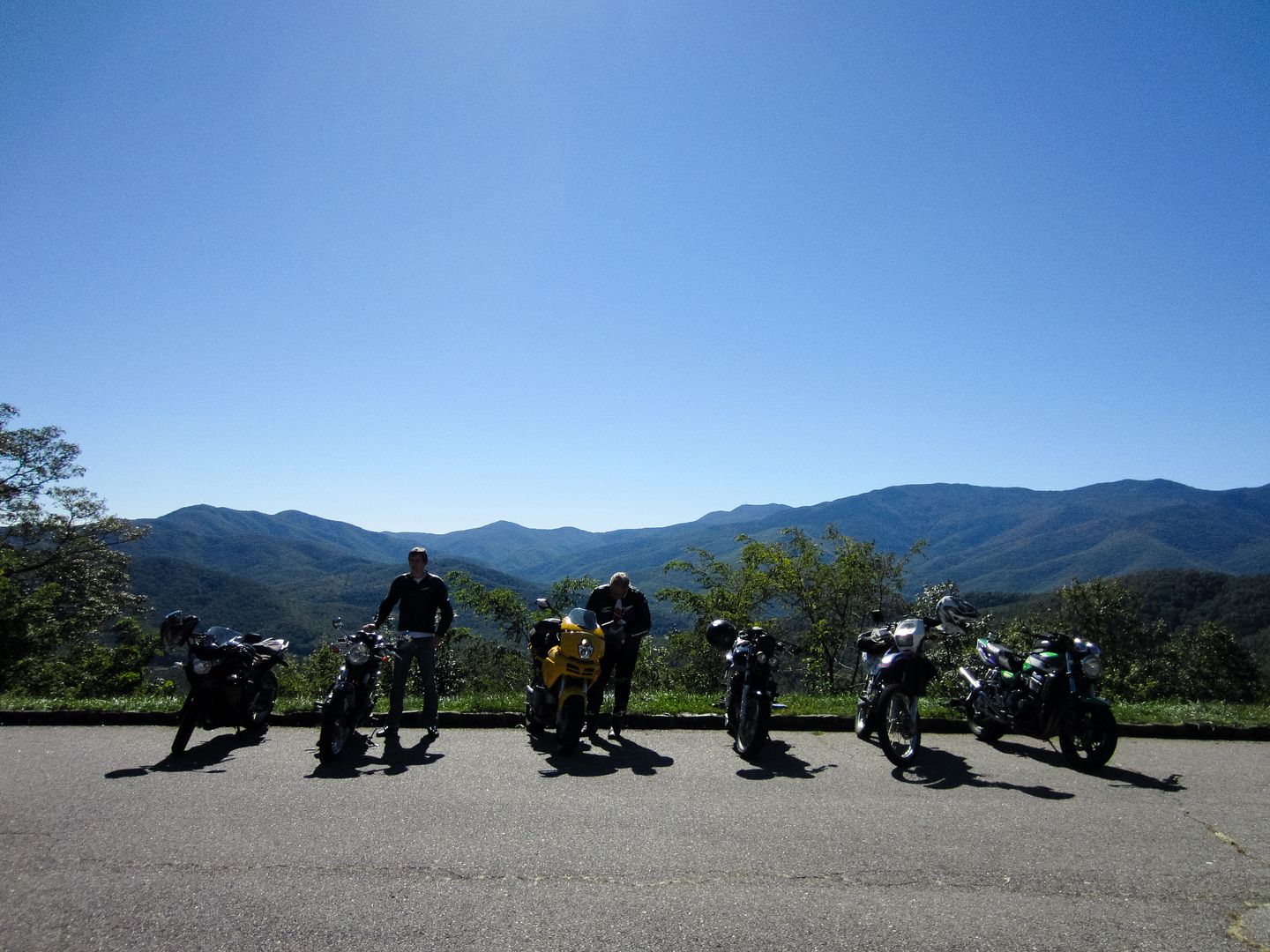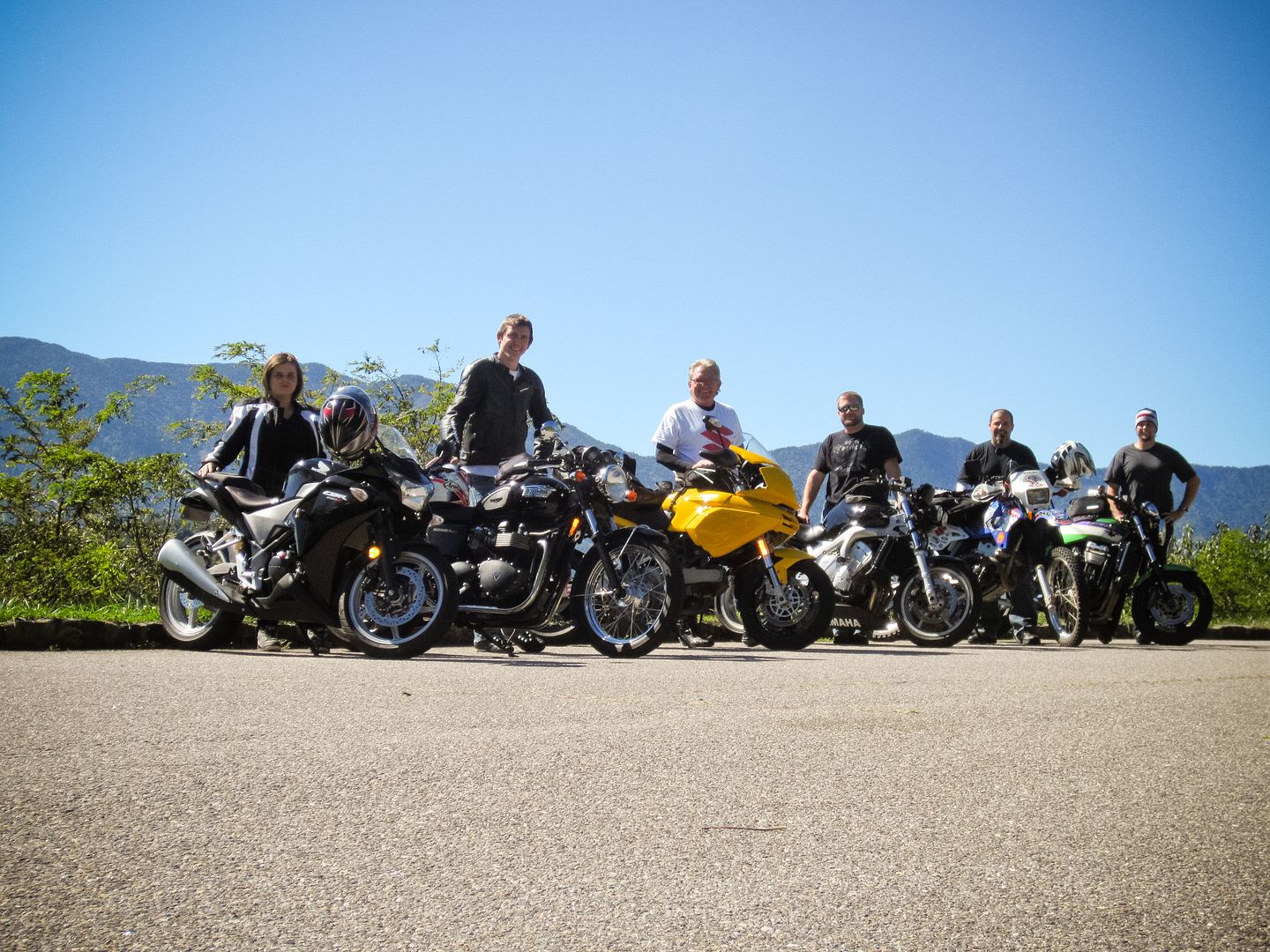 A group shot at one of the overlooks.  It was later in the afternoon and we had gained quite a bit of elevation – so the weather was still nice and cool.
From the Blue Ridge Parkway it was time to head back down towards the Charlotte area.  226A South of Little Switzerland is another one of the best roads in the area.  Winding down the mountain there are plenty of challenging curves, as well as beautiful scenery along the way.  At the bottom of 226A we said goodbye to Gary, and continued on a very scenic ride back to Charlotte.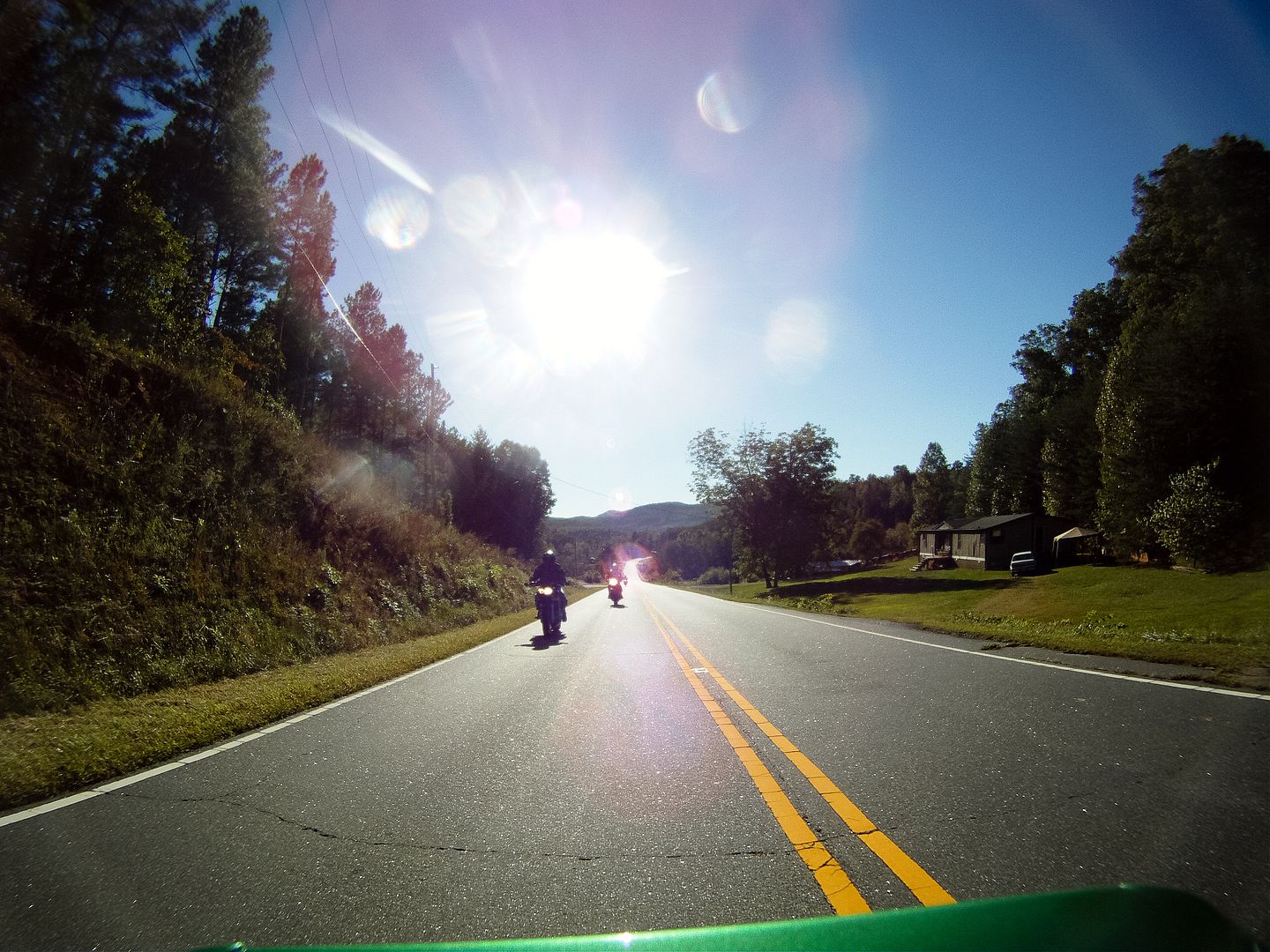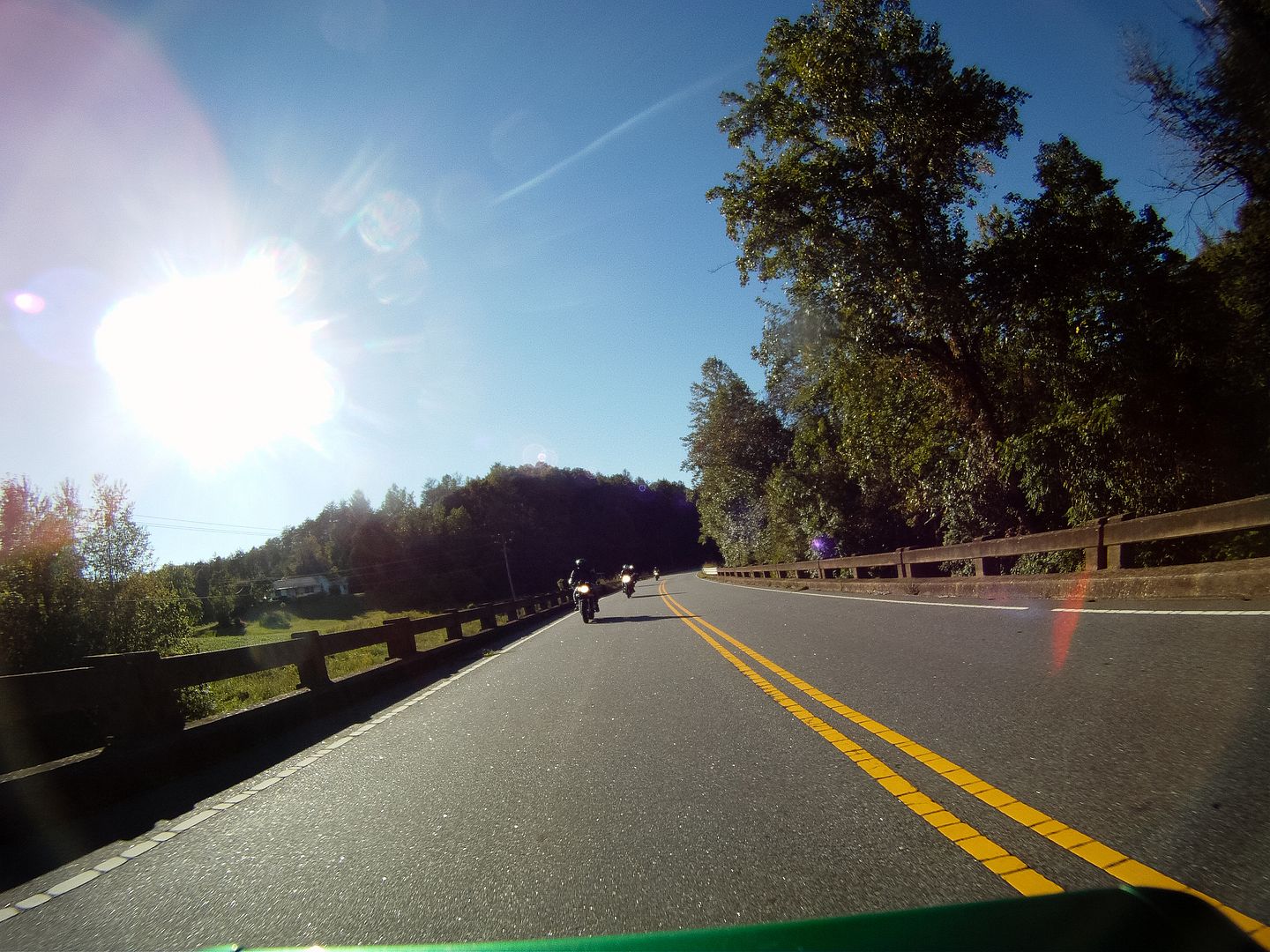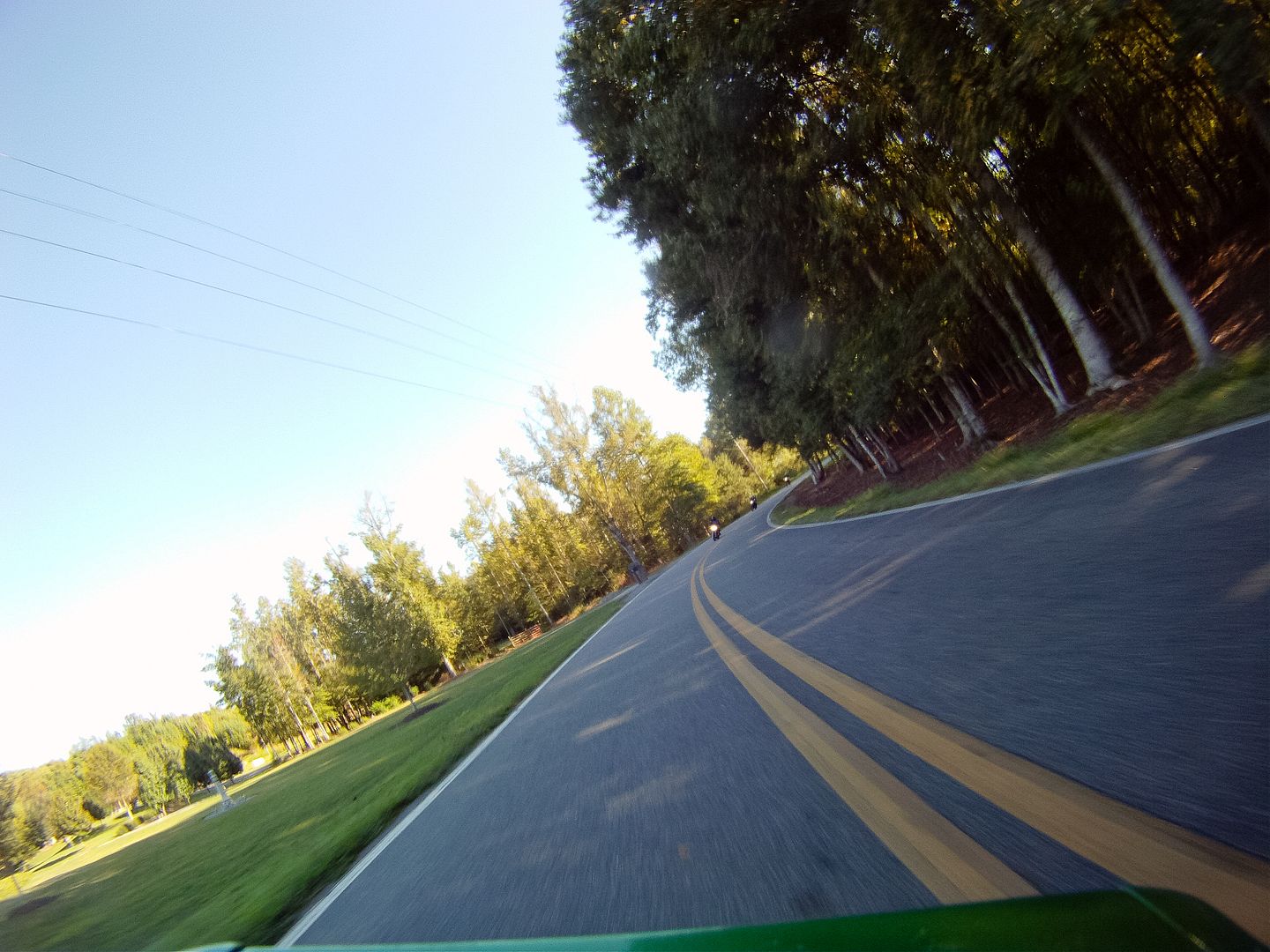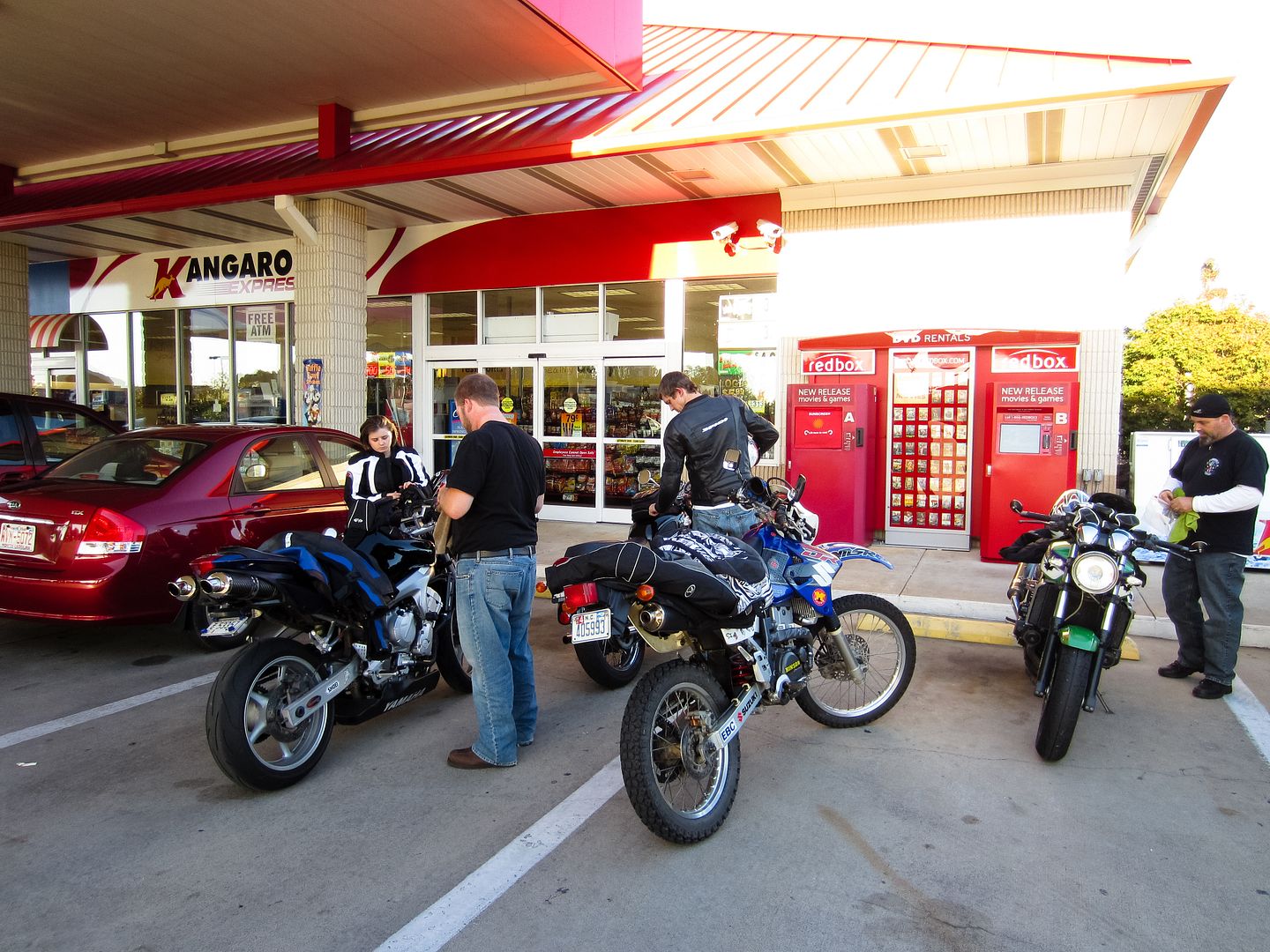 At our final gas stop for the day.  Dave was a real trooper for riding that DRZ with a stock seat all day!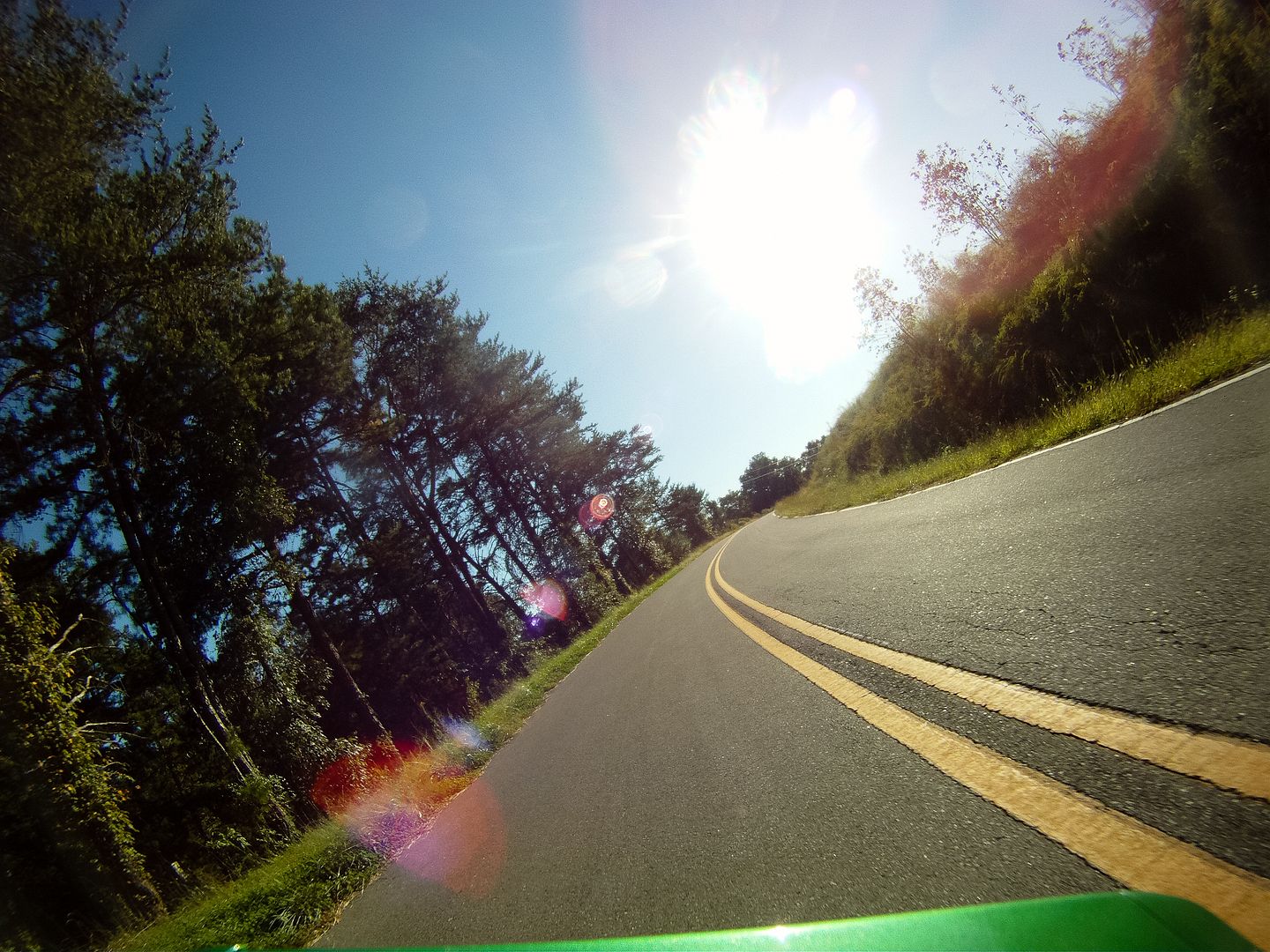 A few more fun curves to throw the bikes through.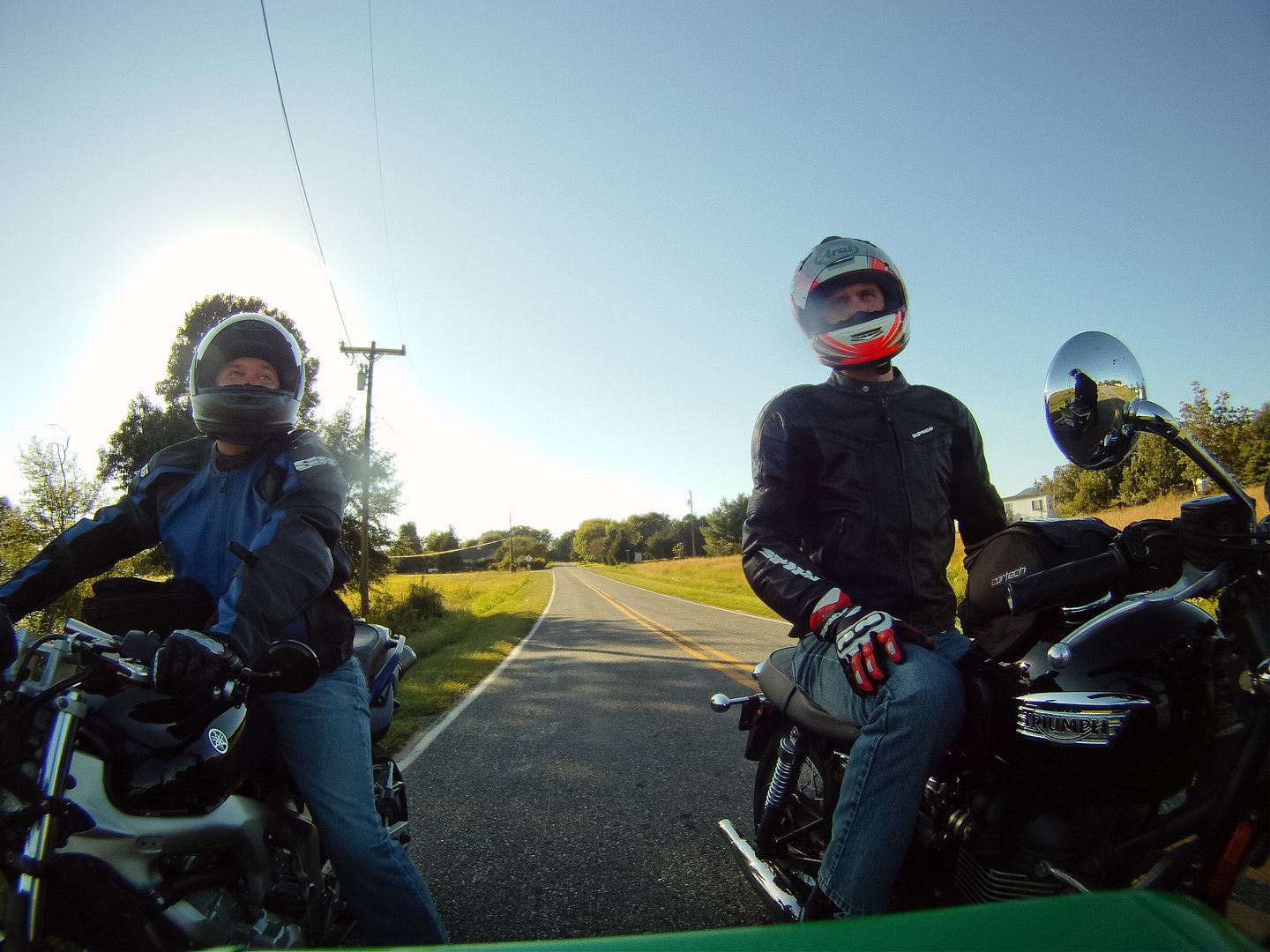 Check out those smiles – a day in the saddle will do that to ya.  (I'm in this picture, too – can you find me?)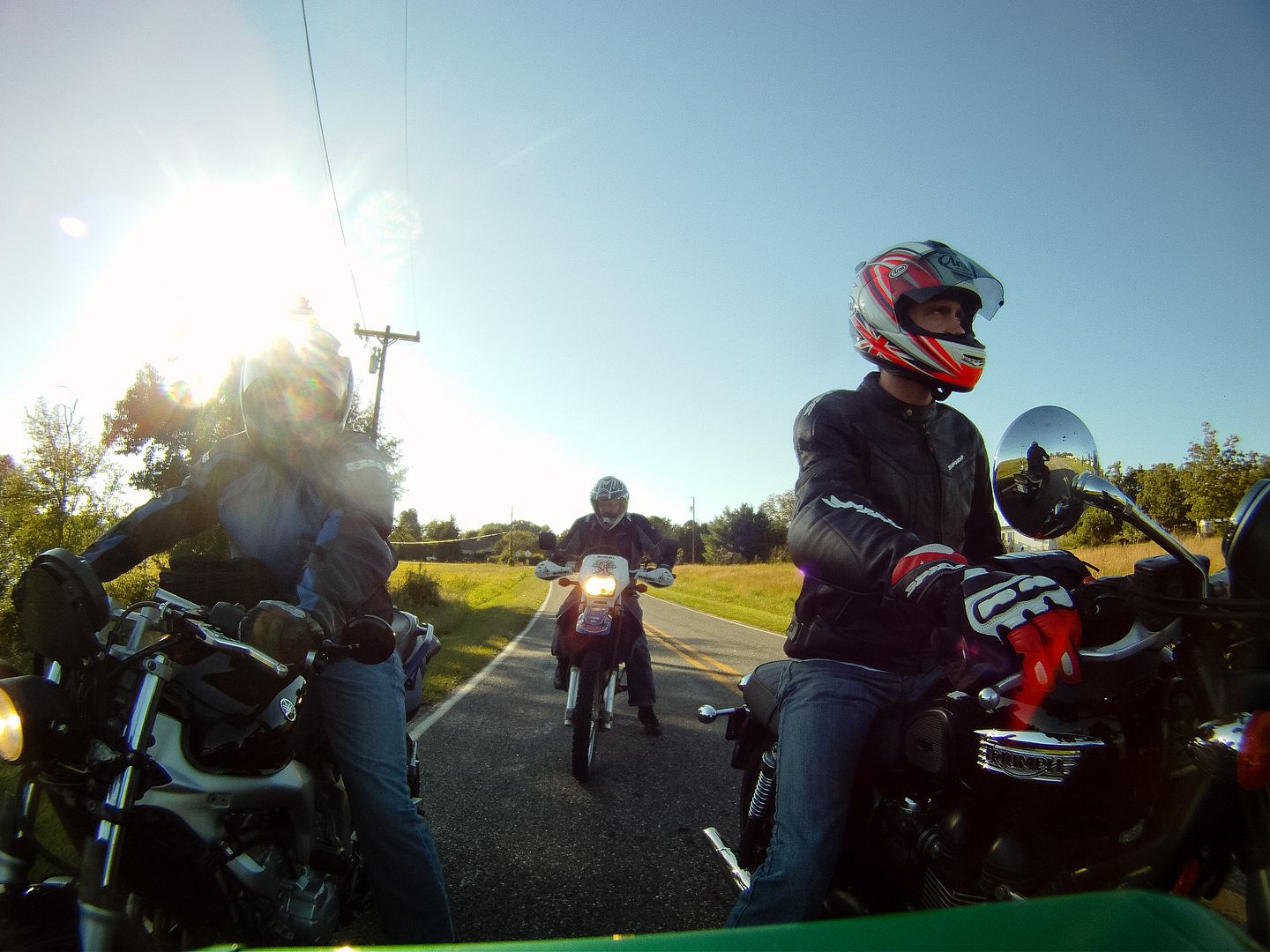 There's Dave!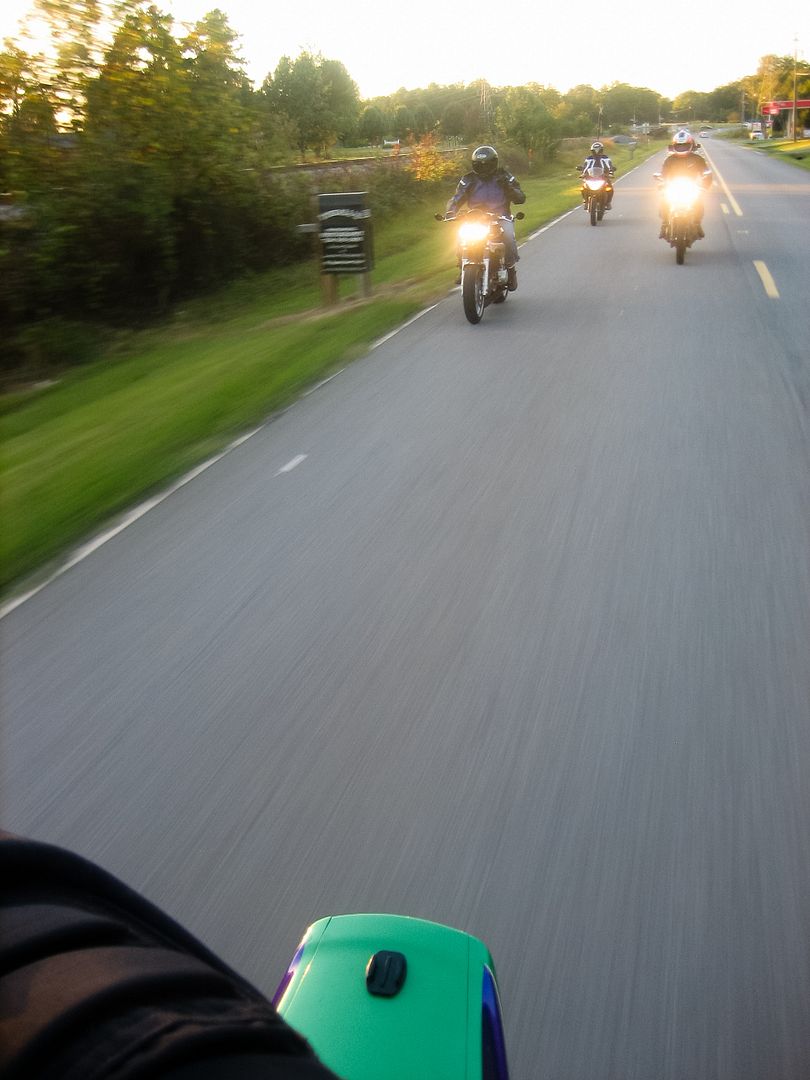 The sun was setting as we finally got back into town.

Final stats for the day!
All in all we had a great time.  Learned a little history, ate some great food, and best of all, hit some great roads with good people.  Our retail store in Rock Hill, SC is just South of Charlotte, and not too far from some of the best roads in the country!  If you are ever coming through the area, it will be worth the trip to come check us out!