I recently had the opportunity to do some field testing of the new AGVSPORT Imola 1 piece leather race suit, as well as their new, top of the line GPR Race Gloves. The testing grounds would be a track that was just recently opened up to motorcycles in early 2012, the North Carolina Center for Automotive Research (also known as NCBIKE). As the name implies, this is a test facility that is used for automotive development, and several race programs use the facility for developing components and car setup.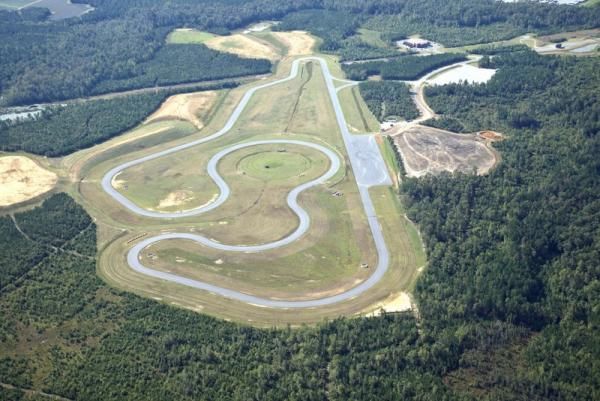 For us, it was the perfect place to test some new riding gear. Namely, the all new AGV Sport Imola 1 Piece Suit. What really sets the AGV Sport Imola Suit apart from other race suits is the amount of Teramid Kevlar stretch fabric that is used. Most race suits use a similar fabric at the crotch and at the inner arms, as pure leather doesn't stretch enough to keep you feeling mobile in the suit. The Imola Suit received an extra serving of this stretch fabric, which extends up the arms and across the upper chest. At the crotch, you have plenty of stretch material that extends down the inner thighs and up across the hips. The fit of the AGVSPORT Imola Race Suit is comparable to other AGVSPORT race suits, but the extra stretch material allows you to move around very freely and reduces the amount of break in time required. I'm 6′ and 220lbs at the time of this test, and a 46 was snug, but just right.
The Imola is constructed with 1.2mm (body) and 1.4mm (impact areas) premiu leather, with perforation in the chest, belly, upper legs, and the front of the arms. The back of the suit is solid leather. Triple and double stitching is used throughout the construction, which gives the suit an overall quality feel. For impact protection, there is CE armor at the shoulders, elbows, and knees; and the 10mm two-stage rubber back protector is CE approved as well. Additional foam padding is found at the tail bone, ribs, shoulders, and hips. External molded shoulder armor is capped with titanium, which gives the suit a pro-level look. Knee sliders are included with the AGV Sport Imola Leather Race Suit, and of course are replaceable when they wear out.
Riding in the AGV Sport Imola race suit I could really feel the air coming through the perforated areas, and the stretch panels allowed for unrestricted movement on and off the bike. The collar and the cuffs are lined with a soft neoprene material, and I had no problem with chafing or discomfort throughout two full days of hard riding at the track. The Imola is available in Black, White/Red, White/Blue, or White/Gun, in sizes 40-52. Make sure to check out all AGV Sport leather race suits on our website at:
http://www.compacc.com/AGV-Sport-Leathers
And finally, some video from the track: