I guess you could say my job has its perks… For those of you who don't know, I work for Competition Accessories as their product review specialist. This involves evaluating and testing new products as they come to market, as well as developing our in house brands (such as Sliders Kevlar Gear). It helps that I love anything with two wheels. Cruisers, dirt bikes, sport bikes, scooters, and anything in between. I'd rather be riding than doing just about anything else! Working with the gear that makes riding even more enjoyable comes in at a close second.
This past week I had the privilege of being flown to Costa Rica as part of a Michelin rewards program with Western Power Sports (our Michelin distributor). The mission: ride dirt bikes through the jungles and experience another adventure! I had been looking forward to this trip for months, so you can imagine my excitement when I was finally on the plane!

Hello, beautiful!

Making my way through immigration I wasn't really sure how easy it would be to find my ride. Fortunately we both had the foresight to wear moto related t-shirts, and we found each other right outside the terminal. Rain was pouring down as we loaded the gear bags into the van, and the drive from San Jose to Jaco was already proving to be a good start to the adventure!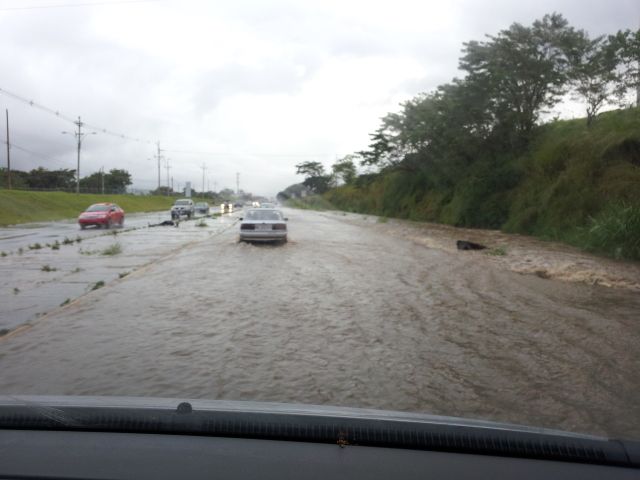 Michelin had made our arrangements through Costa Rica Unbound, a company that specializes in off-road moto tours of the country. Our accommodations were at the Marea Brava Resort, right on the Pacific Ocean. Home for the next few days: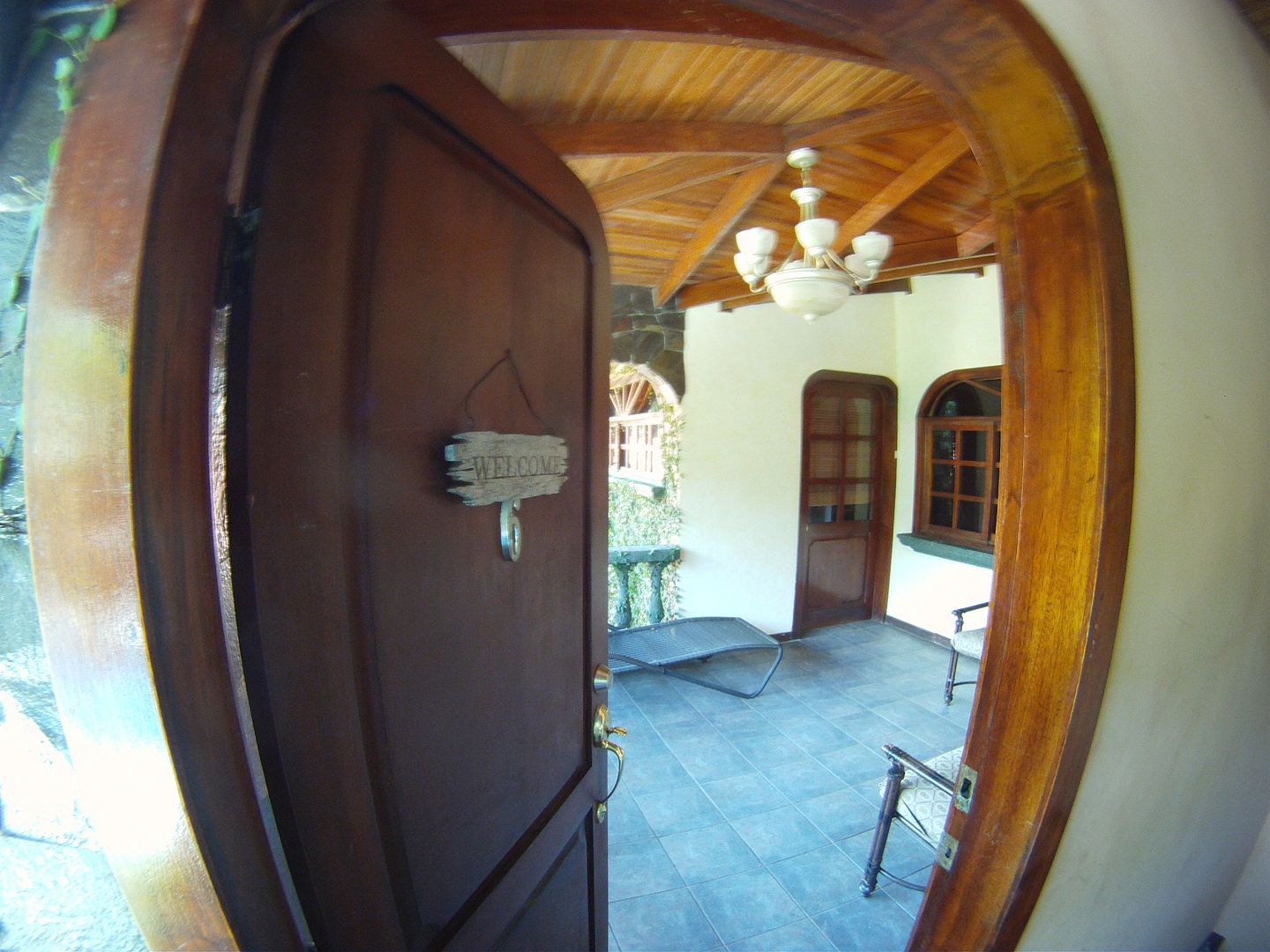 The first day was a free day to just kick back, relax, and enjoy the slower paced life of Costa Rica. I could get used to this…

I did spend some time boogie boarding in the Pacific. Absolutely perfect waves!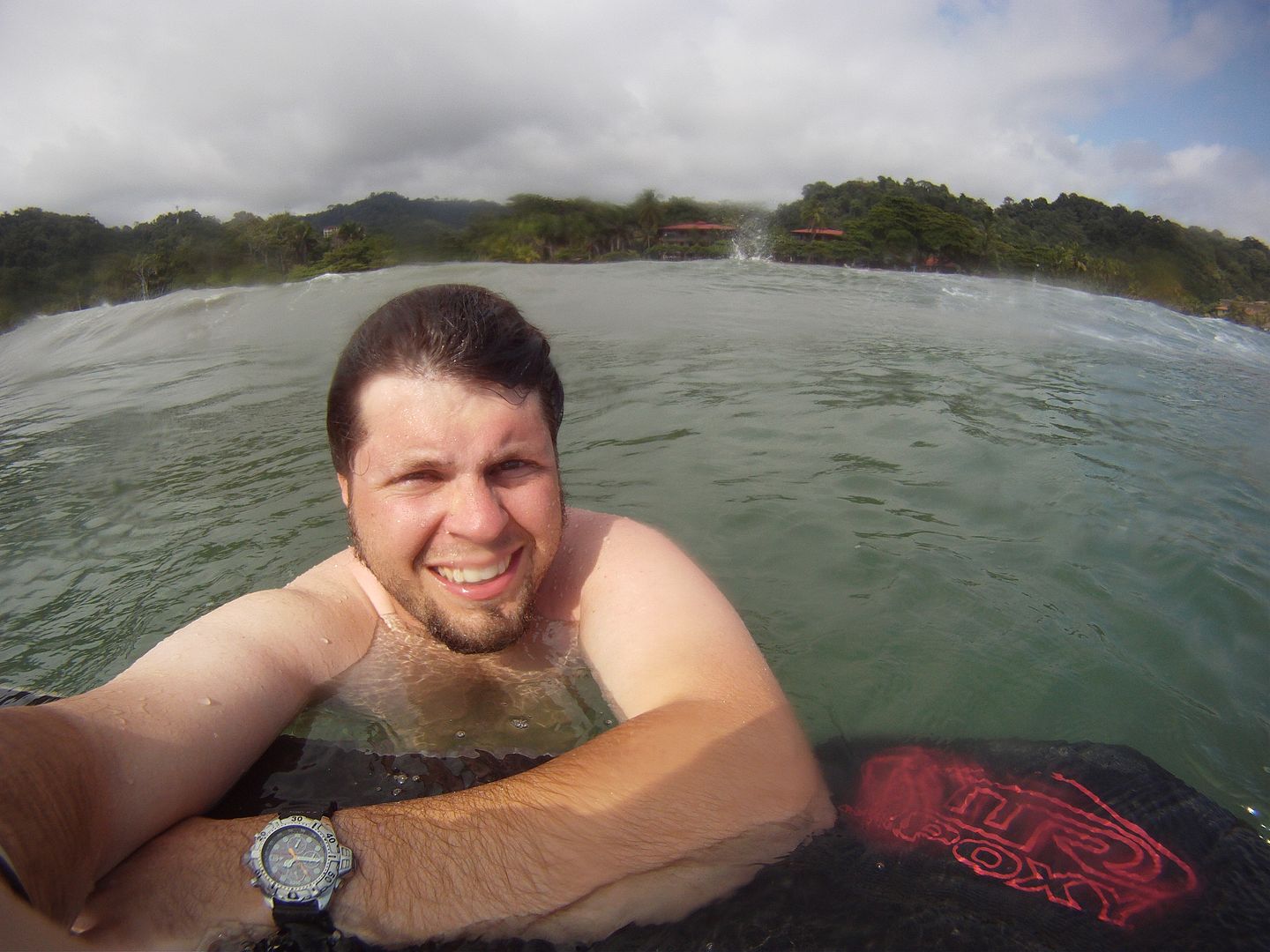 As the sun set it was time to head into town for some dinner…

I selected the ahi tuna steak with crab guacamole. It was SO good!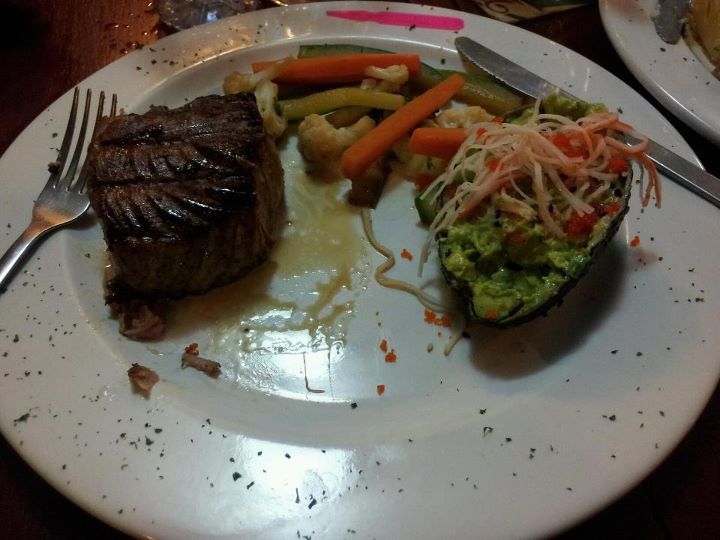 The next day was sure to bring some serious adventure!
Being only about 10 degrees North of the equator, Costa Rica does not participate in daylight savings time. The sun rises around 5:30am every day, and they enjoy 12 hours of daylight and 12 hours of night (plus or minus 30 minutes) year round. Needless to say, when I woke up the next day the sun had already made its way well beyond the horizon, even though it was only 7am. Not a bad sight to wake up to: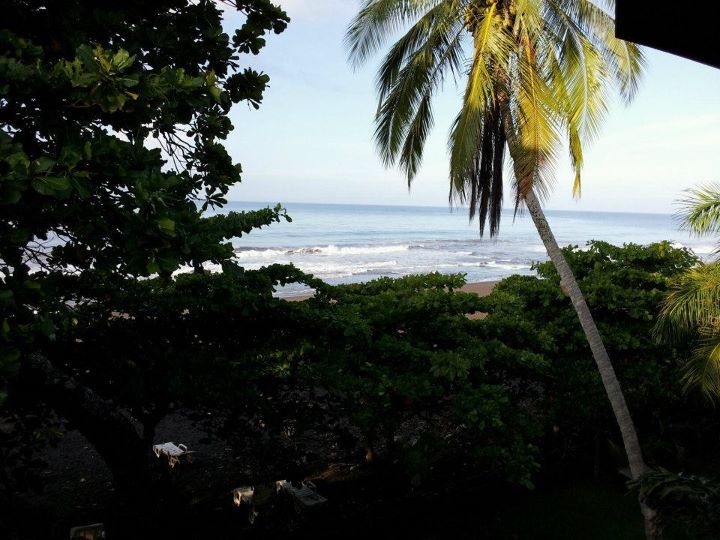 Before tackling the trails, we were scheduled to experience one of Costa Rica's famous canopy zip line tours. Pile in the trailer for a tractor ride up to the top of the mountain: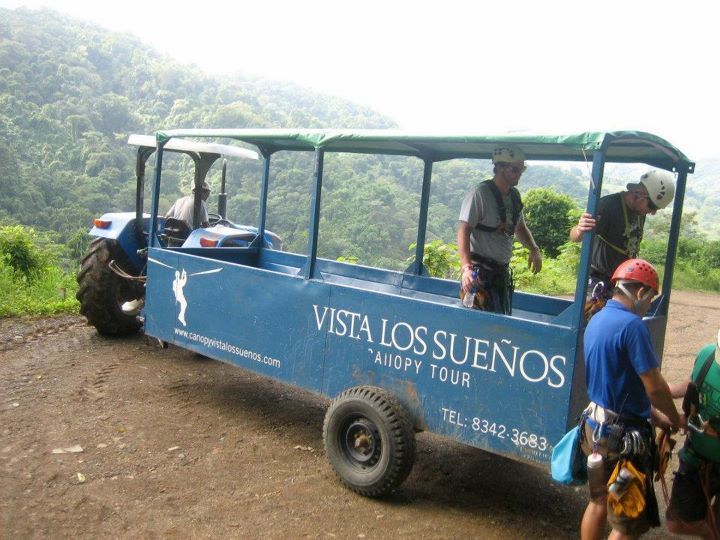 Now I have done zip lines back in the US, and maybe it's something to do with stringent safety regulations, but they do not even come close to the zip lines we experienced in Costa Rica. How does 50mph through the trees sound? Where does this thing go, anyway?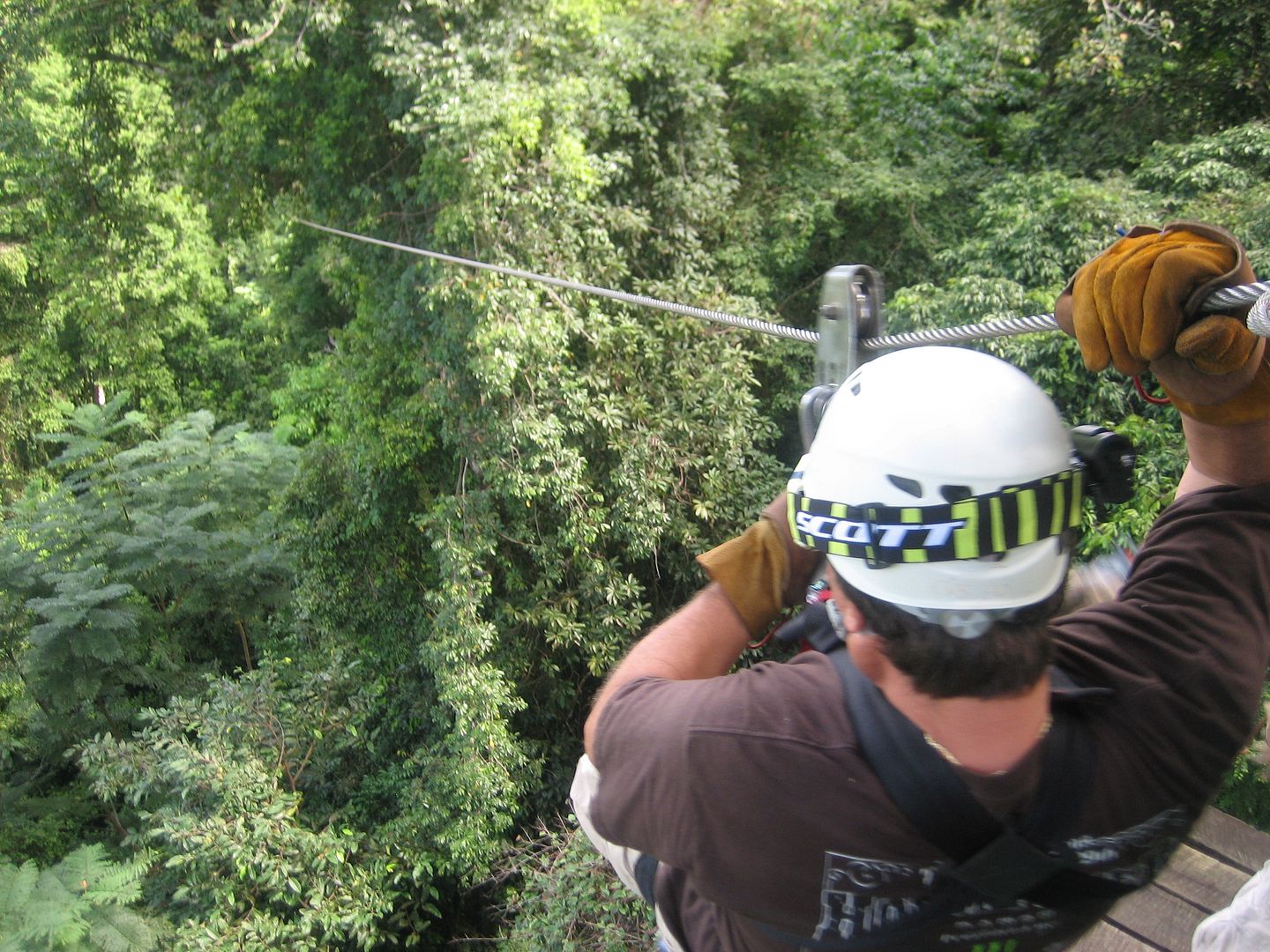 Want to go upside down? No problem!

Seeing the natural beauty of Costa Rica was definitely one of the highlights of the trip. These leaf cutter ants were really neat to watch: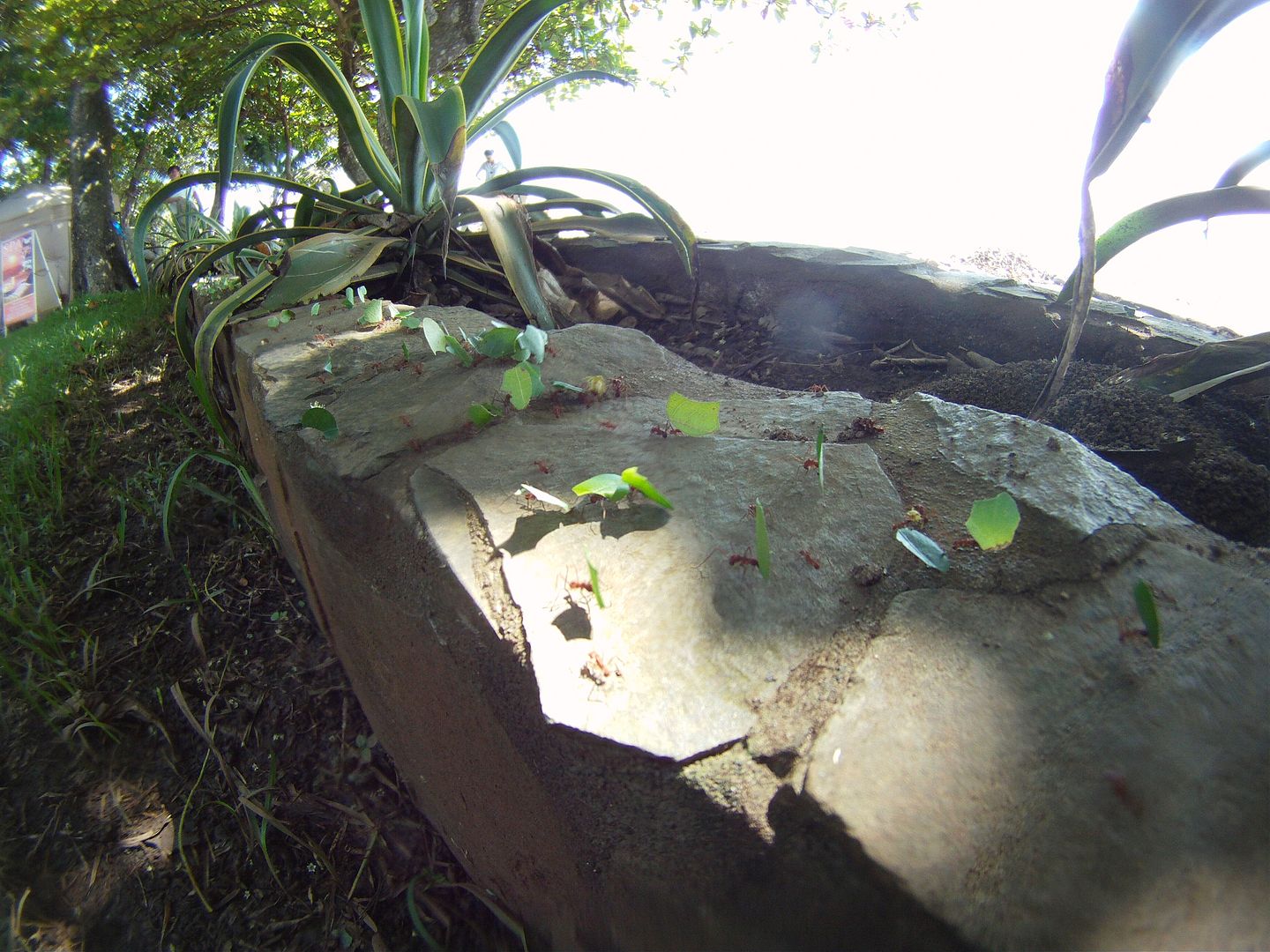 After our canopy tour and another good meal for lunch, it was time to finally suit up and RIDE! Fresh new gear was provided by Fly Racing, while Scott and Dragon provided the goggles and eyewear.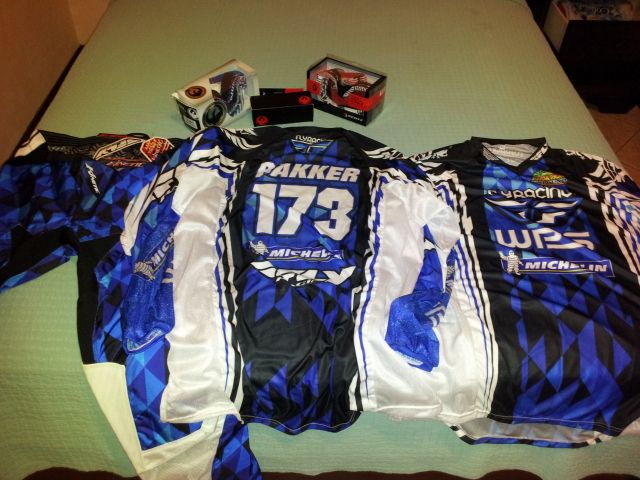 Costa Rica Unbound had a pretty eclectic mix of dirt bikes for us to choose from. Two stroke, four stroke, big and powerful, or small and light – take your pick!

I ended up hanging my helmet on the YZ450f, as it was most similar to my Kawasaki back home, and I wanted to spend my time enjoying the ride rather than learning a new machine.

This Polaris RZR 900 was our support vehicle for the rides, and was an amazingly capable machine!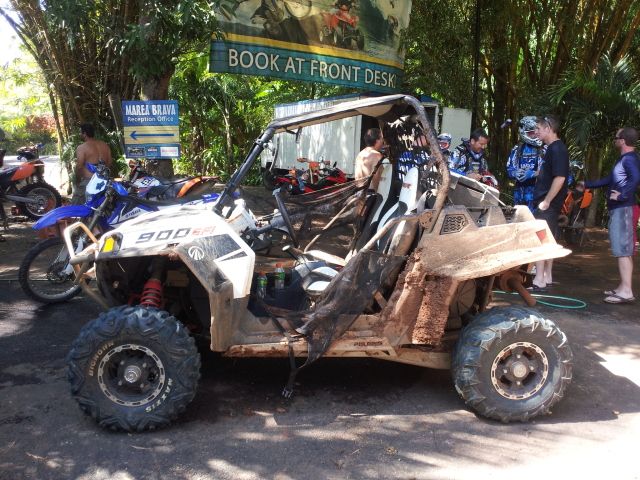 Ready to go!

Let me see if I can describe the riding in Costa Rica… Greasy, sloppy, rocky, rutted, challenging, but most of all: FUN! We had an absolute blast out on the trails. Everything from blazing down dirt and gravel roads, to picking our line between big washouts in steep downhill sections, there was just about every type of riding you could imagine. One of the neat things about Costa Rica is you can ride your dirt bike right down the roads. So getting from trail to trail was no big deal, even on a YZ450f with no lights (although no lights did prove to be a bit of an issue later in the day).
Taking it all in after an intense uphill mud section:

Regrouping was done after each section, and "go-rounds" were available for anyone who didn't want to tackle the really tough stuff.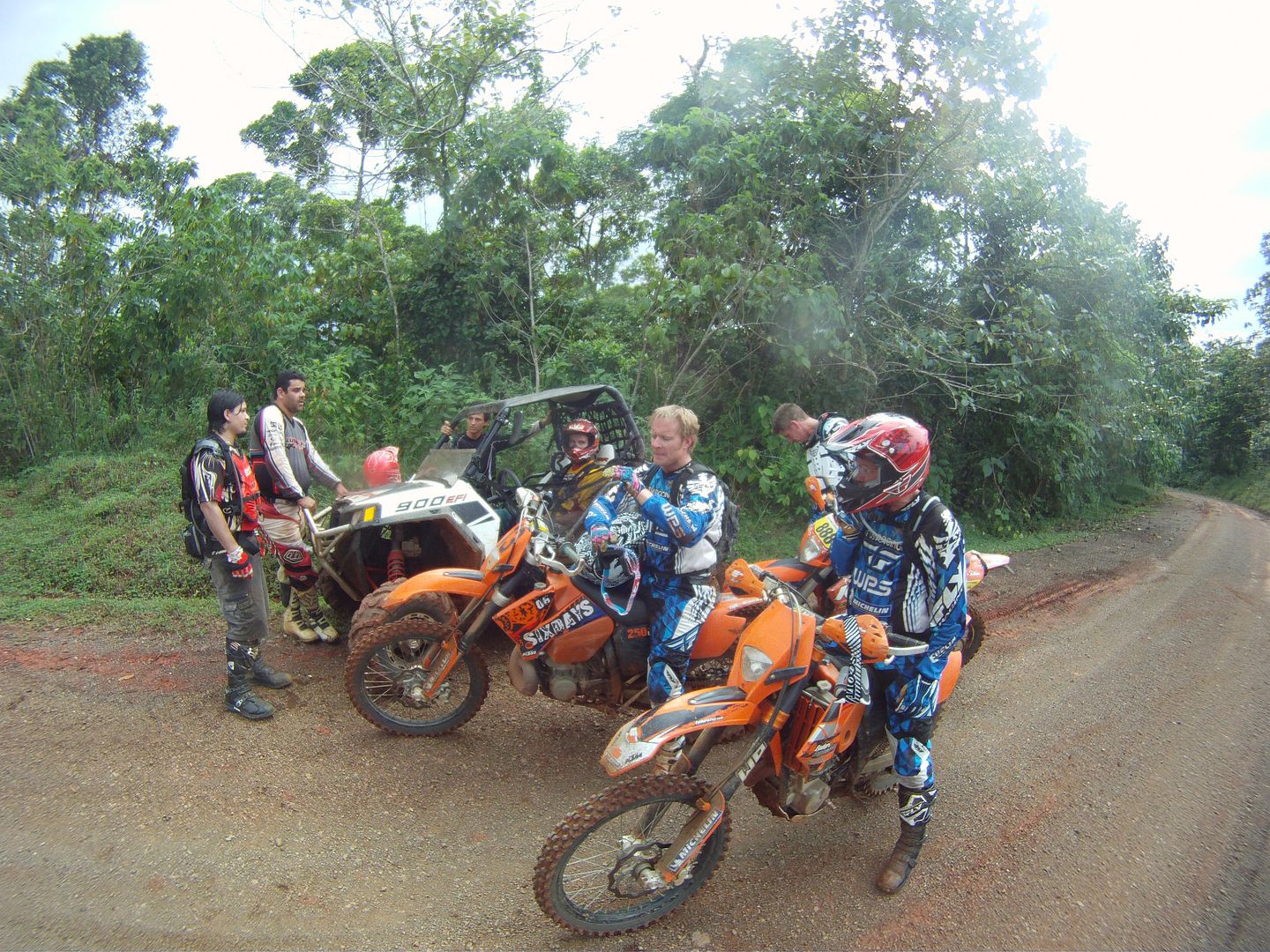 We endured some pretty heavy rains, which made the trails even more slippery, and a challenge to keep the goggles clean. Tearoffs were the one thing that I didn't expect to need on this trip, and thus they stayed at home in my garage…
Another great day on two wheels!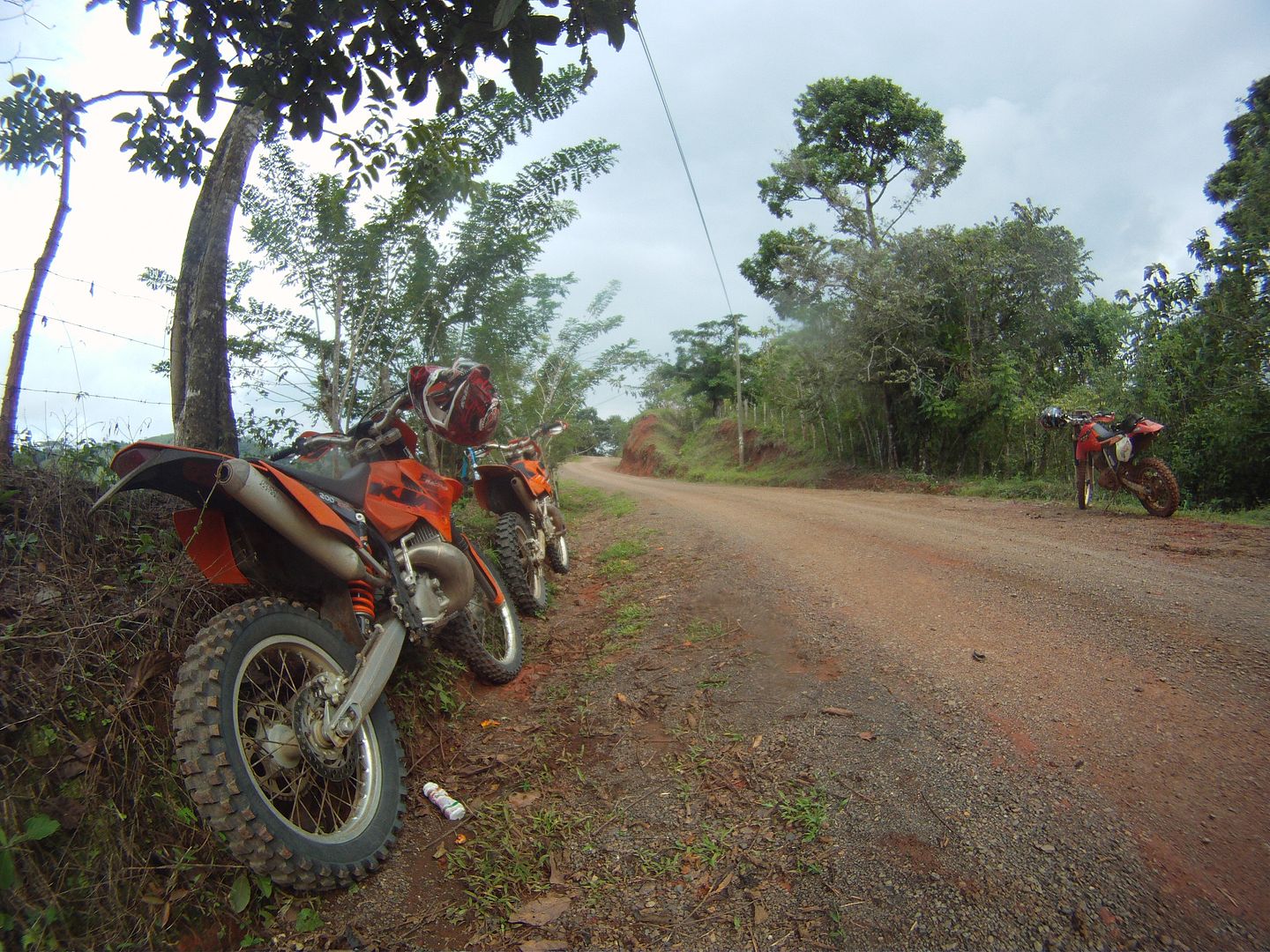 So after an entire afternoon of grueling off road riding, it was time to head back towards the resort. We made our way to the main paved road, and started the ride back. A few minutes into the pavement ride, my bike sputtered and died – outta gas. No worries, the group will come back for me!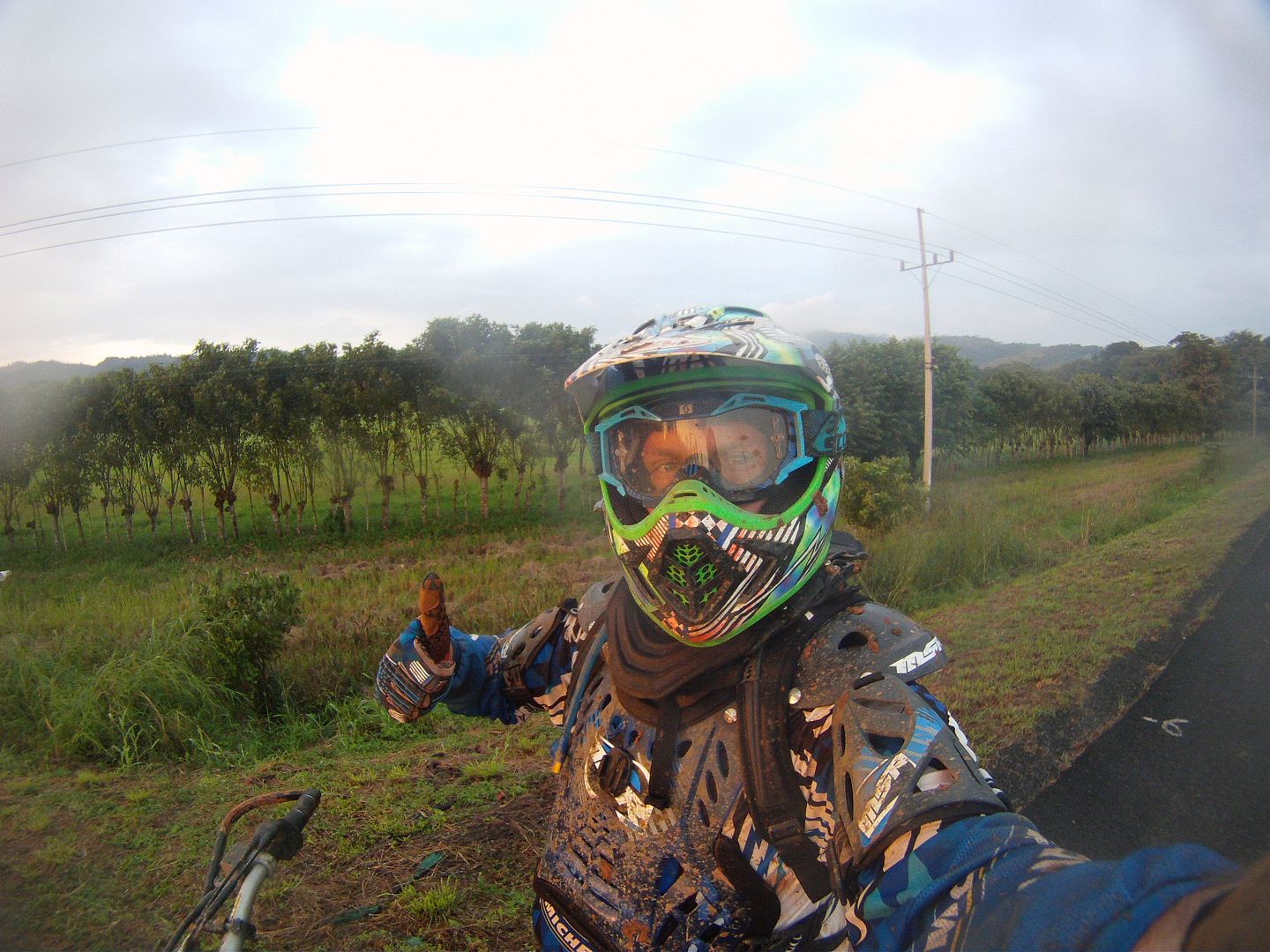 Two guys were behind me when I pulled off, and I heard them speed up to let the leaders know I was out of fuel. …and then they disappeared into the sunset. They are coming back… aren't they??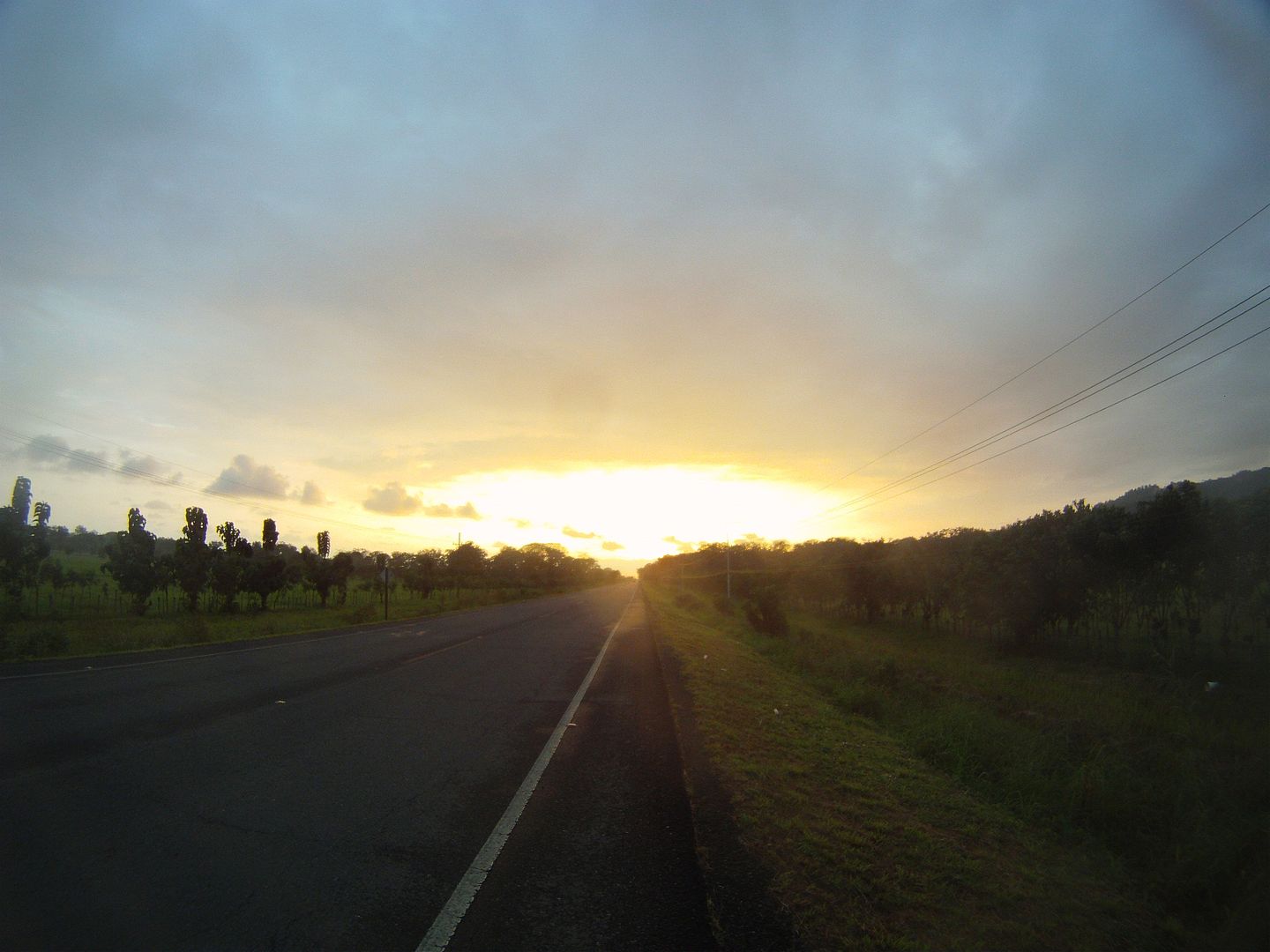 Well, I thought, maybe they know the Polaris and two more guys are still behind me somewhere… So I sat on the side of the road and waited…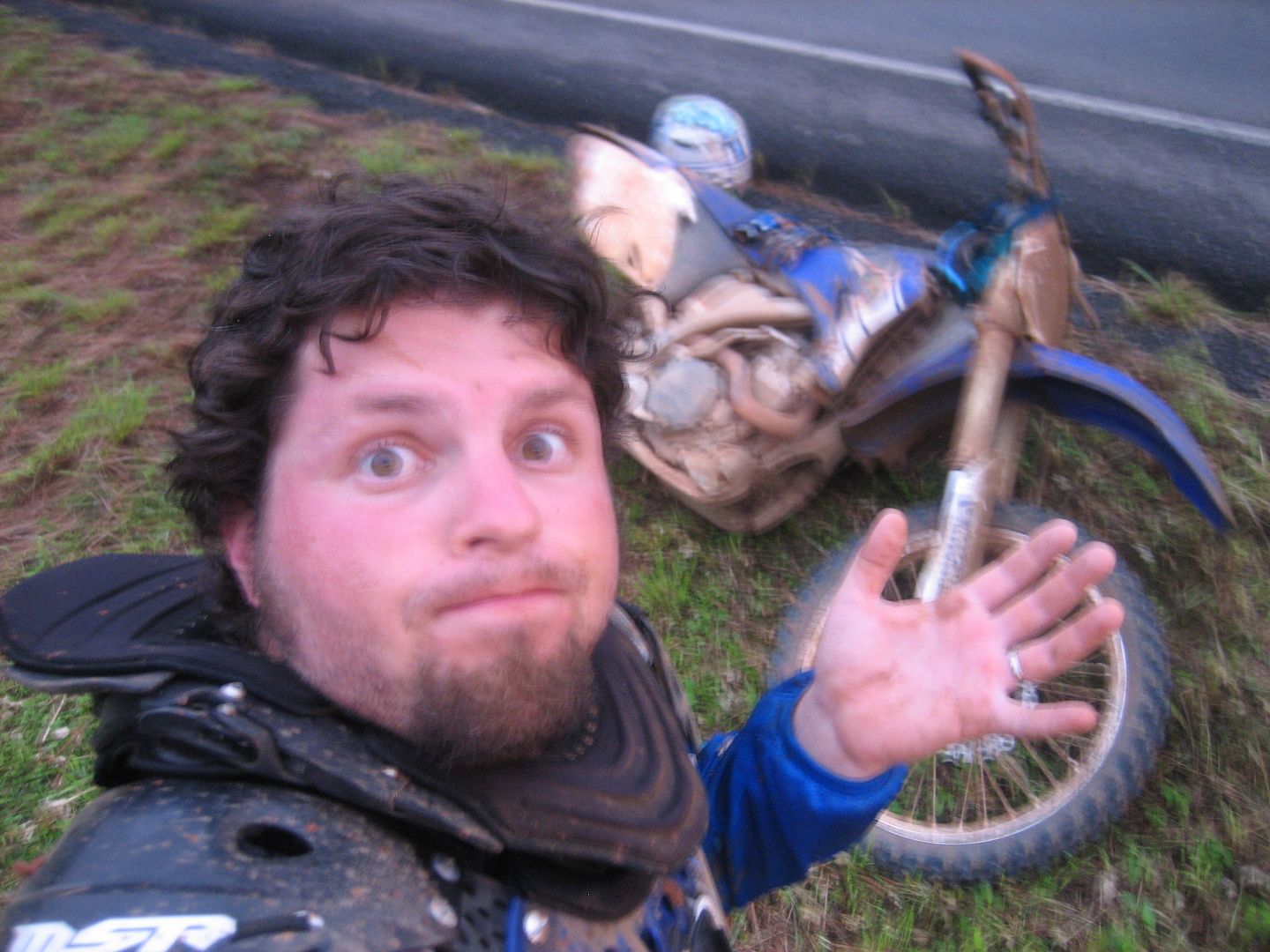 I figured it would only be a few more minutes for them to show up, but it was starting to get darker…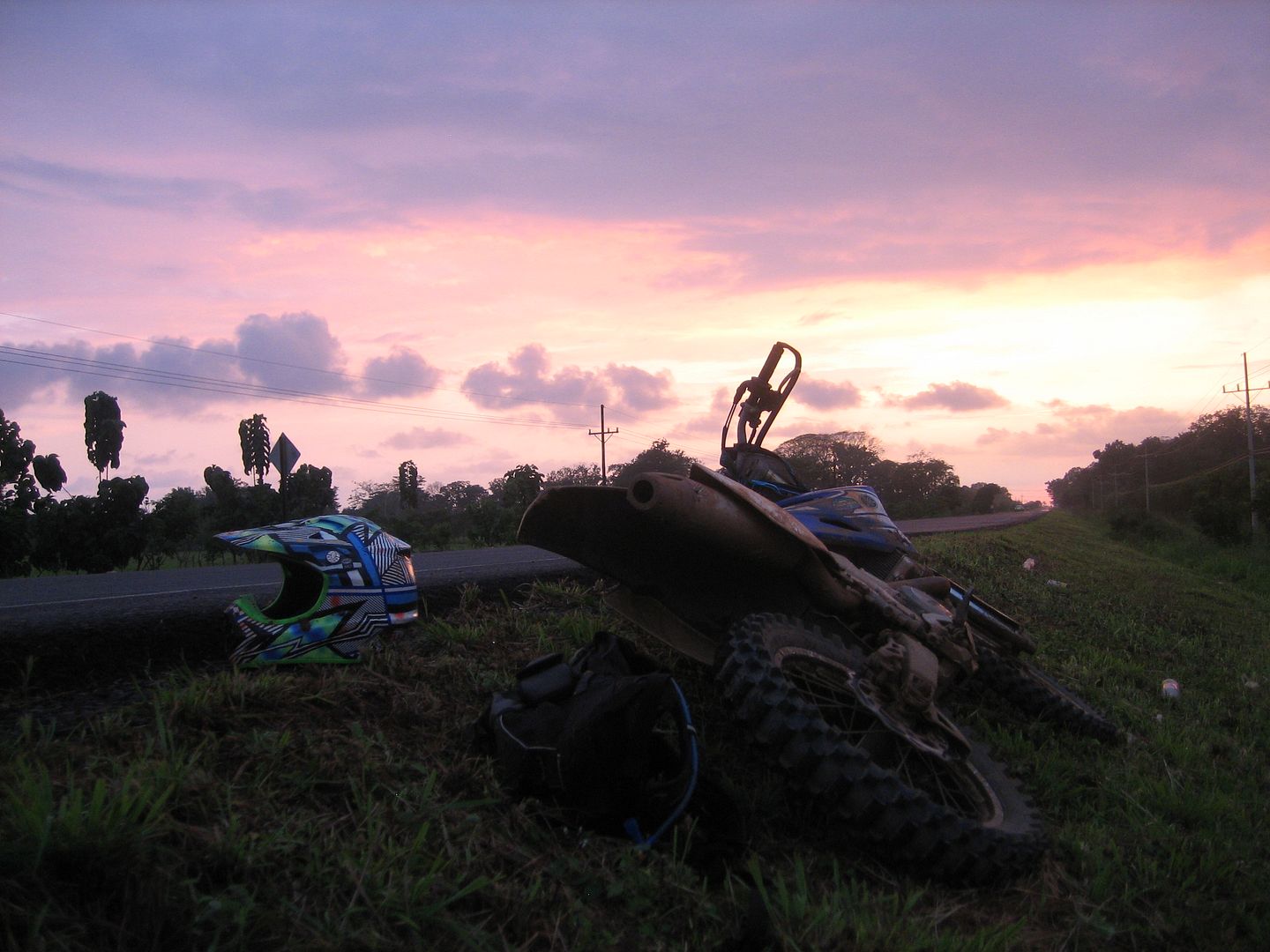 I mean, really dark. No lights on these roads!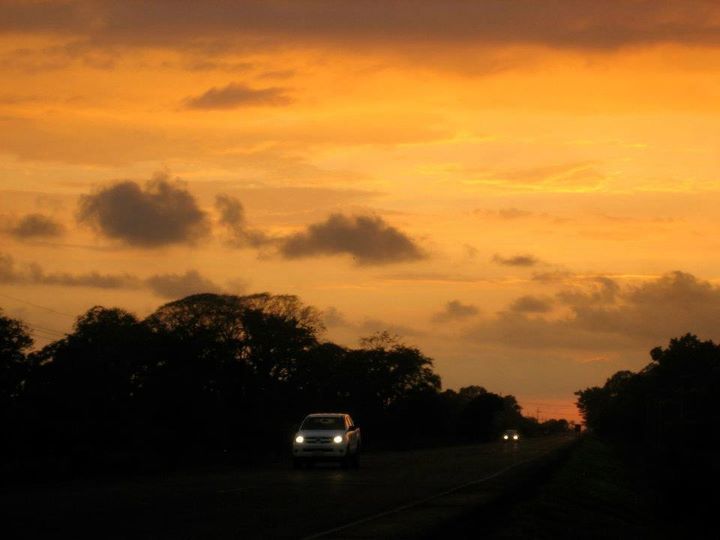 I made the realization that I didn't even have my wallet on me, so even if I could find gas, I couldn't buy any. Luckily I had set a waypoint in my GPS for the resort, so I knew I was only a couple of miles away. I could push the bike that far if need be. Just as I was contemplating that thought, two of the guides pulled up, one of them on the KTM 2 stroke, which was being towed by the XR-400. Apparently one of the last guys got stuck in the mud, then broke the kick-starter off of his bike trying to start it back up!
They asked me if I'd be comfortable riding the KTM back…. hmm… let's see, being towed with a rope tied to the handlebar down a highway in the dark in Costa Rica…. What's option number 2? We looked around and found an old coke bottle someone had tossed (side note: Costa Rica was surprisingly clean), disconnected the fuel line from the XR, and soon I had 20oz of wonderful gasoline back in my tank. After a few kicks the YZ fired right back up, and I found my way back to the resort in the dark. What a day!
Track from day 1 is in yellow: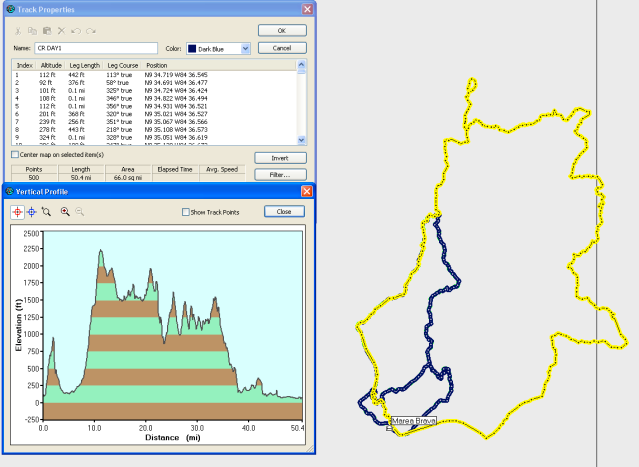 You can see that we went from sea level up to about 2300 feet, but what really tells the story is how steep the ascents and descents were!
In total we did about 51 miles (I ran out of gas at 49). That may not sound like much, but out on these trails, in these conditions, it's a lot! …or maybe the miles are longer here…. My rear tire probably did more like 200 miles, anyway.
One of the best things about Costa Rica Unbound, was when you get back to the resort you simply drop off the bike, they spray you down, then you drop off your riding gear and they deliver it back up to your room fresh and clean! I didn't know what to do with myself, as usually I spend just as long cleaning everything up as I do riding the bike!
Still had to try to get our helmets and boots to dry out though…

After getting back after dark I was ready for some dinner and bed – I was on the schedule to ride again the next morning at 8am!
Ride video from day 1!

It's funny how our bodies and brains work. Normally I'd be groaning and dragging my butt out of bed at 7am, but not here in Costa Rica. My head popped off the pillow before the alarm at 6am, and I was ready to go! I went downstairs and grabbed some breakfast – they had an awesome dish ready with potatoes and eggs, good fuel for the day. The local parrot squawked at me as I walked back to my room to get suited up.
I had all my gear on and headed down to wait by the pool and was the first one out there. Guess I was eager to go! Soon everyone was congregating and getting ready to head out for another adventure.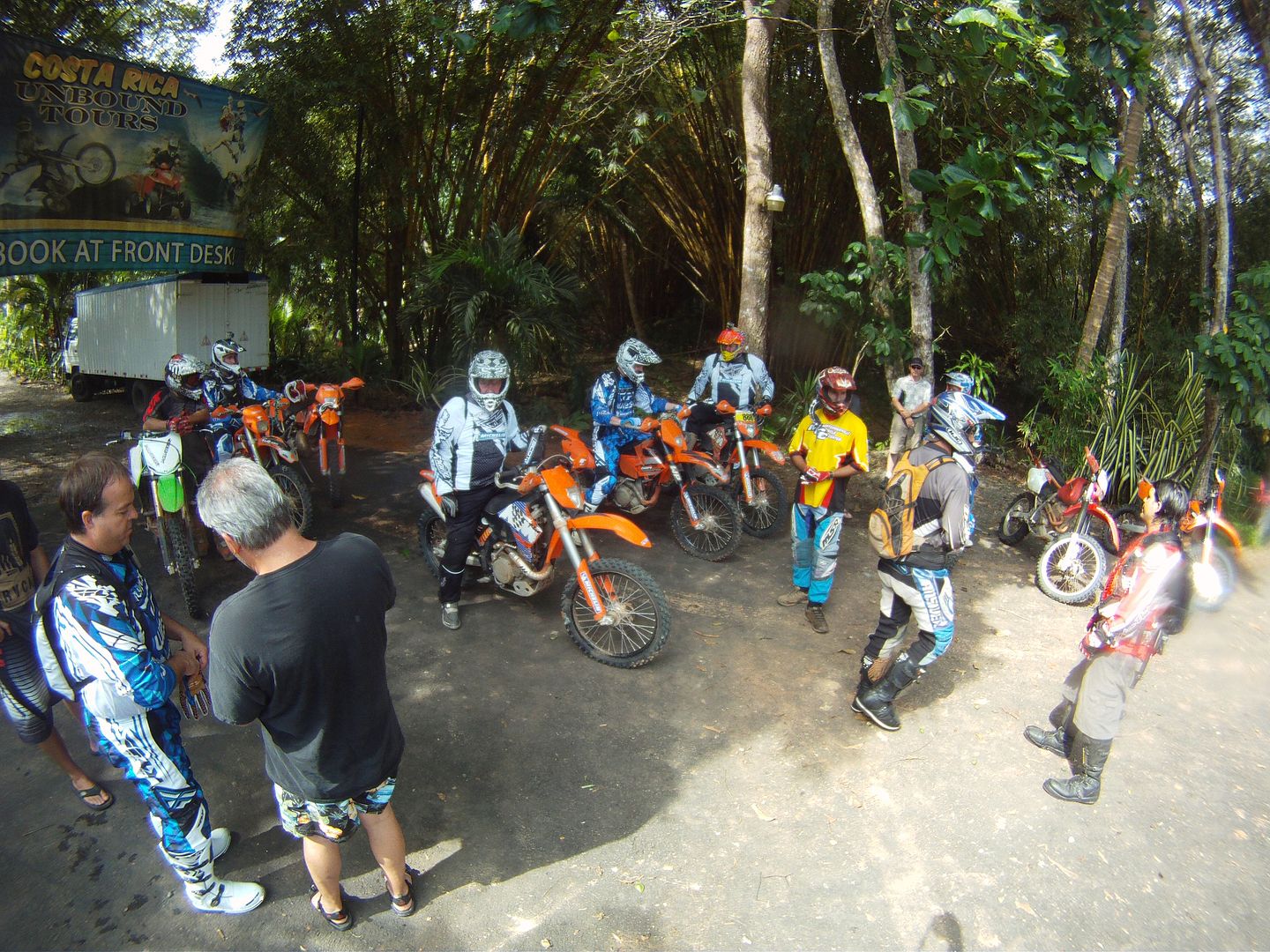 Getting the guys psyched up for another race! Err… I mean, ride!

Go go go!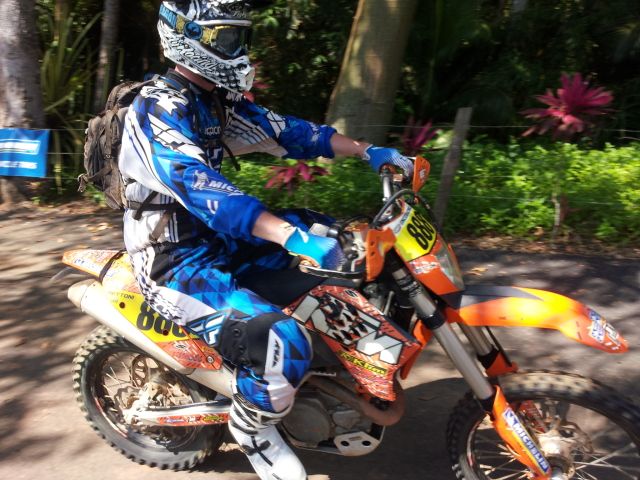 Soon we were back up on top of the world, enjoying each others company and a common bond of being two wheeled fanatics. What a view from up here!

I was feeling great on the second day. More in tune with the bike, I was having a blast hopping logs, jumping across washouts, and sliding around corners. I've gotta say, the Michelin S12 XC tires REALLY impressed me. With how slick some of the clay sections were, I know I would have been all over the place on my KX back home. The S12 XC tires were also very predictable at higher speeds. Cornering on these gravel roads was super fun, sliding the rear out and just getting on the throttle. What really impressed me the most though, was after these bikes had been hammered for days, over rocks, down the asphalt, and through the mud, the S12 XC tires had held up great! No knobs torn off and nice square edges continued to dig in and bite even after days of abuse.
Stats for day 2: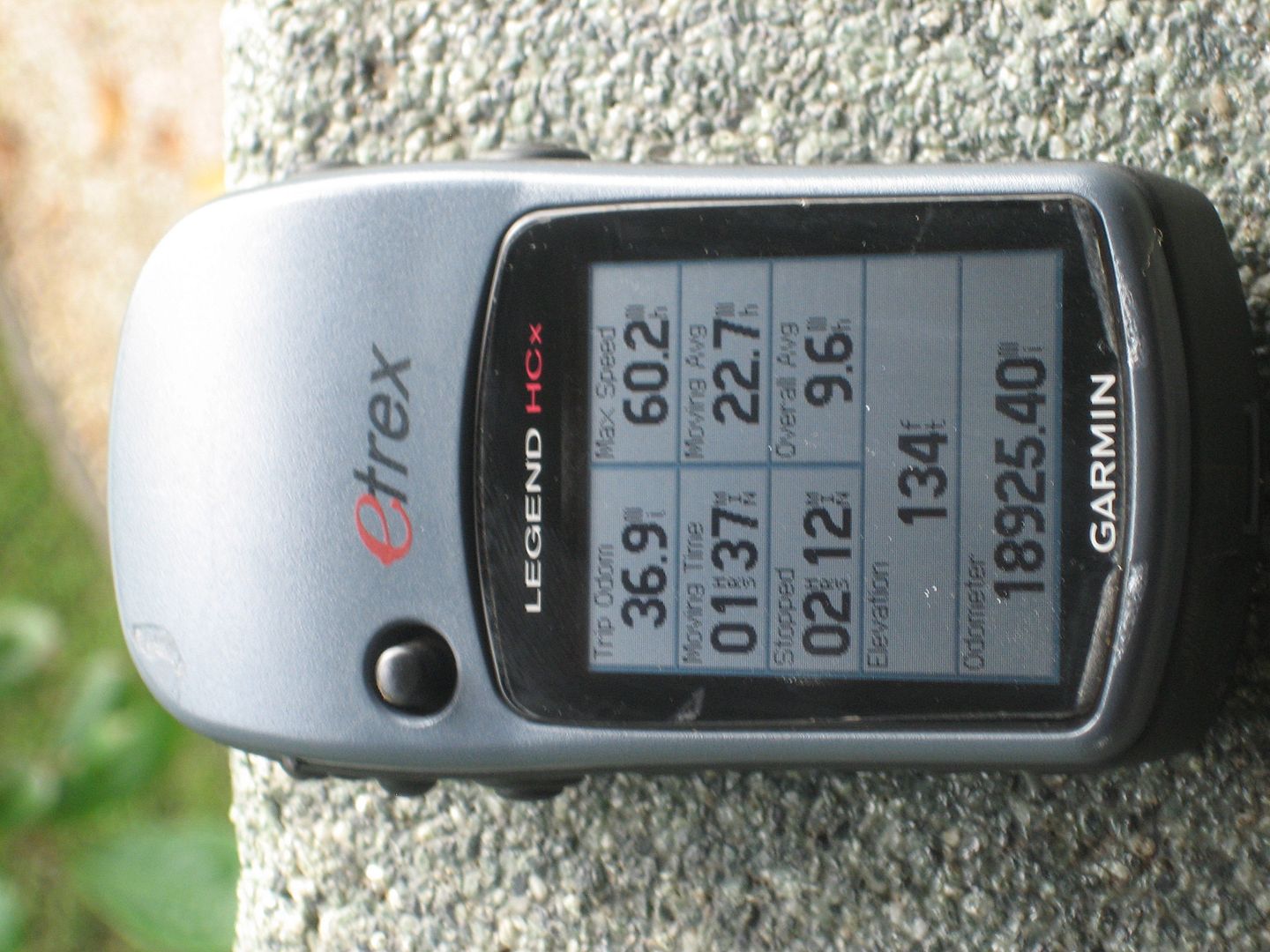 Day 2 Ride video!

After riding all morning, it was time to head back to get lunch and let the second group go for their last ride. After riding in the humidity and being covered in mud, the pool was calling my name.

The aqua-lounger 3000 felt GREAT: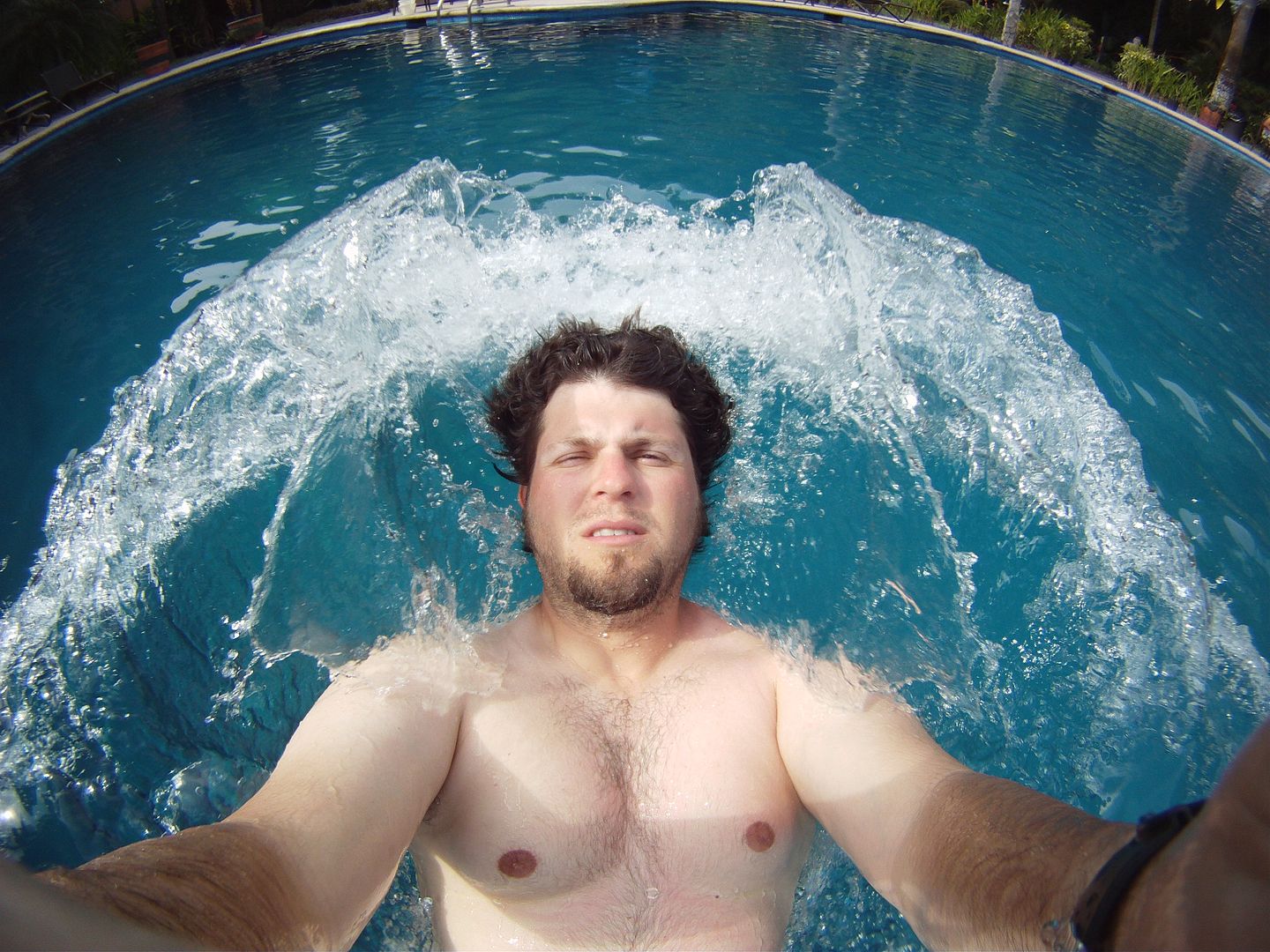 The GoPro makes for some pretty entertaining underwater shots: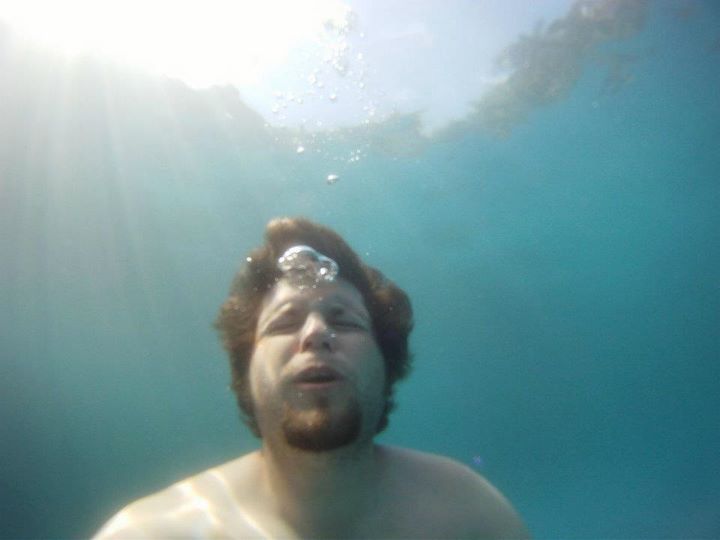 After hanging out in the pool and cooling off, the ocean was looking inviting…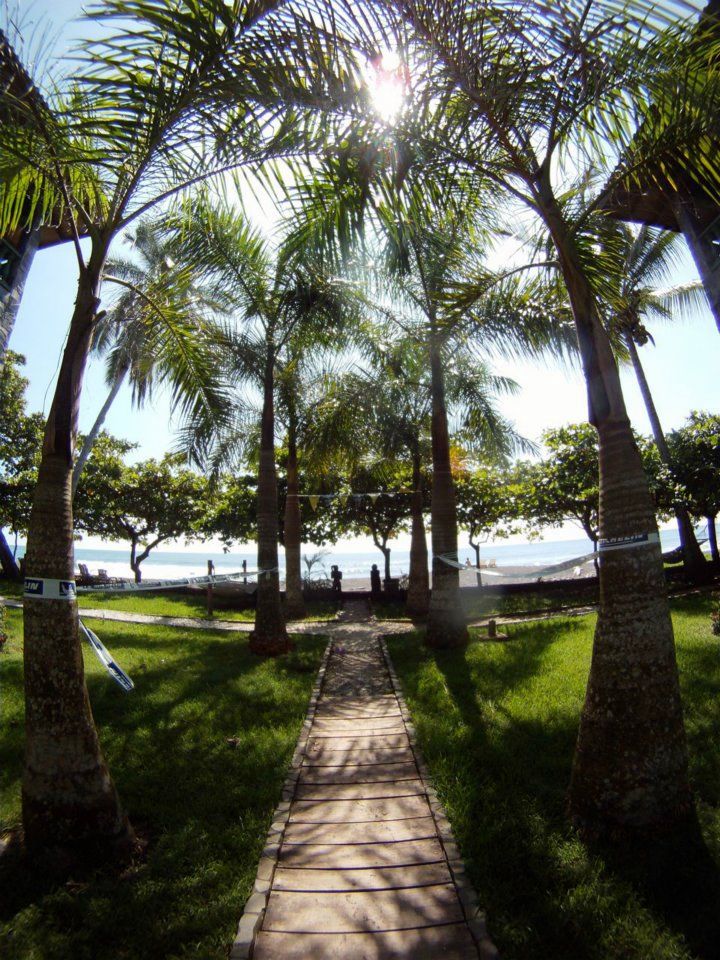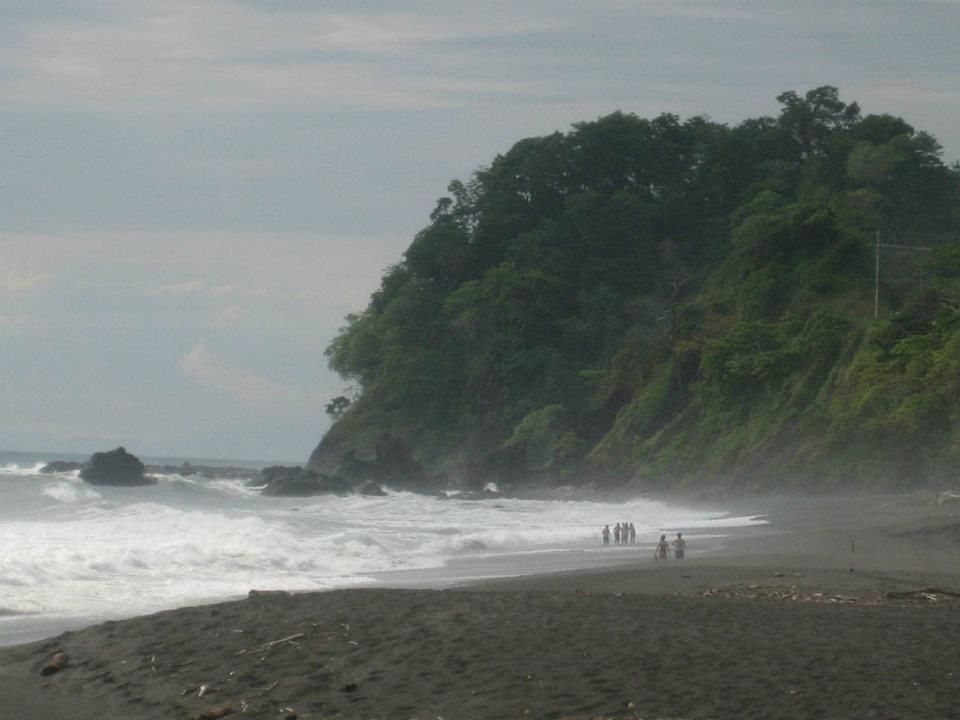 Out for a final swim in the Pacific:

The trees are so varied and interesting here. Everything is GREEN.

Soon after my swim a massive thunderstorm rolled in, and the sun peeked out one final time from behind the rain before setting on the trip.

After the second group got back from their VERY wet ride, we headed in to Jaco for dinner and to pick up some souvenirs for family back home. I was starving after all of my swimming and obliterated El Pastor:

One thing I will say about Jaco is you are offered sex and drugs about every block. They aren't too in your face, but you definitely know why they are there. That's too bad because otherwise it would be a great place to bring my wife and kids. Oh well, there are other towns and cities in Costa Rica that I can bring them back for!
The next morning started way too early. Had to be on the 4am shuttle for the drive back to San Jose, to catch my 8am flight. When we got to the airport the sun was just thinking about coming up: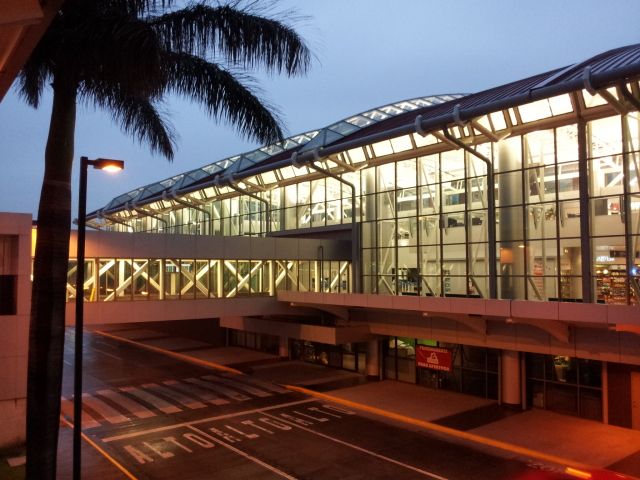 The adventure continued in Houston where my flight back to Charlotte had mechanical issues. Then the plane they moved us to was overbooked and delayed about an hour. After waiting and actually getting on the plane, I discovered that they had actually given my seat to another girl (they somehow double booked our seat). So I decided to be the good guy and take the credit to let her get home. Once I got back off the plane and to the service desk, the seat they had offered me had been taken! So I got bumped AGAIN (4th times a charm?). They upped my voucher and bought me dinner though, so I'm not complaining.
I really think I might use that voucher to buy some tickets back to Costa Rica. This time with my wife (…maybe one way tickets). Absolutely loved this trip – what a blast!
So the next time you guys need some tires for your bikes, buy some Michelin's so that I can go on another epic adventure! Look 'em up on Competition Accessories!
'Till next time!
-Reuben-
Gear Used:
Michelin S12 XC Tires
Fly Kinetic Pants/Jersey/Gloves