GirlRiders.net founder Katie McKay had a pretty nasty crash this weekend on her Ducati Hypermotard 796. All I can say is ATGATT saves your butt! Here is a post she made about it! Click here for the story on her site: Tankslappers Suck, Gear FTW
I hit a railroad track wrong somehow at about 60 mph, the front of the bike went nuts, I couldn't control it. Hit the pavement and the the bike slid with me under it about 250′, which felt like forever.
I feel sore all over, thumb and knee tweaked, lots of bruises and a half inch of road rash on my wrist. I can look at my gear and thank God I had it on. The bikes damage is the fairings, the shifter, the bar and more, but it ran.
I was alone, it took about fifteen minutes for anyone to pass, then a couple bikers helped me get the bike up and it ran, so I rode it from Lakeland to Brandon, with the fairing strapped to the seat, alone and slowly.
About 250′ slide mark, I don't think you can see where it starts, right after the tracks.

Riding pants wore all the way through, So glad I had these on, the pads in the knees and the hips did their jobs.

Arm, shoulder and back damage.

See that hole with the white border? There was no hole there before, that's from sliding.

Slide Distance

Railroad track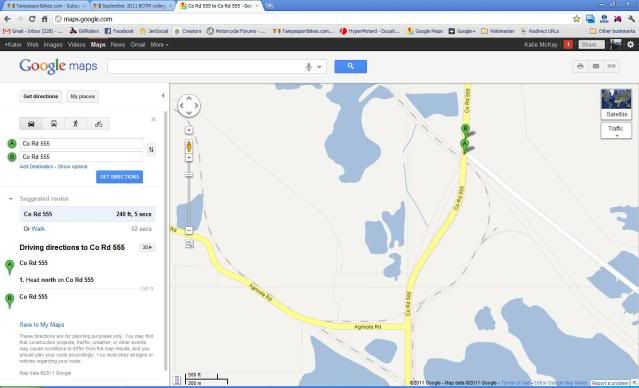 My heart shaped road rash