Well… this past weekend I had been planning on a little camping moto adventure since my wife and kids were out of town and I rarely get to take solo overnight trips. I had really been looking forward to the weekend, but the leftover rains from Hurricane Alex had different plans for me. I finally came to terms with this realization on Thursday, and decided I wasn't going to make my trip
Well after calling around it seemed none of my friends were available to do anything either – it's raining pretty good and I'm just not much of one to sit around the house. I had hiked Mt. Lindsey the previous weekend, so I was itching for another adventure. So what did I decide to do? Go to the local paintball field and tear it up in the mud!
That evening I went and saw Predators with a buddy (not as cheesy as I was expecting), and hung out till about 1am. When I got home I just couldn't sleep. Weekend was half over and I still hadn't ridden anywhere. It was then I just said screw it, I'm going riding! Got up in the morning, threw a bottle of gatorade and a granola bar into my tail bag, pointed the front tire Westward, and set off without much of a plan.
Since I moved here I've been fairly (ok, really) disappointed in the riding conditions. The general flatness, poor pavement and lack of curves had me longing for some twisties, so I decided to head towards Cloudcroft, NM since I've heard nothing but good things about it.
Within an hour or so I was at the New Mexico border:
I was making pretty good time across the desert, but couldn't help noticing that as I got closer to the mountains these clouds seemed to be looming in the general direction I was heading…

I rode south a ways to Pinon and then headed north towards Cloudcroft. By now it was raining on me, but I was having a blast on some curves anyway!
…I wish I had taken more pics in the mountains, but you know how it is… once the good roads start and it's raining on you, you don't really feel like stopping for pics.
Anyway, I had been following the World Cup, and was hoping to catch the game live somewhere in Cloudcroft. I stumbled across the Western Bar & Cafe. They only had 3 little TVs but all 3 were on the World Cup and it was only a few minutes in to the first half. Woohoo! I ordered up some fish and chips and met a few people, talked soccer and hooted and hollered at the TV for an hour and a half. It was good fun!
By the time I was ready to leave it was really raining pretty good…

I waited it out a little while then made my way down the mountain. Tires were holding on great in the rain and I was still having a good time. Made it down off the mountain and looking back.
Decided to change up the scenery a bit and visit Roswell on the way home!

Bought some alien related gifts for my wife and kids real quick, then continued on…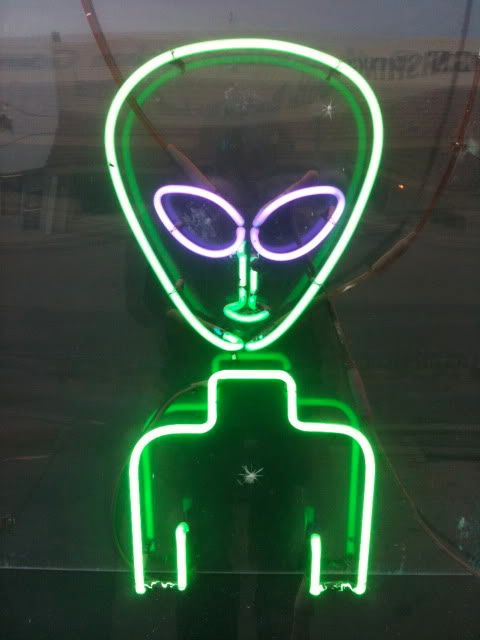 Back in Texas, the clouds were starting to look ominous again…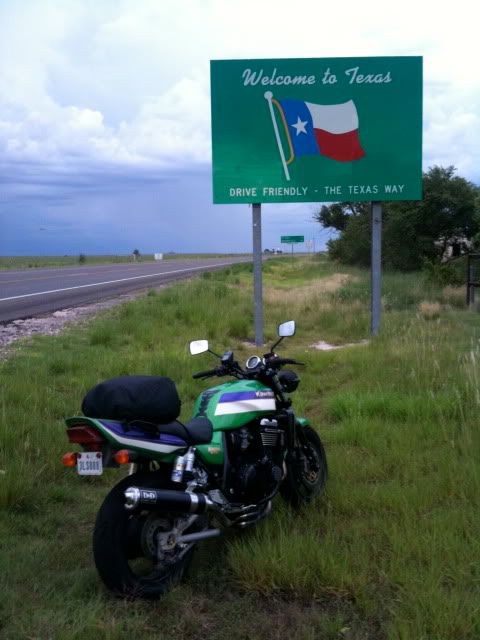 Storm chasing by motorcycle, anyone?
See that really really dark area? Yeah, that's the exact direction I'm going to be heading after my next turn…

Looking back the other way, I had actually had fair weather for most of New Mexico (just not in the mountains)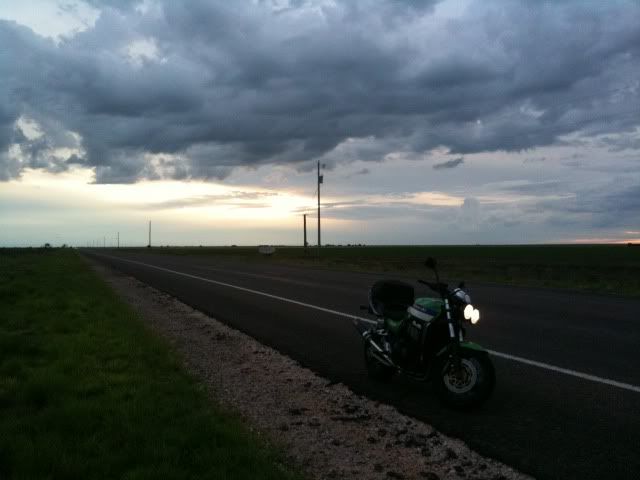 By the time I got to Brownfield, this is what the radar looked like
This was about to get really interesting…

I topped up the tank, gulped down some coffee, and headed into the storm, happy to be on an adventure, even if it was only 1 day long. Shortly after leaving Brownfield, I started to think that maybe this wasn't such a good idea… but what the heck, it hadn't ever stopped me before… Brilliant flashes of purple light literally blinded me several times, and then the rain started. At first it was just your typical sprinkle, then it turned into more of a good heavy rain. Finally, on the outskirts of Lubbock, buckets of monsoonal proportions were unleashed from the sky. Oh.. did I mention that I didn't pack my rainsuit? My Joe Rocket gear had done a good job throughout the day, keeping me dry in the mountains, but it was no match for this. Soon cold water had found it's way into my pants (why does it always leak there first?). Then it was running into my boots, and shortly thereafter I was just totally drenched.
I didn't really care though – I only had about 45 minutes to go and I'd be home. It was an interesting last leg though. Shortly before getting on the loop, I hit a "puddle" that had to be a good 6-8 inches deep (ok more like a river in the road). I was doing about 50mph and didn't see it. Water sprayed up over my head and I couldn't see again. Got the bike slowed down and continued through the mess (Lubbock does NOT drain well).
Then, while on my way out to my house, I almost totally ate it, thanks to our fine Lubbock county roads. Now let me remind you, I'd been riding in the mountains for hours in the rain earlier without a single problem. I'm riding a straight-as-an-arrow road back towards my house. I had experienced less than stellar traction on this particular stretch of road on my 250 before in the rain, so I slowed down to about 50mph, kept a completely steady throttle hand, and started across the section that I knew to be slick. Without much warning my rear tire let loose, spinning up and fishtailing my back end out waaay to the right. I knew not to chop the throttle, back end swung left, then right again. I closed the throttle and the bike jerked and wiggled back into line. Man these roads suck!
Anyway, I'm just glad I knew to expect it. I had a very similar experience on my 30hp 250 doing about 70 in the exact same spot 6 months ago. So if that bike spun up the rear tire, I should have just known not to even attempt it on the ZRX. I seriously think I might write to the city/county about it, it's dangerous.
Well.. that was my crazy adventure packed into a Sunday. Final stats for the day:

15 hours away from home and a moving average of 62, it was a good day. Despite the weather, I had a great time. I just hope next time I go out there it can be for several days without the rain. Beautiful area! Till next time…
Written By Reuben Bakker